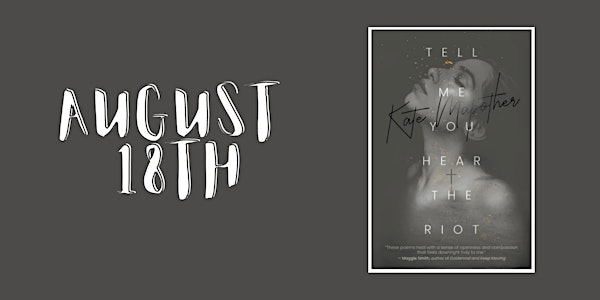 Tell Me You Hear The Riot Book Launch Event
Please join us at 7:30 pm on 8/18/22 as we help our friend Kate Mapother launch her beautiful new book of poetry, Tell Me You Hear The Riot.
About this event
Kate Mapother is joined by her fellow writers, Jessica Faith Kantrowitz, Matt Bays, and Laura Parrott Perry to celebrate the launch of her stunning new collection of poetry, Tell Me You Hear The Riot, available on Amazon. The group will share the hilarious ways they came to be connected as writers and friends, the deep need for creative community, the joys of cheerleading one another's work, and the world's best text thread.
Hosted by Laura Parrott Perry, The gathering will feature work from all four authors. Kate will read selected poems from her new collection. Be prepared. Her poetry will work its way into your heart and stay there. Poet Maggie Smith says of Kate's writing, "These poems heal with a sense of openness and compassion that feels downright holy to me."
At the conclusion, the four members of The Writers' Collective will do a panel Q&A on the creative process, community, friendship, and probably their dogs.