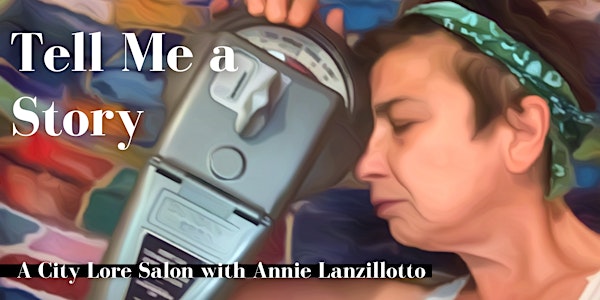 Tell Me a Story: A City Lore Salon with Annie Lanzillotto
With Special Guest Star: Alvin Eng
Refund Policy
Contact the organizer to request a refund.
Eventbrite's fee is nonrefundable.
About this event
The Italian-American Scheherazade Cantastoria takes on The Chinese-American Acoustic Punk Rockentour.
Two Punk Rock Baby Boomers spin stories to survive by. In talkin' punk blues style, Annie Lanzillotto's raw Bronx roar lullabies as she crushes the crisis of isolation we find ourselves in. Alvin Eng rhapsodizes growing up in Queens in the years of punk rock heroin-chic, his grandfather's opium overdose death in Manhattan's Chinatown and Burroughs' character Johnny Yen. Tonight, Alvin Eng performs from his: HERE COMES JOHNNY YEN AGAIN (or How I Kicked Punk). We'll talk on the history of institutional disenfranchisement of Chinese in America, and the current spike of Chinophobia and anti-Asian violence in the throws of the pandemic, epitomomized by the July attack and setting on fire of an 89 year old Chinese-American grandmother in Bensonhurst on 16th Ave and 77th Street.
ALVIN ENG BIO
Alvin Eng is a native NYC playwright/performer and educator who is thrilled to be collaborating once more with City Lore and for the first time with Annie! Previously at City Lore, Eng, in collaboration with his wife, director/dramaturg Wendy Wasdahl, conducted a playwriting/performance workshop CITY AS MUSE––partially funded by an LMCC Creative Learning Grant. They presented a staged reading of Eng's "second Portrait Play" 33 & 1/3 CORNELIA STREET featuring longtime City Lorists Kathleen Chalfant as painter Alice Neel and Bob Holman as Joe Gould. At City Lore, Eng also gave a reading of his memoir monologue: OUR LAUNDRY, OUR TOWN: The Last Emperor of Flushing's Final Communique...Before everything got shut down, he was in the midst of a Dixon Place Workshop Residency of a new acoustic punk raconteur work, HERE COMES JOHNNY YEN AGAIN (or How I Kicked Punk) www.alvineng.com
(Alvin Eng photo by Ann Yoo)