Ritual, Resistance, and Remembrance: Ofrendas from Liminal Spaces
About this event
Get comfortable with the unknown. Today we ask: How does ritual and devotional practice sustain communities, aid in resistance to oppression, act as expressions of emancipation, and carry ancestral medicine? How do we adapt public rituals and spiritual festivals during this pandemic? How can we sustain traditional practices in the fight against gentrification cultural erasure? Our guest artists inhabit the liminal spaces, in shadows, the world in between: light & dark, clear & unclear, life & death, pandemic isolation & public community. Together through the magic of Zoom, we open portals of love, healing and protection, and connecting.
Audience members are invited to participate in our virtual collective altarmaking. Bring a photo of an ancestor, a fruit, flower, or talisman, candle, or piece of orange tissue paper to fold into a marigold... plus: 2 min limit Open Mic Q&A
Ofelia Esparza, mother of nine, artist, Chicana altarista, NEA National Heritage Fellow, grew up making home altars with her mother, grandmother and great-grandmother and turned private devotional practice into large scale community social healing action. She's transformed communities and taught the art of altar making and walking altars to generations.
Rosanna Esparza Ahrens, artist, daughter of Ofelia Esparza, Chicana altarista, defines altars as "bridges for generations." Rosanna is the Director of Tonalli Studio: a place of creative wellness in East L.A. Rosanna carries ancestral stories, links devotional practice to the Chicana Movement for social justice, healing, shares sacred, ancient, and indigenous practices.
Michael Manswell is a Dancer, Choreographer, Teaching Artist, Director, and Singer. Mr. Manswell presents lectures, workshops and residencies in dance, music, theater, and traditional religious practice.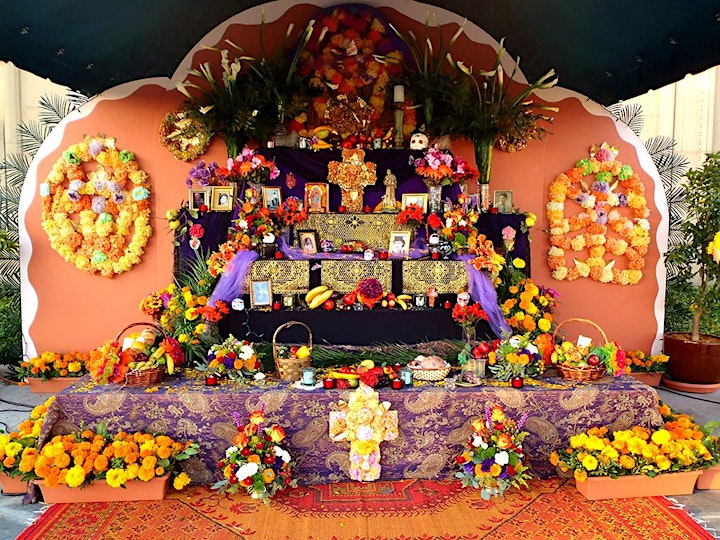 Michael Manswell, Artistic Director, Teaching Artist, Choreographer, Singer began his performance life as a storyteller at Arts Festivals in his native Trinidad & Tobago, winning many prizes and awards. He studied music with Lindy-Anne Bodden-Ritch at St Mary's College and at Brooklyn College (CUNY) with Tom Cultice. As a singer he has toured Europe, the UK, and the Caribbean and has performed as a soloist in many productions of opera and oratorio including Dido & Aeneas, The Marriage of Figaro, Die Fledermaus, Beethoven's 9th Symphony, Handel's Messiah, Missa Criolla and Missa Luba. He studied dance at the Trinidad Dance Theater with Dr. Eugene Joseph training in Modern, Ballet, Jazz, Ballroom, and Folkloric styles. Michael worked with Geoffrey Holder on "Dougla II" and "La Valse des Bakas" for TDT and toured with the company in the USA and the Caribbean. A prolific choreographer he has created several works currently in the repertoire of Something Positive Inc, the performing company he now directs. Something Positive has recently returned from performing in Morocco and the Ivory Coast and has also performed in Costa Rica, Belize and Trinidad & Tobago. An avid folklorist and an Orisha devotee in the Yoruba religion, Mr. Manswell presents lectures and workshops in dance, music, and traditional religious practice and works closely with the Caribbean Cultural Center and the Interfaith Center in their programs. One of "Brooklyn's Black Men of Distinction 2000" and one of "Brooklyn's Black Dance Kings (2010)", Michael is currently an Adjunct Prof (Dance) at Lehman College (CUNY) and teaches for Something Positive Inc., Purelements An Evolution in Dance, the Caribbean Cultural Center African Diaspora Institute (CCCADI), and E.M Techniques.
Ofelia Esparza is a Mexican-American altar maker, or Chicana altarista, whose work is informed by a deep spiritual belief in the traditional process, which pays homage and evokes memory of people, events, or places through multilevel structures embellished with photos, traditional foods, flowers, and handmade and found adornments. For nearly 40 years, Esparza has shared her knowledge and art about el Día de Los Muertos (Day of the Dead) with people in schools, museums, community centers, prisons, and parks throughout the Los Angeles region and beyond.
Esparza was born in 1932 in East Los Angeles, where she has lived her whole life. The cultural practice of altar making in Chicano communities extends from devotional home altars for Catholic saints to the spiritual activities around el Día de los Muertos, which come from Mexico. Day of the Dead is an indigenous tradition that occurs on All Souls Day, where families build altars to remember ancestors and deceased loved ones. Mexican traditions such as altar making were shared within Esparza's own family, specifically by her mother and great-grandmother, and she in turn passed them along to her own nine children, who continue to develop their own talents within the custom of altar making.
Esparza went back to school in her early 40s to become a teacher and taught elementary school for 30 years. She infused her curriculum with Mexican art and culture, teaching folklórico dance to the students and staff, introducing cultural practices and celebrations such as the Day of the Dead, and conducting multicultural training for district teachers.
In 1979, Esparza created one of the first large-scale public altars in the U.S. at Los Angeles's Self Help Graphics. She has also created a large body of work in printmaking and visual arts, informing her altar-making process, from designing and painting the structure that supports the assembled items to making paper flowers and other adornments.
Esparza's altars—which range from personal ofrendas, or offerings, to assemblages that address larger issues facing the Chicano community—have been exhibited widely, including at the Los Angeles County Museum of Art, the Japanese American National Museum, the National Museum of Mexican Art, and internationally at the first Day of the Dead exhibit in Glasgow, Scotland. In 2018, she installed a monumental permanent altar in the Los Angeles County Museum of Natural History.
She has received many recognitions, including the Art Legend Award from Watts 3rd World Art Festival, Pueblo de Los Angeles People's Choice Awards, and grants from the Alliance for California Traditional Arts and the California Arts Council. Recently she worked as a cultural consultant on the film Coco.
She is currently an artist fellow with the Alliance for California Traditional Art, giving altar-making workshops in the Building Healthy Communities Boyle Heights initiative and at the State Correctional Institution for Women.
By Amy Kitchener and Russell Rodríguez, Alliance for California Traditional Arts
Organizer of Tell Me a Story: A City Lore Salon with Annie Lanzillotto and Guests!
Grassroots culture is alive in NYC! City Lore Gallery curates events and exhibitions that showcase all the things, people, and places that make New York "New York." 
From the golden age of graffiti, to endangered languages and headware, City Lore finds the art in everyday life—and shares them with you.