Description

As a Business Owner or Selling Professional do you:
Have a lot of contacts, but struggle with how to initiate contact by phone?

Rely too heavily on email outreach that produces frustrating results?

Fumble with your words when starting the call?

Make every excuse under the sun to avoid picking up the phone?
Most people believe that cold calling doesn't work. Others fear the rejection and stress associated with making "the dials".
When done effectively and consistently telephone prospecting is a highly cost-effective way to proactively generate selling appointments for you and your sales team.
Join this practical and engaging workshop to experience how!
You'll learn effective techniques to help you...
Comfortably start off the first few seconds of the call for both a cold or warm lead

Naturally progress the call in a systematic process

Easily transition the call and close for MORE sales appointments

Avoid coming across as "salesy", desperate or timid

Effectively communicate with gatekeepers and turn them into your allies

Leave concise voice mail messages that lead to a HIGHER rate of return
Registration for this workshop includes all materials and a copy of the best-selling book:
Prospect the Sandler Way, by John Rosso, Sandler Training. Rosso shares 30 Core Principles for mastering stress-free lead development including up-to-date strategies on conducting effective on-line pre-call research and generating referrals via LinkedIn.


__________________________
Customized Workshops Needed?
For groups of 7 or more attendees, Dave is available to conduct these on site at your organization.
Please contact him at david.fischer@sandler.com or (646) 790-5800 for more details.

__________________________
Did You Catch the Cold Call Workshop Article: "The Secrets of Cold Callers" - featured in the New Yorker. Read more>>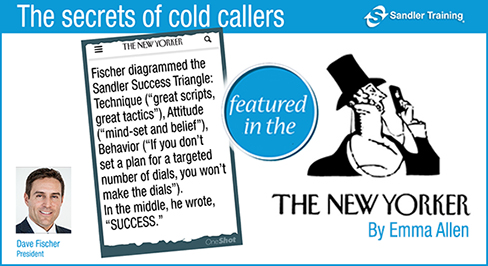 Praise for this event:
"I attended the Sandler Cold Calling Boot Camp with my team, who expressed on more than several occasions how cold calling was the worst part of their day. I was reluctant to even participate in this session, as I didn't want to see them be resistant to it and not participate. To my pleasant surprise, Dave was an awesome facilitator. He was funny, engaging and honest. He never once tried to sell Cold Calling as the end all be all, but more so as a very practical and more so attainable approach to generating new business. There were all walks of Sales professionals present at this Boot Camp, yet Dave was able to speak directly to so many of us and try to apply real life, everyday examples that were relatable and real. Overall, I was so impressed with Dave, his presentation and his thought process to create the structure of the class that I would recommend him to anyone in Sales. My team walked away with an entirely different approach and for this, it was worth every penny and then some. Everyone has difficult schedules and it's always hard to get out of the office but if you find just one that's worth attending, let this be it. Undoubtedly."
Maria L. - Associate Vice President of Special Events, NYC based Special Events Company
Have questions about Telephone Prospecting Boot Camp? Contact David Fischer, Sandler Training
Link to Video of Sandler Training, Dave Fischer Presenting on Cold Calling Technique and being Disarmingly Honest: