Description
Amazon, Walmart, CVS, Walgreens — Who Will Win The Battle For Consumer Health?
How is health intelligence preventing aging and illnesses? How do you hack the 15-year healthcare adoption cycle? Can telehealth cure physician burnout?
Telehealth Secrets is the one conference for healthcare leaders and innovators focused on driving virtual care forward. Join 500 speakers and attendees as we explore massive growth opportunities, smart tech trends, and new patient-centered care models to impact our broken healthcare system.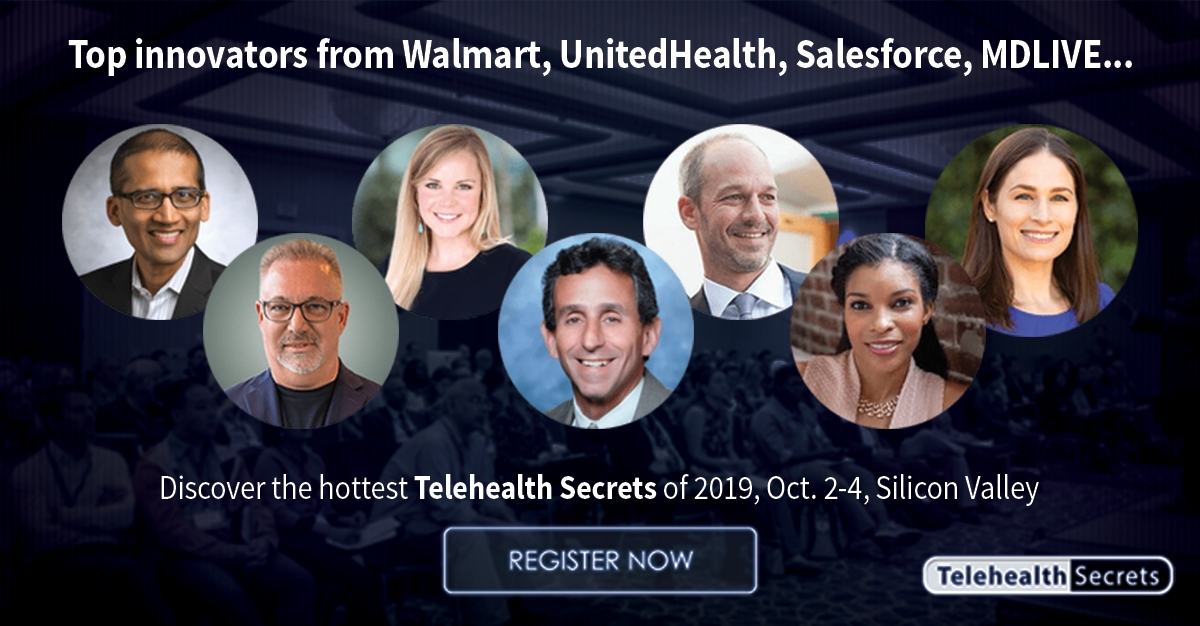 Your One High Impact Networking Event for Telehealth & Social Impact
* Diverse topics: Breaking tech, clinical trials, human longevity, millennial benefits, addiction, physician burnout...
* Fast-paced talks and passionate professionals so you're never bored

* Intimate format with ample opportunities to network with the right people

* 60+ Speakers including:
Walmart VP of Health & Transformation, Marcus Osborne

UnitedHealthcare Chief of Health IT, Anupam Goel, MD;

Moon Express cofounder / Viome CEO, Naveen Jain

NextGen VP Patient Engagement, Cheryl Lejbolle

Salesforce CMO Joshua Newman, MD

Human Longevity CEO, David Karow, MD

AliveCor CMO, Jaqueline Shreibati, MD

MDLIVE CMO, Lyle Berkowitz, MD

BCBS MI Director of Wellness Program, Cindy Bjorkquist

Cigna Medical Director, Luis Torres, MD

Optum Medical Director, Alok Jain, MD

UCSD Chief of Administration & Innovation, Matthey Jenusaitus

LA Children's Hospital Innovation Lab Director, Kelly Crown

Ro Associate Clinical Director, Melynda Barnes, MD

The MAVEN Project CEO, Lisa Levine, MD

MDLIVE founder, Randy Parker

And more!


Agenda
Day 1 - Partnering with Health Systems & Payers
Opening Keynote: Naveen Jain - Moon Express cofounder & Viome Executive Director
Health system & Payer Partnerships - going from cost savings to revenue-generation

Senior care, chronic care and population health management

Designing for patient engagement
Day 2 - Emerging Telehealth Models, Entrepreneurship, Breaking Tech
Emerging Telehealth models - Pharma, Dentistry, Aesthetics...

Entrepreneurship, Investment, Start Up Tips - How To Tap into the $16.7B Telehealth Market

Breaking Tech & Transformational Trends- wearables, devices, precision health, deep learning, AR, AI, precision medicine
Day 3 - Social Impact: Creating Health Equity & Access
Loneliness, Mental, Behavioral Health, Addiction and the Opioid Crisis

Healing Physician Burnout with telehealth

Policy, Cost of health, SDOH, Global health, Equity & Creating Access
Why Should YOU Come?
"The caliber of speakers is phenomenal...a great way to learn a lot about the telehealth industry and what's going on and what's about to happen."
– Paul Smolke, Microsoft Sr. Director of Productivity, Global Healthcare
"Not your traditional telehealth conference. It just really opens your eyes to other possibilities out there"
– Kristi Henderson, former Ascension VP Virtual Care & Innovation (current Amazon)
"A great place to exchange ideas...I met amazing professionals who have dedicated their lives to solving our current health care problems"
– Ingrid Vasiliu-Feltes, MD, MEDNAX, VP of Patient Safety & Quality
"Exceptional content. The condensed format makes it fun and easily digestible"
– Paul LaBland, MD, Providence St. Joseph
------------
TERMS
By registering for this telehealth event, you are acknowledging that you have read and agreed to the terms of this transaction. You understand that information about venues, dates, times, agenda, speakers and special promotions are subject to change at any time. You understand that your registration information will be stored in the VSee database and may be used for suitable promotional and community-building opportunities. You understand that VSee will use transcripts, pictures and videos of the event for promotional, advertising and business purposes. You state that all details above are true to the best of your knowledge and agree to provide valid proof of identity at the event if required. Please note all tickets are non-refundable; should you be unable to attend a named substitute may attend in your place at no extra charge. If VSee is obliged to postpone or cancel the event due to acts of God or government authorities, natural disasters, or other emergencies beyond reasonable control ticket holder hereby holds VSee harmless from and against any and all costs, damages, travel or accommodation expenses, including attorneys fees, incurred by you or your organization.The validity and performance of this agreement shall be governed by all aspects of the laws of the state of California. All purchases are final.