TELECONFERENCE: The Spiritual Practice of Desire

Monday, May 6, 2013 from 8:00 PM to 9:00 PM (EDT)
Event Details
Monday, May 6, 2013. 8:00 p.m. Eastern Time
This sneak peak of our upcoming Workshop, The Wisdom of Desire 2013, will offer strategies for rediscovering the deep organismic wisdom of desire, liberating our desire from addiction, judgment, and fear, breaking through habits of suppressing or indulging our desire, and harnessing our desire to create lives of passion and joy!
About the Facilitator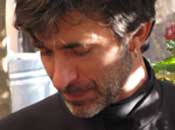 Hunter Flournoy empowers others on the path of awareness, love, freedom, soulful relationship, and joyful, whole-bodied spirituality. He is the cofounder of Amigos de Dios, a fellowship of christan mystics, and works as a freedom coach, shamanic healer, breathworker, and licensed psychotherapist. He has devoted his life to learning from elders, healers, and teachers in the indigenous traditions of curranderismo, the Toltec tradition, the Mayan fire ceremony, the Lakota pipeway and inipi, and the mystical traditions of Buddhism, Judaism, Sufism, and Eastern Christianity. Hunter has been with Spirit Journeys for thirteen years, and has led workshops and ceremonies at conferences and retreats around the world for twenty years. To learn more about Hunter and his work, see www.wayofwholeness.com and www.embodygod.org.
Organizer
Spirit Journeys
Spirit Journeys has been helping people of every gender and sexual orientation come out, come alive, and come home for twenty-five years. Our webinars, retreats, and journeys teach joyful and skillful spiritual practices drawn from the great Wisdom traditons of the world, shared in gatherings devoted to courageous self-exploration, authentic expression, and profound belonging. We are committed to truly exceptional facilitation, built on collaboration, love, vulnerability, service, and spontaneity. Together, we are reclaiming our pleasure, joy, passion, purpose and spiritual connection, and sharing our unique gifts with the world. For more information, contact us at 828-450-8800 or spiritjourneys@live.com!