TELECONFERENCE: Men's Health & Fitness: Yoga for You

Sunday, July 7, 2013 from 8:00 PM to 9:00 PM (EDT)
Event Details
Men's Health & Fitness: Yoga for You
Join world-class yoga instructor and long time SJ's facilitator David (Abhi) Moreno for a Men's Health & Fitness: Yoga for You -- telecast!
Discuss ways to sustain and balance your fitness program, or to create one, using yoga as the root for maximum health and wellness. 

Get tips on the best types of yoga suited for you, based on age, constitution, and long term goals.  

Find out what simple things you can doadd to your daily routines for optimum health.  

You will also have the opportunity to discuss any injuries or physical challenges and the best way to play with them, as well as how to upgrade or advance your yoga practice.
About the Facilitators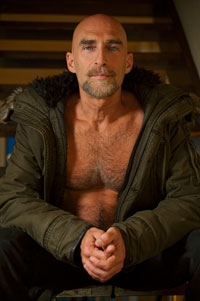 Long time Spirit Journey's facilitator, David Moreno (pictured left) has led men's workshops, retreats, and international travel trips worldwide – including for Body Electric. He is recognized internationally as a senior yoga instructor and has taught at international yoga conferences, and universities. Among David's students are members of the fashion and entertainment industries, and world-class athletes, including the coach of the 2004/2008 Olympics U.S. Mens Swim Team. His commentaries on yoga have been published in various yoga journals and his recently released yoga DVDs are featured on Amazon and as electronic books through iTunes and iBook.

David began practicing yoga in the late 70's studying the Iyengar, Ashtanga, Anusara, and Bihar styles of yoga, currently studying the primordial tantric roots of the yogic tradition. David is known for his keen sense of humor and timing, making classes both playful and informative. When not traveling, David teaches in the San Francisco bay area. To learn more about David go to www.moryoga.com.
Event image courtesy of freedigitalphotos.net.

Organizer
Spirit Journeys
Spirit Journeys has been helping people of every gender and sexual orientation come out, come alive, and come home for twenty-five years. Our webinars, retreats, and journeys teach joyful and skillful spiritual practices drawn from the great Wisdom traditons of the world, shared in gatherings devoted to courageous self-exploration, authentic expression, and profound belonging. We are committed to truly exceptional facilitation, built on collaboration, love, vulnerability, service, and spontaneity. Together, we are reclaiming our pleasure, joy, passion, purpose and spiritual connection, and sharing our unique gifts with the world. For more information, contact us at 828-450-8800 or spiritjourneys@live.com!