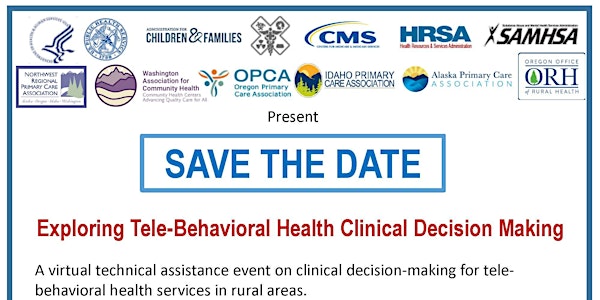 Tele-Behavioral Health Virtual Forum on Clinical Decision Making
Region 10 Opioid Learning Collaborative and the Primary Care Association are hosting a forum on tele-behavioral health
About this event
HRSA ORO Region 10 in collaboration with Region 10 Opioid Learning Collaborative and the Primary Care Associations will host a virtual forum to deliver technical assistance to Primary Care Association stakeholders to enhance understanding of issues, needs, and opportunities regarding clinical decision-making for tele-behavioral health services in rural and underserved areas.
Objectives
Explore various standards of care for BH telemedicine frameworks.
Discuss how health centers can expand capacity through the use of telehealth.
Share best practices in the use and application of telehealth.
Effectively respond to requests for information or resources on HRSA programs, grantees, resources, or technical expertise.
Target Audience: This event is best for behavioral health providers, primary care medical providers, community health workers, public health professionals and Region 10 stakeholders.
General Agenda:
Welcome and Introductions
Presenters:
Renée Bouvion, MPH, Acting Regional Director, HHS ORD
Sharon Turner, MSW, MPA, Regional Administrator, HRSA ORO
HRSA Overview and Telehealth Update: Discuss HHS, HRSA, and PCA resources to facilitate tele-behavioral health.
Presenters:
Aphrodyi Antoine, MPA, MPH Deputy Regional Administrator
Sadie Silcott, MBA, MPH, Deputy Division Director, FORHP, Office for the Advancement of Telehealth
Session 1 – Telehealth Resources in the Age of COVID-19 Presentations: Over the past year, the COVID-19 pandemic presented a multifaceted challenge to all. As the impact of COVID-19 varies across locations and populations, organizations are using innovative strategies to recover from the impacts of COVID-19. HRSA granted flexibilities for telehealth and broadband access, provided resources for continuity of care, and other screening tools and resources. This session will provide policy and ethical considerations related to telehealth services that federal, state, and community stakeholders may face and best practices and strategies in addressing these challenges.
Presenters:
Mei Kwong, Executive Director, Center for Connected Health Policy
Nicki Perisho, RN, BSN, BA, Program Director, Northwest Regional Telehealth Resource Center
Session 2 – Best Practices in Tele-Behavioral Health Management Panel: In the midst of a global public health crisis, behavioral health issues and mental health disorders have been further exacerbated, especially in underserved populations. The COVID-19 pandemic impacted the delivery of health and behavioral health services and complicated delivery of services for grief, trauma, isolation and depression, suicide, substance use disorders, eating disorders, and other mental health issues. In response to COVID-19, primary and behavioral health providers utilized telehealth services to expand access to and utilization of health and behavioral health services. This session will share best practices for crisis response and safety planning, innovative strategies for risk assessment, treatment adherence, and therapies, and building rapport with patients and their families.
Moderator: Jane King, PsyD, LP, Senior Consultant, National Council for Mental Wellbeing
Panelists:
Benjamin Lefever, MBA, Founder & CEO, Certintell
Jennifer M. Erickson, DO, Assistant Professor, Department of Psychiatry & Behavioral Sciences, University of Washington
Session 3 – Telehealth Administrative Considerations: Due to the COVID-19 pandemic, healthcare organizations and providers have faced administrative challenges regarding provider reimbursement rates, budget issues, and documentation. This session will provide an update of the current state of telehealth resources, best practices, and innovative strategies to increase interagency collaboration, address staff burnout, and regain clinical confidence.
Presenters:
Mary Zelazny, CEO, Finger Lakes Community Health in New York
Cara B. Towle, RN, MSN, MA, Associate Director, Telehealth Program, University of Washington
State Breakout Sessions: This session will feature four breakout sessions, one for each Region 10 state. This session is designed to provide State-specific updates, explore how tele-behavioral health is delivered within the state, and discuss how multisectoral partners engage and collaborate to ensure comprehensive delivery during the COVID-19 pandemic. Each breakout session will include a moderator/facilitator and provide an opportunity for key stakeholders in each state to express policy concerns, issues, and request one-on-one technical assistance.
Alaska Subject Matter Experts:
Anita Halterman, MBA, Treasurer, Alaska Collaborative for Telehealth and Telemedicine
Cindy Roleff, MS, BSN, RN-BC, Director of Telehealth Program Development, Alaska Native Tribal Health Consortium
Sevilla I. Love, LCSW, AK Primary Care Association
Tom Chard, Alaska Behavioral Health Association
Idaho Subject Matter Experts:
Lydia Dawson, J.D., Director of Policy, Regulatory and Legal Analysis, ANCOR
Trudy Bearden, PA-C, MPAS, NCQA PCMH CCE, Senior Consultant, Comagine Health
Oregon Subject Matter Experts:
Heather Jefferis, MA, Executive Director, Oregon Council for Behavioral Health
Laura Rose, MPA, NFPM Mental Health & Addiction Association of Oregon
Martin Carty, Government Affairs Director, OPCA
Nicolas Powers, CEO, Winding Waters Clinic
*If you would like to request an auxiliary aid such as Language Translation and/or Sign Language Interpretive Services, please contact the HRSA Office for Civil Rights, Diversity, and Inclusion at RA-Request@hrsa.gov at least 5 business days prior to the date of the event.