Tel Aviv Purim Day Indian Curry Feast, L'Chaims & Megillah, Thurs March 1st, 1pm

Thursday, March 1, 2018 from 1:00 PM to 4:30 PM (IST)
Event Details
Because they tried to kill us but we won a long time ago in a place far far away...
White City PURIM SEUDA @ 126 Ben Yehuda
Don't let your Purim Day go by hungover or even worse, by spending it working...yuck.
Join your annual young Tel Aviv community for an epic Purim Day Feast of delish curry eats, lots of l'chaims & rockin' megillah/speil in the afternoon (so you can take a half day).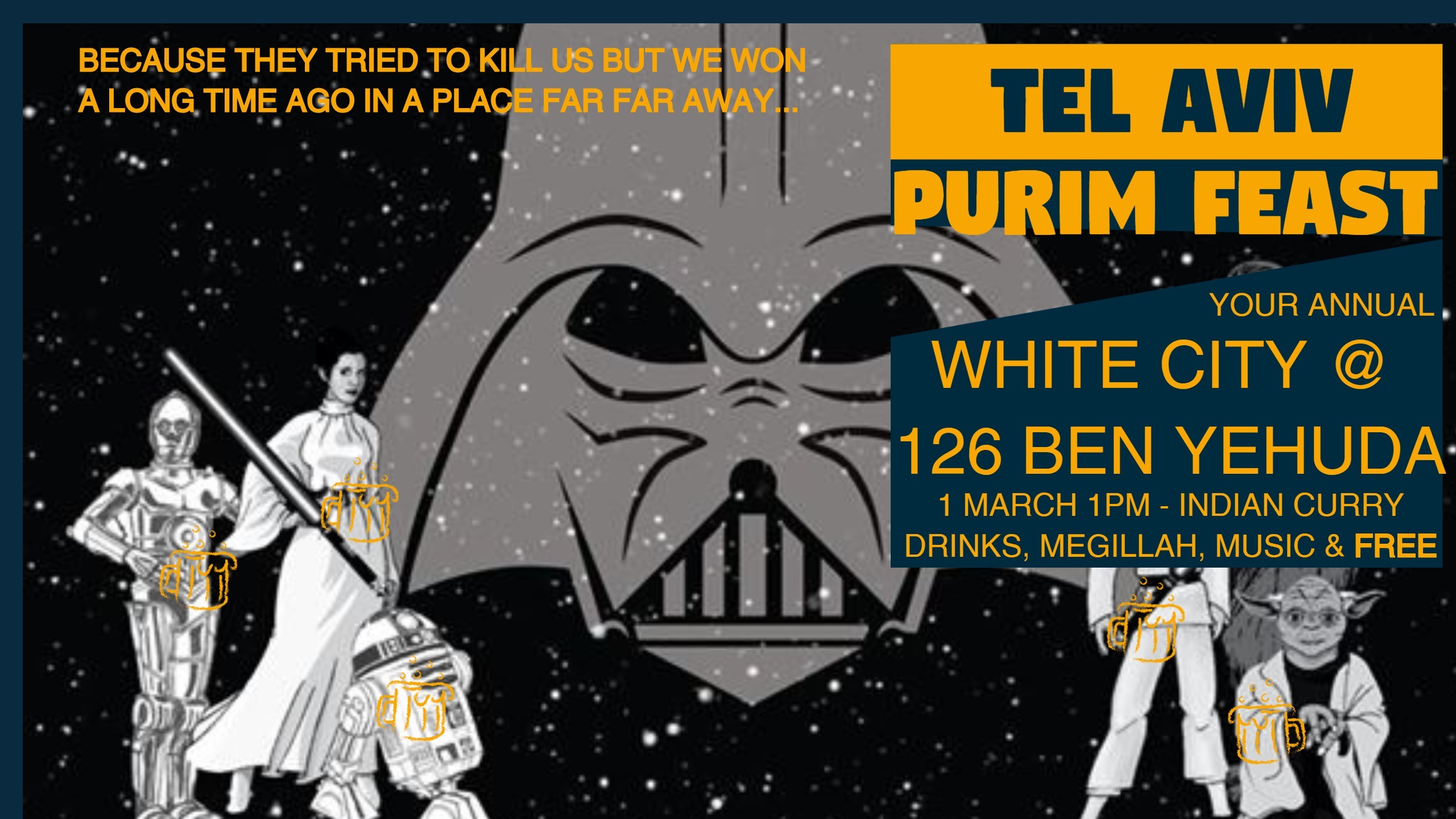 When: Thursday March 1st, 1pm
What: Indian curry buffet eats, Golan Heights Winery wine, beer kegs & hard drinks, Yung Yiddish klezmer band and Mendy Cahan speil, Agam Fruchter powered megillah reading & much more...
Cost: FREE

Where: 126 Ben Yehuda, North Central Synagogue
Who: 20s & 30s Young Internationals & Sabras
Tickets are limited so please RSVP above today

Come in costume, come with smiles, come to drink with friends
PURIM in Tel Aviv is a Team Sport!
About Our Event: Tel Aviv's Annual Mega Community Purim Feast
Why do hundreds of young Tel Avivis come every year to our daytime Purim feast??? Because its awesome and free, and far cooler than spending the full day with a hangover at work. This year we invite all of Tel Aviv to join us for a whole lot of Indian curries thanks to Curryliinas, desserts, hard alcohols, multiple beer kegs, wine thanks to Golan Heights Winery, Star Wars themed sponsored megillah reading thanks to b'mitzvah man Agam Fruchter, and a unique Klezmer Purim Speil thanks to Mendy Cahan of Yung Yiddish. 
About Our Organization: White City Shabbat 
White City Shabbat is the portal for Shabbat life in Tel Aviv Ir HaKodesh. Our volunteer run nonprofit's mission is to connect you with your young cool Jewish community in Tel Aviv. Tel Aviv has incredible Jewish life and many beautiful kosher Shabbat & Holiday options with incredible friends and families wanting to host you for a Shabbat dinner or lunch. It's time to relax! Email us at Relax@WhiteCityShabbat.com.  
LIKE us at: www.facebook.com/WhiteCityShabbat 

About Our Venue: 126 Ben Yehuda 
The North Central Synagogue led by Rabbi Shlomo Chayen, is located at 126 Ben Yehuda Street and is one of the most important and beautiful Jewish community institutions in Tel Aviv. Since its founding in 1934, our historic landmark Tel Aviv synagogue has been an ideal center for the Jewish life of Sabras and Olim living in the neighborhood, as English, French, and Hebrew speakers are welcome in our diverse international synagogue community. Our beit knesset is modern religious Zionist, and young, with its members coming from of all levels of observance, traditions, ages, and levels of familiarity with Jewish customs feeling comfortable. The synagogue offers a variety of spiritual, cultural, and educational programs. We look forward to you joining us for our Torah classes, Shabbat and weekday davening, holiday celebrations, and volunteer chesed opportunities. www.126BenYehuda.com 
About Our Sponsor: Golan Heights Winery 
Golan Heights Winery markets its fine kosher wines under four leading brands – Yarden, Gamla, Mount Hermon and Golan. The Winery is considered Israel's leading winery when it comes to wine quality, technological innovation, and n variety development. Since it was founded in 1983, Golan Heights Winery has played a significant role in developing and nurturing Israel's current wine culture. The Winery also has altered the way Israeli wines are perceived worldwide, and has firmly placed Israel on the world wine map. We are happy to call Golan Heights Winery a true partner in honoring Shabbat in Tel Aviv. www.golanwines.co.il/english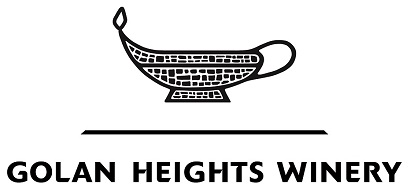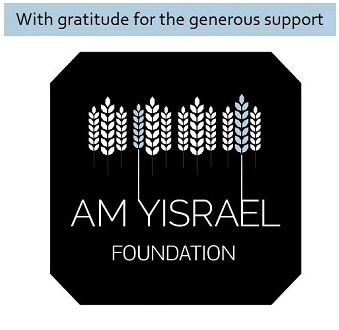 When & Where

126 Ben Yehuda
126 Ben Yehuda Street
Tel Aviv
Israel

Thursday, March 1, 2018 from 1:00 PM to 4:30 PM (IST)
Add to my calendar
Organizer
White City Shabbat's mission is to connect you with Jewish community in Tel Aviv. Tel Aviv has incredible Jewish life and many beautiful kosher Shabbat & Holiday options with incredible people, families, and organizations wanting to host you for a Shabbat dinner or lunch. 
Check out your eating and hosting options at www.WhiteCityShabbat.com. Time to relax!
For more information, please email us at Relax@WhiteCityShabbat.com