Tekserve eWaste Recycling Event

Saturday, October 13, 2012 from 10:00 AM to 4:00 PM (EDT)
Event Details
eWaste Recycling Events Around NYC
10 a.m. - 4 p.m. • Rain or Shine!
At Tekserve: Saturday, October 13th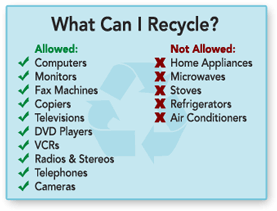 Tekserve has teamed up again with the Lower East Side Ecology Center to offer free eWaste recycling at convenient locations around New York City throughout the summer in 2012. The events will begin on Saturday, June 2nd and will run through December.
Recyclable items include computers, monitors, fax machines, copiers, DVD or VCR players, radios, telephones, cell phones, televisions, cameras, and stereo equipment.
Unfortunately, we cannot accept home appliances such as microwaves, stoves, refrigerators and air conditioners.
As our way of saying thanks, all eWaste Recyclers will receive two special offers:
A "Green Karma" Coupon worth between $5 and $500 off any products or services from Tekserve. Stop by to see what yours is worth! 
Entry into our raffle for a brand new MacBook Air
Dates & Locations
All events are 10 a.m.-4 p.m., unless otherwise noted, rain or shine!
Residents, small businesses, and not-for-profits can drop off unwanted electronics.
| | | |
| --- | --- | --- |
| Sat | 9/22 | Bed Stuy • Brooklyn Ave. between St. Marks Ave. & Prospect Place, Brooklyn |
| Sun | 9/23 | |
| p>Sat | 9/29 | Baychester • Bellamy Loop North at 140 Benchley Place, Bronx |
| Sun | 9/30 | Sara D. Roosevelt Park • Delancy Street between Chrystie & Forsyth, Manhattan |
| Tue | 10/2 | Church of the Heavenly Rest • 5th Avenue and E. 90th Street, Manhattan (11AM-7PM) |
| Sat | 10/6 | Carroll Gardens • Smith St. between President & Union, Brooklyn  |
| Sun | 10/7 | Park Slope Armory • 8th Ave. between 14th & 15th St., Brooklyn |
| Sat | 10/13 | Tekserve • 119 West 23rd St., Manhattan  |
| Sun | 10/14 | Stuyvesant Town • Avenue A Loop from 14th St. & Ave. A, Manhattan |
| Sun | 10/14 | |
| Sat | 10/20 | Flatbush Food Coop • Cortelyou Road between Rugby and Marlborogh, Brooklyn |
| Sun | 10/21 | P.S. 29 • 425 Henry Street, Brooklyn |
| Sat | 10/27 | Church of the Holy Name of Jesus • 207 West 96th Street, Manhattan |
| Sun | 10/28 | Lower East Side • Grand St. between Pitt St. & Bialystoker Place, Manhattan  |
| Sun | 10/28 | Access Self Storage • 29-00 Review Ave., Queens |
| Sat | 12/8 | P. S. 321 • 180 7th Ave., Brooklyn  |
For more information about recycling, or to learn more about the Ecology Center and how you can participate, visit lesecologycenter.org, call 212-477-4022, or email info@lesecologycenter.org.
This recycling program, hosted by Tekserve and the Lower East Side Ecology Center, is free and available to all residents, small businesses (with 50 or fewer employees), and not-for-profits.
Why Recycle Your Electronics?
The components in many electronics can be incredibly hazardous to the environment - contributing up to 70% of the toxins found in landfills - so it's important that they are properly recycled. Find out more through our links to articles on computer recycling. Sponsored collection events, like this one, are one of the easiest ways to properly dispose of your old gadgets in NYC. Due to funding constraints, the city's electronics recycling events and the Build It Green electronics drop-off program have been suspended.
Questions about Recycling
For more frequently asked recycling questions, see the Lower Eastside Ecology Center's E-waste FAQ.
Is my personal information on my computer safe? Do I have to delete the hard drive?
The Lower East Side Ecology Center requires the electronics recycler to safeguard personal information on the hard-drive by physically destroying the hard drive. However, it's never a bad idea to remove your data before you donate your electronics. For Macs, read "How do I securely erase all my data off my Mac?" For PCs, try Kill Disk or Darik's Boot and Nuke, both programs are free. For other devices, check your manual or the manufacturer's website for how to reset the device to factory settings or restore it.
What happens to the computers that people bring to events?
Computer equipment dropped off during our events is loaded into trucks and transported by to a recycling facility. The LESEC works with WeRecycle! LLC as their Electronics Recycling Partner. They guarantee:
No-landfill policy: 100% of your donated electronics is broken down into component materials and used to make recycled products.
No out-sourcing: all recycled material stays in the US to be used by American companies and is not shipped overseas.
Components are sold to base metal brokers for use as raw materials, precious metal recovery refiners, and secondary plastics industries. Leaded CRT glass is shipped to funnel glass manufacturers.
Press & Bloggers
Our press release, press photos, and official Tekserve logos are available for you on our Press Information page. Feel free to embed the YouTube video below on your post.
Check Out Our Recycling Events
A quick peek into our recycling event in March, 2012. Please feel free to embed this on your site.
Tekserve's Other Recycling Programs
Tekserve will accept your old computer and recycle it for you if you are purchasing a new computer from us. If your computer is still working, you may also trade it in for credit towards a new machine at Tekserve. Otherwise, there are drop-off points around the city, places that will accept a donation of your old computer, and also periodic recycling day events.
Bring your old iPod into Tekserve - in working condition or not - for free environmentally friendly disposal and we will offer you a 10% discount on a new iPod purchased at the same time. iPods received for recycling are processed domestically and no hazardous material is shipped overseas.
Tekserve always accepts used Apple batteries for recycling at no charge.
Where can I properly recycle my old computer?
Tekserve supports the efforts of the Lower East Side Ecology Center which runs regular e-waste collection events around the city as well as operating a permanent drop off location. The NYC Department of Sanitation has links to other recycling and donation opportunities.
Why shouldn't I just put my old computer in the trash?
Here's a good article from the National Resources Defense Council explaining the issues. The Basel Action Network has lots more information about the the global problems of e-waste.
Where can I donate my old computer?
Nearly any group accepting donations wants working computers, not junk. Many insist on fairly recent units that will get people smoothly onto the Internet. A few to try are:
cfy.org
cristina.org/dsf
thepencilbox.org
worldcomputerexchange.org
mfta.org
When & Where

Tekserve
119 West 23rd Street
New York, NY 10011


Saturday, October 13, 2012 from 10:00 AM to 4:00 PM (EDT)
Add to my calendar
Organizer
Tekserve
Website:http://eventstekserve.staging.wpengine.com/organizer/tekserve/
Tekserve eWaste Recycling Event