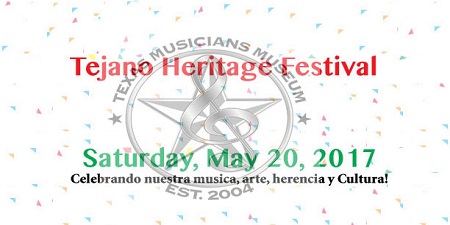 For Info contact Luis Sosa, 214-734-3915, lsosadallas@gmail.com / www.tejanoheritagefestival.com
The first ever Tejano Heritage Festival will celebrate the rich culture of the Tejano experience. It will promote awareness of art, music and lifestyle and pay tribute to an artist who has greatly influenced the Tejano music genre, Mr. Sunny Ozuna of San Antonio.
Family Fest – A community stage featuring local music and dance groups, DJ's and other performers. Kid's activities, clowns, sponsors, food, vendor booths, sampling, mercado items and much more. An enjoyable outdoor family experience. FREE
The Tejano Experience Art and Memorabilia - Focuses on the influences of art, memorabilia highlighting music, performers and history. We plan to present writers and speakers on relevant topics. FREE
Tribute- The Texas Musicians Museum will display a collection celebrating Grammy Award Winner Mr. Ozuna's life and accomplishments as a Tejano and popular music performer. The museum will present Sunny the TMM Tejano Music Legends award that evening.
Concert - Sunny and the Sunliners will perform that evening at the Texas Music Garden. Concert tickets on sale at www.eventbrite,com enter Sunny and the Sunliners.