About this Event
DOORS: 7pm SHOW: 8pm
PRICING: $39.50 Balcony, $49.50 Main Floor , $79.50 Front Main Floor
$1 per ticket sold will support Tegan and Sara Foundation, which fights for health, economic justice, and representation for LGBTQ+ girls and women.
LOCATION: Cahn Auditorium | 600 Emerson St, Evanston, IL
Please scroll down for a detailed FAQ
ABOUT THE ARTISTS
This fall Tegan and Sara are releasing HEY, I'M JUST LIKE YOU, their ninth studio album, along with their first memoir, HIGH SCHOOL.
HIGH SCHOOL chronicles Tegan and Sara Quin's teenage years during the height of grunge and rave culture in the 1990s in Calgary, Alberta, Canada. Before they were celebrated recording artists and LGBTQ+ icons, they were twin sisters growing up down the hall from one another, struggling to figure out their identities, their sexuality, and their futures. Bringing together the fashion and music of the late 90s to create a colorful backdrop to their (mis)adventures, Tegan and Sara pack HIGH SCHOOL with the discordant, difficult and dizzying experiences that informed the people they would become. The memoir is a bravely honest account of the drugs, alcohol, music and relationships they each explored in their formative years, telling for the first time the origin story of these two extraordinary sisters.
While writing HIGH SCHOOL, Tegan and Sara discovered two cassette tapes with dozens of the first songs they ever wrote between the ages of 15 and 17 – tapes that had been unheard for twenty years. Defiant and melodramatic, the melodies and lyrics on these rough tapes captured the exultation and grief of first loves, first losses, ecstatic kiss-offs, and psychedelic tributes to friendship. HEY, I'M JUST LIKE YOU is made up entirely of new studio recordings of those early songs, recasting Tegan and Sara's remarkable innate songwriting talents as teenagers, and allowing these previously unreleased songs to benefit from the studio expertise they have gained in the past two decades as professional musicians.
"This is a record we never could have made as teenagers, full of songs we never could have written as adults," says Tegan.
Adds Sara, "With only minor tweaks to lyrics and structure, we tried to remain true to the original essence of each song."
Recorded in Vancouver, BC in April and May 2019, HEY, I'M JUST LIKE YOU is the first Tegan and Sara album produced, performed, engineered, mixed, and mastered by a team of all women. It also stands as the most collaborative album ever between them – in some cases Sara sings songs that Tegan wrote, while on others Tegan gives voice to Sara's melodies and lyrics.
HIGH SCHOOL and HEY, I'M JUST LIKE YOU stand alone, but together they bring depth and dimension to the other, forming a fascinating new chapter in Tegan and Sara's singular career – a career that has seen them sell well over one million records and perform on some of the world's biggest stages, from Coachella to the Academy Awards. They have received three Juno Awards, a GRAMMY nomination, and a Governor General's Performing Arts Award (Canada's highest national honor in the arts). In 2016 they created the Tegan and Sara Foundation, which fights for health, economic justice, and representation for LGBTQ+ girls and women.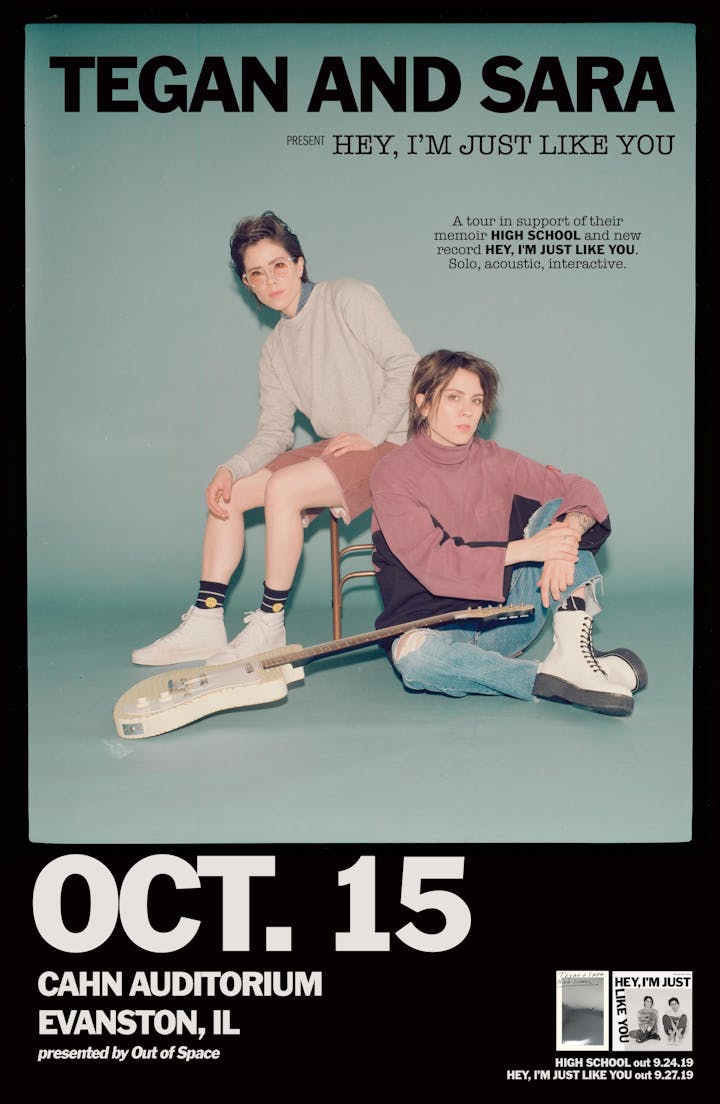 FAQ
ARE THERE ID OR MINIMUM AGE REQUIREMENTS TO ENTER THE EVENT? This show is all ages, but please bring a valid ID if you selected will call.
WHERE IS THE CONCERT LOCATED? This show is presented by Out of Space at Cahn Auditorium, located at 600 Emerson St, in Evanston, IL. This event is NOT at SPACE.
IS THIS EVENT ADA ACCESSIBLE? Yes, Cahn Auditorium is ADA accessible. Accessible tickets can be purchased by contacting SPACE directly (boxoffice@evanstonspace.com or 847.492.8860). You may also purchase tickets in-person at the SPACE box office (1245 Chicago Avenue in Evanston) any evening we have a show from 5-9pm.
CAN I BUY TICKETS IN-PERSON? Yes, tickets with no added service fees are available for purchase at the SPACE box office. Advance tickets will NOT be available for sale at Cahn Auditorium. The SPACE box office is open any evening we have a show from 5-9pm. We're located at 1245 Chicago Avenue in Evanston.
WHAT ARE MY TRANSPORTATION/PARKING OPTIONS FOR GETTING TO AND FROM THE EVENT? We recommend the Northwestern University Visitor Center Garage off Sheridan Road (1841 Sheridan Rd, Evanston, IL)—free after 4 pm weekdays. and all day Saturday, Sunday and holidays. During other times it's $8 (no pass or permit needed, pay by credit card only. Park for a fee in City of Evanston parking garages at Clark and Chicago, Davis and Benson or Clark and Maple. Please add at least 20 minutes to travel time for parking. A detailed map is located below.
We do not recommend street parking, as there are two-hour limits all around the theater. Please note restrictions on posted signs.
If traveling by CTA: Take L to Foster Street Purple Line Stop. Walk two and a half blocks blocks east to Sheridan Road, then one block south to Cahn Auditorium.
There will be a designated drop-off area for ride-shares.
DO I NEED A HARD-COPY TICKET? WHAT IF I LOSE MY TICKET? If you selected the print-at-home option, your ticket is attached to this email as a PDF. If for some reason you cannot locate your ticket, your name will also be on a will call list at the door. Please bring a valid ID.
WHAT TIME DO DOORS OPEN? WHAT TIME DOES THE CONCERT START? Doors for the event open 1 hour before show-time. For this concert, doors will open at 7pm and Tegan & Sara will go on at 8pm. There is no opening act.
WILL FOOD & DRINKS BE AVAILABLE? IS THERE A BAR? There will be no food or drinks on-site at Cahn Auditorium. Outside food and beverages are prohibited, but factory-sealed water and empty reusable water bottles are allowed inside. There is no bar and alcoholic beverages will not be served. Cahn Auditorium is within walking distance of many great downtown Evanston restaurants. Click here for more info.
WHAT'S THE REFUND POLICY? All tickets are non-refundable. Only under special circumstances do we allow name transfers on tickets.
HOW CAN I CONTACT THE EVENT ORGANIZER? For questions regarding your order, please email boxoffice@evanstonspace.com or call 847.492.8860.
All SPACE and Out of Space events are safe and welcoming gatherings to ALL music fans. Hostile or harassing behavior towards any other concert-goers or event staff will never be tolerated.  If you notice this type of behavior, please approach any event staff and let them know or email info@evanstonspace.com.