Description
This year marks our fourth annual conference. We have speakers ranging from industries such as film all the way to computer science.
We are proud to be partnered with over 12 companies and organizations including: Blue Apron, UNIS, evvnt, Microsoft, CitiBank, SCAD, Google, and more.

Breakfast and lunch are provided.
Scholarship option: If you can't pay full price, contact us at teentechny@gmail.com
Central Park West, Central Park East and Radio City are all rooms within the Microsoft Technology Center conference space. The event will take place in one location.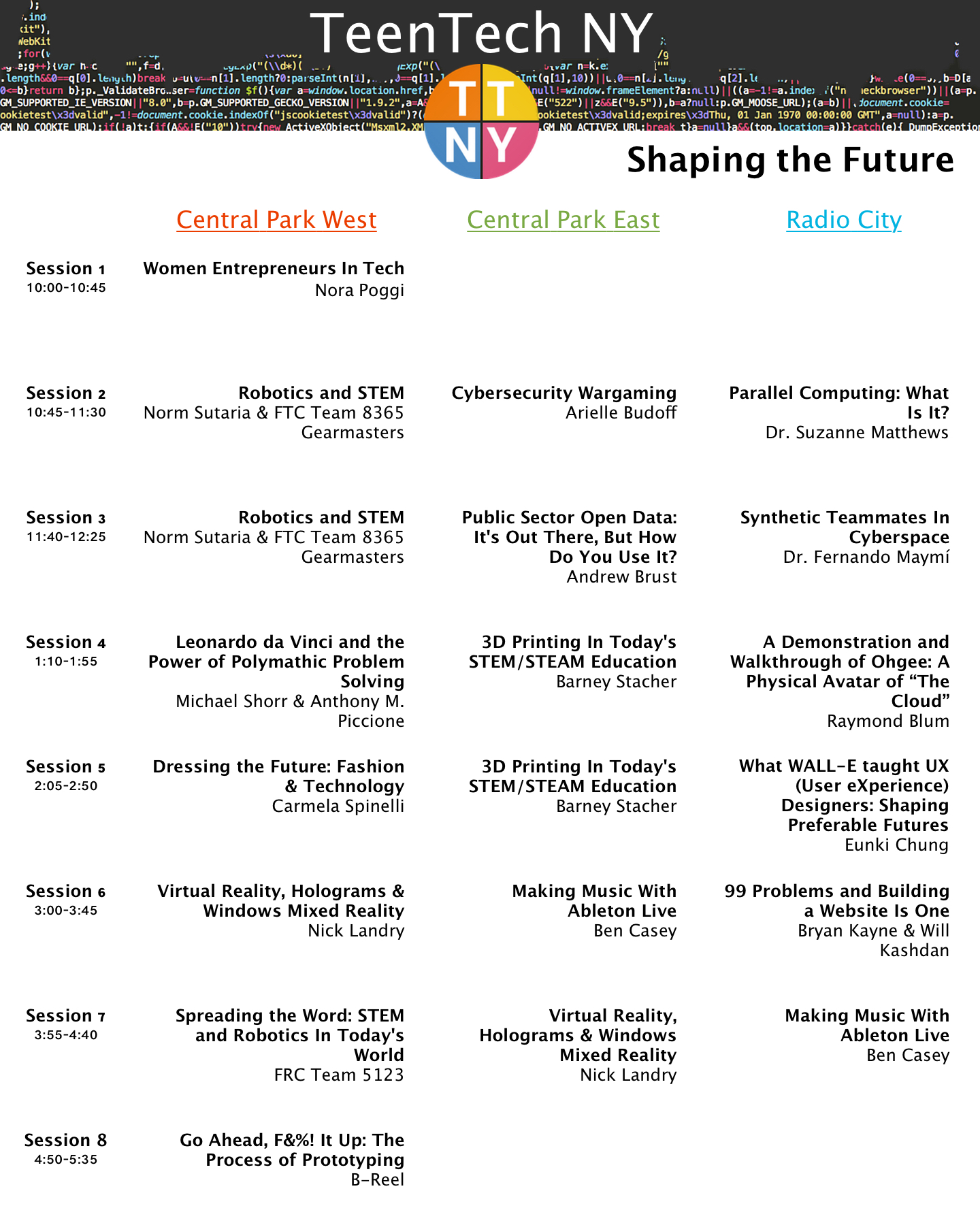 FAQ
What is TeenTech NY?
TeenTech NY is an interactive tech community for teens to innovate, collaborate, and create. We connect students ages 14-20 with industry professionals to expose them to all the possibilities in tech. By educating young minds about technology in today's world, we are discarding misconceptions and tropes such as: having to be a computer or math genius to have a career in tech. Run by and for teens, TeenTech NY hosts its annual conference at Microsoft's Technology Center in Times Square; providing an opportunity to meet other like minded students, learn about the limitless possibilities in tech, and network with industry professionals.
---
Who can attend?
TeenTech NY is open to students ages 14-20.
---
How can I contact TeenTech NY?
You can reach us at:
teentechny.org
teentechny@gmail.com
facebook.com/OfficialTeenTechNY
twitter.com/TeenTechNY
---
Can my parents come?
Unfortunately, there won't be enough room to bring your parents.
---
What if it rains?
Who cares? Tech knows no weather! Also, Microsoft has a fantastic space for us, so rain is not an issue.
---
Should I bring my own food?
You are welcome to. However, we do provide food at the conference (breakfast, lunch and snack) through a Microsoft preferred caterer.