TEENFORUM Presents Open Crit with Guest Kolton Sizer: FEBRUARY
About this Event
ABOUT THE EVENT:
Please join us for our first open critique evening! This event is free and open to the public, ages 13-19. Guests may bring art work to receive feedback from our guest critic and open crit attendees. The environment is welcoming and provides positive, yet critical feedback regarding teen art practices, by offering suggestions and feedback for growth. Please feel free to come and participate, either by sharing your work or participating from the audience. Time will divided evenly among attendees who bring work to share.
Don't miss this opportunity to have your work seen and discussed by art professionals! Space is limited, so sign up and reserve your free tickets now.
ABOUT THE GUEST CRITIC:
Kolton Lucius Sizer is a midwestern artist that takes pride in painting imagery influenced by his environment. After spending his childhood living throughout middle America, Sizer began pursuing art after settling down in South Bend, IN with his lovely wife, Jordain. In 2019, he received his BFA in drawing and painting and a minor in sculpture from Indiana University South Bend. When he is not in the studio or spending time with his wife and clan of animals, 2 dogs and 2 cats, he enjoys participating and engaging with his community.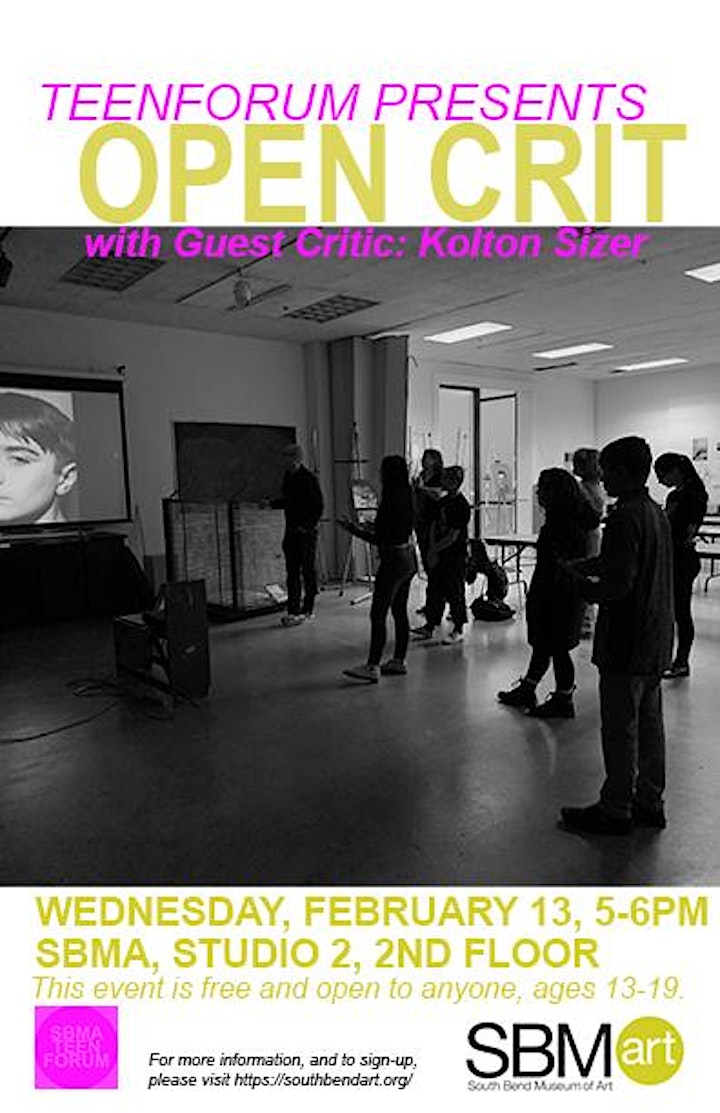 DUE TO WEATHER CONDITIONS, THIS EVENT HAS BEEN RESCHEDULED FOR FEB. 20.