Description
Make sure you teen is prepared for the road and expose them to a much needed trade!
This FREE clinic is open to boys ages 14 - 17 years old. Attendees will get instruction on car care basics i.e. changing tires, checking oil & how to conduct safety checks. This clinic will be instructed by Randolph Kennedy a skilled a licensed mechanic with over 35 years of experience.
Spots are limited. This workshop will be held again in the future.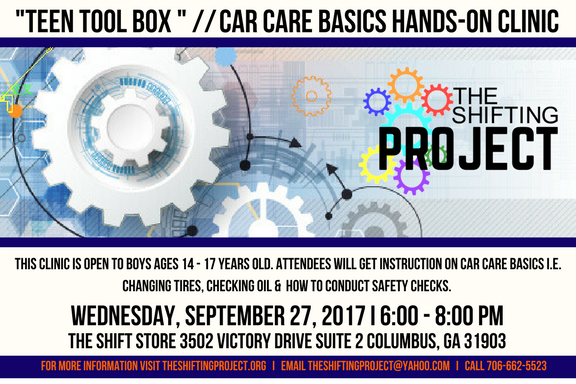 The Shifting Project's mission is to support, encourage, and empower children of incarcerated parents (CIPs), to prevent them from induction into the juvenile justice system and/or the adult corrections system, and to rehabilitate and aid those who have been involved with the juvenile justice system.
Research shows that children of incarcerated parents experience confusion, depression, lack of motivation, and other symptoms related to the loss of a loved one. These emotions can lead to difficulties in an academic setting, issues with peer relationships, and self expression.

The United States currently has 1.5 million people in state prisons or jails. The state of Georgia is has the fifth highest number of its population in state prisons or jails. 60% of all Georgia's prisoners are parents.