Description
The Labs at DC Public Library are hosting a Teen Techathon for Black History Month.
---
Meet professionals in the STEAM (Science, Technology, Engineering, Arts and Mathematics) fields.
All day maker fair, interactive workshops and presentations.
FREE event. The Maker Fair is fun for the whole family. Workshops and Presentations are for teens (12+) only.
Street parking is limited. We are located across from the Gallery Place Metro 9th and G Street exit.
---
Keynote Speaker

Roye Okupe
F
ounder/Creative Director at
YouNeek Studios
Roye Okupe is a creative specialist with a Master's in Computer Science from The George Washington University. He is the founder of YouNeek Studios, where he pursues his dream of creating diverse superheroes. On August 2015, Roye released his debut graphic novel titled: E.X.O. The Legend of Wale Williams Part One, a superhero story set in a futuristic Nigeria. Okupe has been featured on CNN, Forbes, The New York Times, NBC, The Guardian, ABC7, BBC, The Huffington Post, Mashabe and others.


12:15 p.m. - 12:45 p.m.
Located in A - 5
Featured Artist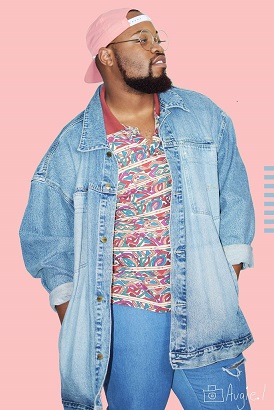 Thaddeus Coates
Graphic Designer/ Founder of Hippy Potter Co.
Thaddeus Coates is an artist attending the Fashion Institute of Technology. He is a native Washingtonian and graduated from McKinley Technological High School. Coates is the founder of Hippy Potter, a design platform influenced by African American culture that incorporates aspects of Afrofuturism. He has been featured on Blavity, Revolt TV, Black and Gifted, Arcade 2.0, Think Pink and more.
Located in the Great Hall
10 a.m. - 5:00 p.m.

---
Presentations
Presentations are first come, first served. Tickets are not required. Seating is limited.
Dream Lab A
10:30 a.m. - 11:30 a.m., OCTO

2 p.m. - 3 p.m., Fiscal Note, Chatting with computers: an Introduction to Natural Language Processing

4p.m. - 5 p.m., NASA, Global Precipitation Measurement
Dream Lab B
1 p.m. - 2 p.m., Esohe Irabor, Real Life Links Science, Sci-Fi and Fantasy

3 p.m. - 4 p.m., Atlantis Browder, ASA Restoration Project, Egyptology and Archaeology

Studio Lab

10 a.m. - 12 a.m., Jabari Zakiya, Magic of Mathematical Thinking
Mobile Tech Lab
3 p.m. - 4 p.m., Draftspot, Innovating in the Digital Era through Mobile Apps


Workshops
Participants must show valid ticket for entry.
Studio Lab
1 p.m. - 2 p.m., Afrofuturism, Holly Bass, Artist/Writer/Director
This writing workshop will explore the connection between science fiction, technology and freedom. Participants will read a short excerpt from Octavia Butler's Parable of the Sower. Writing prompts will guide the creative process. No previous writing experience is needed and all levels are welcome! Workshop serves participants ages 12 and older.

3 p.m. - 4 p.m., Inspireme, The Power of Vision
Teens will discuss their future and create vision boards to take home with them. Workshop serves participants ages 12 and older.
A- 3

10 a.m. - 12 p.m., NASA, The Exploration and Evolution of Earth's Moon
A hands on exhibit regarding the exploration and evolution of the moon; how it formed and how it has evolved over time, how we're learning about it with NASA's Lunar Reconnaissance Orbiter mission, and how participants can analyze data from the mission from home. Worskop serves participants ages 12 and older.
1 p.m. - 2:30 p.m., Future Makers, Artbot & Electronics Invention Lab
Use motors, LED's, batteries and simple circuitry to invent an artwork that moves and comes alive! Use conductive materials, build a switch, learn about the basics of electronics, and go home with a moving sculpture that gets you started on the path to making things come alive No experience needed, all supplies provided. Workshop serves participants ages 7 and older.
3 p.m. - 4 p.m., Koshland Science Museum, Extreme Event
This in-person role-playing game gives participants a taste of what it takes to build community resilience in the face of disaster. Players work together to make decisions and solve problems during an engaging, fast-paced disaster simulation. Workshop serves participants ages 12 and older.

Rm. 302

1 p.m. - 3 p.m., DSLBD, Build a Dream Entrepreneurial Workshop
This workshop will walk through the basics of entrepreneurship and business starts from ideation through market research, basic business planning, and mock pitches. Workshop participants will work in small teams to develop a mock business idea and will leave with materials about exploring entrepreneurship as part of career readiness. This workshop is geared towards participants ages 12 and older.

3:30 p.m. - 4:30 p.m., Makersgeneration, Robots
Teens will create a small rolling robot with electronic components. Workshop serves participants ages 12 and older.

Rm. 311
10 a.m. - 12 p.m., Women Who Code, Intro to Java

Teens will learn Java Code. Workshop serves participants ages 12 and older.

1 p.m. - 3 p.m., NBUF, HTML
Teens will learn HTML. Workshop serves participants ages 12 and older.
Mobile Tech Lab
10:30 a.m. - 12 p.m., KID Museum, Introduction to Scratch
Teens can design their own interactive animations, video games and much more! Scratch is an accessible programming language. Learn to make your characters move, add sound, keep score, and assign interactive elements for your game or animation. Workshop serves participants 12 and older.
1 p.m. - 2:30 p.m., Cyberninjaz, Game Design with Cyberninjaz
Join Cyberninjaz as we walk you through the steps of creating your own video games. Workshop serves participants 12 and older.

A Level
A-2, All Day
Gallery exhibit featuring contributions of persons of African descent to the STEM fields.
Panel Discussion
A-5, 2 p.m. - 3 p.m.
The panel discussion is geared towards teens and parents.
---
Participants






Koshland Science Museum - Tech Shop DC - Center for Science Education -Fiscal Note - OCTO - Bravo Zulu Chess - Fantom Comics - NBUF and more!
---


Partners
Special thanks to the
Carnegie Institution for Science.