About this Event
We are starting our popular 2019 Teen Night Summer Series, June, 30th at STATUS nightlife complex! AGES: 13-17
Address: 920 Lake Arrowhead Rd, Myrtle Beach, SC 29572
With special guest Noah Cutler Also known as Baby Birdman, he is a basketball phoneme who showcases his basketball talents for a large Instagram following. He went viral for his video of Stephen Curry warming up.
Check out his Instagram here: https://www.instagram.com/babybirdman3/
Please send us a message with any questions you may have to our new Facebook page: https://www.facebook.com/MBTeenNight/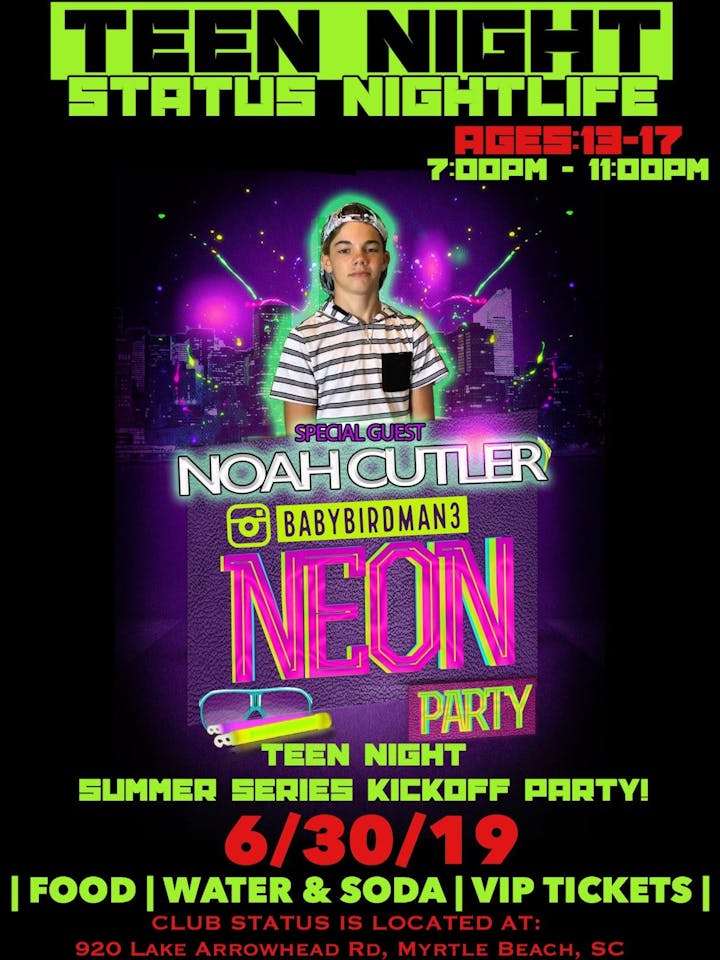 We reserves the right to use any photograph/video taken at any event, without the expressed written permission of those included within the photograph/video. We may use the photograph/video in publications or other media material produced, used or contracted by us including but not limited to: brochures, invitations, books, newspapers, magazines, television, websites, etc.
To ensure the privacy of individuals and children, images will not be identified using full names or personal identifying information without written approval from the photographed subject, parent or legal guardian.
A person attending one of our events who does not wish to have their image recorded for distribution should make their wishes known to the photographer, and/or the event organizers.
Any person or organization not affiliated with us may not use, copy, alter or modify photographs, graphics, videography or other, similar reproductions or recordings without the advance written permission of an authorized designee from us.
Thank you for your understanding and cooperation!