Teen Mastermind Students Go on Safari at the North Carolina Zoo

Saturday, April 4, 2015 from 11:00 AM to 3:30 PM (EDT)
Event Details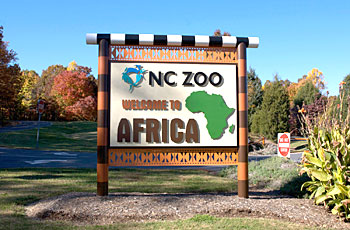 Teen Mastermind Students Go on Safari at the North Carolina Zoo.
We are skipping March. We will all meet at the Zoo.
Date: Saturday, April 4, 2015
Time: Arrive 11am at the Africa Entrance
Cost: The Zoo offers general admission tickets for $12 adults (ages 13-61), $10 seniors (62+) and $8 children (ages 2-12).
Purchase tickets online or at the NC Zoo entrance.
Zoo Website: http://www.nczoo.org/
Park in the Africa Parking: 4401 Zoo Parkway, Asheboro, NC 27205
The entire family is welcome to join us on this African Safari adventure!!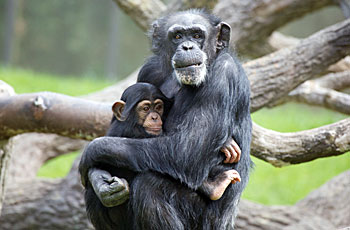 The Teen Mastermind students will be working together to discover the following:
• Going Primal
• Plotting Biodiversity
• How Myths Matter
• The Art of Biodiversity
We will then enjoy viewing the feeding schedules of:
• Chimpanzee at 2pm
• Red-ruffed Lemur at 2:30pm
• Vampire Bat at 3:30pm
Other fun viewings:
• Lion Cubs
• Giraffes at eye level
Here are some tips from animal keepers to help you see the animals:

• As a general rule, animals tend to be more active in the morning than in the afternoon.
• The animals will not respond to calls, whistles or tapping on the glass. Your best bet is to remain quiet and watchful.
• Some animals tend to stay in the back of their exhibit near the Zoo's closing. In large exhibits, animals might be harder to see at the end of the day.
• Many animals use "camouflage techniques," so be patient and look closely.
• Use your senses, like hearing, to help you find an animal. In the Aviary, listen for the rustle of leaves. Look up in the canopy and near the ground to find birds.
NC Zoo suggests What to bring:
• Comfortable walking shoes are strongly recommended. While the Zoo provides transportation to strategic locations inside the Park, the best way to experience the Zoo is by walking. The Park includes five miles of tree-lined trails.
• Check the weather forecast and dress appropriately because you will be outside for the majority of your visit. Bring an umbrella or rain jacket in case it rains (as an outdoor facility, we do not issue rain checks or refunds). Sunscreen and hats are a good idea for hot days. You can also purchase inexpensive rain jackets, ponchos, sunscreen and hats in our gift shops.
• Credit cards, debit cards, Zoo gift cards and cash are accepted.
• Camera and video cameras are encouraged to photograph the amazing wildlife!
• Binoculars come in handy at some exhibits like the Aviary, Prairie and Watani Grasslands Reserve.
• Specific medical supplies (e.g. insulin for diabetics) for special needs. If you have a medical condition that requires that you keep a cooler, you may bring it into the Park. The admissions staff will inspect the cooler and identify it for medical purposes.
• Public picnic areas are available outside of the zoo. Outside food and drinks are not permitted in the zoo for animal safety. For your convenience 3 restaurants sell food inside the zoo.
Go Wild, Within Limits
Certain rules must be followed while you are visiting the Zoo. These rules have been developed for the safety of visitors and the Zoo's animals.
Prohibited Items
• alcohol, backpacks*, balloons, balls, bicycles, coolers**, firearms and concealed weapons, food or beverage**, frisbees, glass, grills, noise makers, pets, radios, remote control toys, rollerblades, scooters, shoes with wheels, skateboards, skates, steering trikes
*Backpacks used as camera bags, diaper bags or pocketbooks can be brought into the Zoo. School students should not bring backpacks. The Zoo reserves the right to check the contents of any backpack.
**Coolers, food or beverage used for medical purposes can be checked at either entrance, tagged and brought inside the Zoo. Guests are welcome to carry a bottled, non-alcoholic beverage into the Park.
Rules
• The North Carolina Zoo is a Smoke-free facility. Smoking is restricted to outside Park gates. Visitors who wish to smoke may present their daily admission receipt for express re-entry.
• There are no refunds or rain checks offered due to animal availability or weather conditions.
• We do not allow pets except for service animals. Visitors who wish to bring animals into the Zoo as service animals are asked to bring them to the Visitor Services Office located at each entrance's welcome center. If you have questions, please contact us before bringing your animal to the Zoo.
We discourage visitors from bringing pets and leaving them in parked vehicles. Distressed pets will be removed from vehicles.
• Please keep the Zoo clean by placing all litter in the proper trash and recycling receptacles.
• Do not cross fences or railings. Exhibits and enclosures are designed to protect visitors and animals from harm.
• Costumed characters are not allowed at the Zoo unless the person is:
• under contract with the NC Zoo or NC Zoo Society
• participating in a Zoo, age-specific activity
• No adult costumes, adult masks or adult face painting please.
Have questions about Teen Mastermind Students Go on Safari at the North Carolina Zoo?
Contact Anna Campbell
When & Where

North Carolina Zoo
4401 Zoo Parkway
Asheboro, NC 27205


Saturday, April 4, 2015 from 11:00 AM to 3:30 PM (EDT)
Add to my calendar
Organizer
Anna Campbell
Anna Campbell has actively taught principles of art and critical thinking within the public school system, non-profit organizations such as Destination Imagination, PTA (Parent, Teacher Association), PTSA (Parent, Teacher, Student Association), and privately with small groups of students ranging from elementary level through high school.
Anna believes that every student has a brilliant mind and their full potential is just waiting to be discovered.
Anna and her family live in Fuquay-Varina, NC and she has organized the Teen Mastermind group that meets monthly at her home, the Ballentine-Spence House a local historical landmark.  The group is open to students 13 to 19 years of age in Wake and Harnett Counties.
Teen Mastermind Students Go on Safari at the North Carolina Zoo