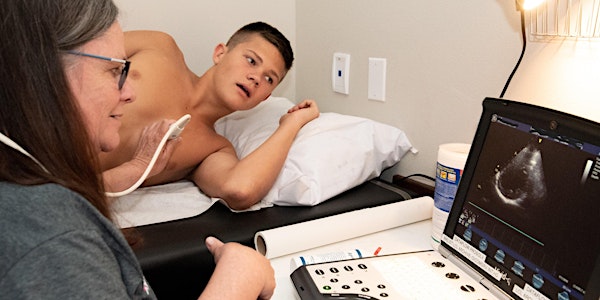 Teen Heart Screening on Sept 24, 2022 at TCH Specialty Care, Austin, TX
The CHF free heart screenings are non-invasive and painless. There is limited availability and ticketing ends 9/23/22 at 9:00 PM.
When and where
Location
Texas Children's Hospital Specialty Care 8611 N. Mopac Expressway, Ste. 300 Austin, TX 78759
About this event
THE 9/24/22 SCREENING IS SOLD OUT! PLEASE JOIN OUR EMAIL LIST FOR NOTIFICATIONS OF UPCOMING SCREENINGS IN THE AUSTIN AREA. THANK YOU.
Thank you, Texas Children's Hospital, for sponsoring the Free Teen Heart Screening!
COVID-19 INFORMATION:  Many health facilities require patients and visitors to wear a face covering/mask. We will follow the health facility guidelines in place at the time of this Free Teen Heart Screening event. Expect an email from info@champhearts.org a few days ahead of the screening with the latest arrival instructions. Please limit your family's attendance to one parent/guardian with the teen(s) to be screened and adhere to social distancing measures.
BASIC INFORMATION
♥ Championship Hearts screens teens, ages 14-18, for Hypertrophic Cardiomyopathy (HCM). Generally, one screening after age 15 is sufficient, unless cardiac symptoms are present. ♥ HCM causes a thickening of the heart wall, and can lead to obstruction of blood flow and an erratic heartbeat. ♥ HCM typically does not present any symptoms. ♥ HCM is the leading cause of sudden cardiac death in young people. ♥ HCM effects roughly 1 in 500.
♥ The Championship Hearts screening does not check for causes of heart murmurs.
SCREENING PROCESS
♥ A parental waiver must be signed in order for the student to receive a screening. ♥ Students should wear loose fitting clothing. ♥ Screening includes a 12-lead Electrocardiogram (ECG) and a limited 2-D Echocardiogram (ECHO). ♥ The screening process typically takes approximately 20 - 30 minutes per student. NOTE: AVERAGE WAIT TIME BETWEEN TESTING STATIONS VARIES. ♥ Screenings are offered at no charge. For those choosing to make an optional donation, $35 does help offset the cost to screen a student. ♥ Students may have the option to participate in the Texas Adolescent Athlete Heart Screening Registry (TAAHSR) research study. To participate, students and parents are informed of data collected, can ask questions, and must sign appropriate Consent documents. The study receives oversight from the Baylor College of Medicine Institutional Review Board.
Adult and student (high school) VOLUNTEERS are needed for this event. Click here to volunteer at the heart screening on September 24, 2022 in Austin, TX.
FOUNDATION INFORMATION ♥ Championship Hearts Foundation is committed to reducing cardiovascular disease in Texas through education, awareness, and life-saving technology. ♥ Donations are appreciated and help to fund future screenings and other Foundation projects.
CHAMPIONSHIP HEARTS FOUNDATION MAILING ADDRESS:  P.O. Box 141292, Austin, Texas 78714-1292  Phone: 888-884-6945