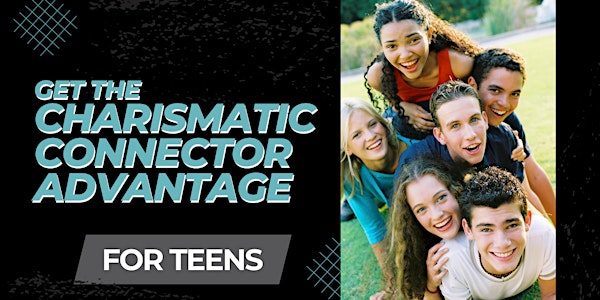 TEEN Charismatic Connector - 3-day Wrkshp - AZ
*** WARNING *** WARNING *** WARNING *** WARNING *** WARNING *** THIS CAMP COULD CHANGE YOUR TEENAGER INTO A FUNCTIONING YOUNG ADULT!!!
By Jef Rawls - Charismatic Connector Coach
Date and time
Starts on Tuesday, July 18 · 10am MST
Location
JesterZ Improv Theater 1061 N. Dobson Rd. #114 Mesa, AZ 85201
About this event
2 days 5 hours

Mobile eTicket
THIS IS THE COMMUNICATION TRAINING YOU WISH YOU HAD WHEN YOU WERE A TEEN!!
These days kids are communicating less and limiting their conversations to emoji's, snaps, texts and memes.
THIS WORLD NEEDS LESS OF THIS:
AND MORE FACE TO FACE CONVERSATIONS TO CONNECT WITH OTHER HUMANS!!
Teenagers deal with so much social pressures in person and online. They lack connection and have minimized their communication to negative talk about self and others. Today's youth connect their identity with likes on IG and views on TikTok.
This 3 Day Intensive Will Empower Your Teen with The Charismatic Connector Advantage™
Give your teen the gift of the 10 C's as a foundation to help the develop the skills they need to succeed at LIFE (the things adults wish they knew earlier! The stuff they don't teach in school).
Each of the 10 C's have fun activities to give hands on practice and application of each vital attribute. We'll roll-play conversations that help each student level up from where they are to be more confident in who they are!
Life Skills That Will Help Your Teen With:
Group social skills at school, church, sports, etc.
Communicating with adults (incl. YOU!)
Customer service & phone skills
Job Interview
College prep/entrance
Dating & 1-on-1 conversations
Leadership roles
Public speaking & social discomfort
Ministry & missionary service
Overcoming anxiety
Interpersonal boundaries
Communication Skills
Body language
Purposeful eye contact
Start a conversation
Continue a conversation
Listening better
Overcome anxiety
Know what to talk about
Focus in the "now"
July 18-20 - JesterZ Theater in Mesa
Tuesday | Wednesday | Thursday
10am-3pm | Ages 12-18
15 hours of training! We will explore and strengthen confidence, charisma, and communication through various activities, challenges, games, insights, roll play and discussion.  Don't worry!  This is NOT SCHOOL!!  This is a FUN and interactive EVENT.  
REVIEWS:
Here's a real review from a mother about her socially disconnected son:
"On the drive home from your Charismatic Connector workshop, I wanted to turn the car around, come back and ask 'what have you done with my son??? This must be an alien. We never have this kind of conversation! He was asking questions, sharing his opinion and had more confidence than I have ever seen in him! Today, he is transformed. Thank you for this gift!!"
or how about this one:
And a couple reviews from the teens themselves:
"I actually feel more confident to approach adults and carry on a full conversation"
"I used to be scared to do a job interview, but I'm excited to do that now"
"My mom said she wishes she learned this when she was my age" 
About the organizer
For 22 years, Jef Rawls has taught improvisational FUNdamentals and competencies, not only to hundreds of successful performers and entertainers, and literally thousands of students of all ages, but also coaching business professionals and teams at companies such as Target, GoDaddy, Intel, Discover Card and AutoZone.
He brings years of professional development through creativity, communication and team building.  Jef inspires each student to actively increase their confidence and charisma. Jef's energetic, engaging and exploratory classes elevate students to be competent and capable offstage and in life!
Professional Actor since 1996 – represented by Leighton Talent Agency.
in production: Host and Producer of "Inside The Laughter Studio" with special guests:
Dick Van Dyke (Mary Poppins, Dick Van Dyke Show)
Sean Astin (Rudy, Goonies, LOTR)
Pat Finn (The Middle, Air Bud)
Host of ABC's Emmy Award winning TV educational series "What's Up".
Host and Producer of All-Comedy Radio's morning show "Breakfast Epiphanies"
30+ Local & National Commercials
PetSmart, Subway, Honda, Blue Diamond Almond, Peter Piper Pizza, Cox Cable  (partial list)
50+ Educational Videos
Pearson Educational – 15+ Voice Over & Character Credits
Teachers Video Company (Recipient of Teachers Choice Award) – 15+ Character Credits

Global Video 15+ including lead voice talent for animated education series
TV & Movie Credits
America's Most Wanted

TV mini series – The Fugitive (photo double)

Hallmark Movie of the Week – Looking for Lost Bird
Featured on Money Matters Radio Show, Events and Adventure Radio, ABC 15 News, KTVK, AZ Mornings and The Pat McMahon Show.