Event Information
Location
824 San Antonio Road
Palo Alto, CA 94303
Description
Please note the time change for the event: now 12:15-2:00pm.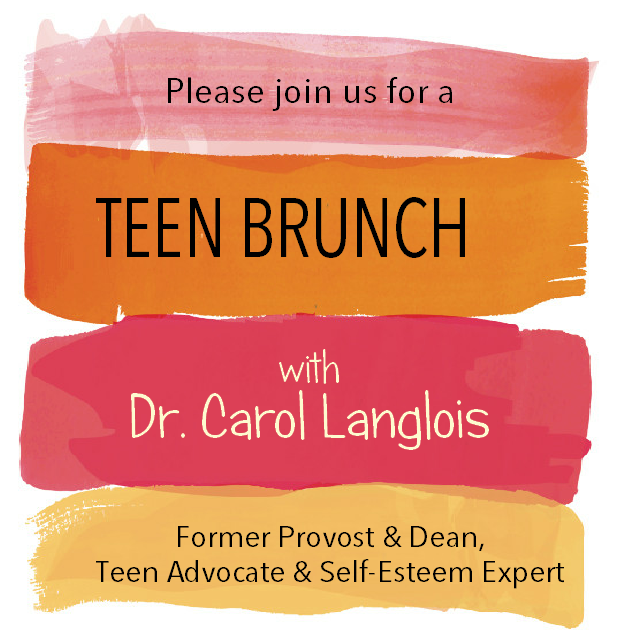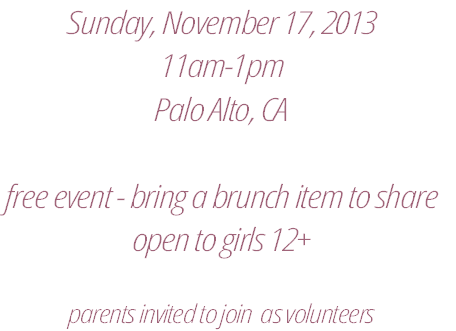 ABOUT OUR SPECIAL GUEST: DR. CAROL LANGLOIS

Dr. Carol Langlois is a former University Associate Provost and Dean, trained therapist, researcher, and soon to be author. She is working on her first book called Girl Talk: Boys, Bullies and Body Image which is a compilation of interviews with teen girls on the topic of self-esteem.
Presently, she hosts a blog to offer practical advice and guidance on self-esteem issues for parents and teens. She also tweets articles, tips and resources @SelfEsteemDean.
Click here to view our Q&A Interview with Dr. Carol.
ABOUT OUR PROGRAM
This fall, together with and led by girls, moms, and members of the community like you, we're putting together some workshops/projects to help girls explore, learn and lead by example. For every idea that comes up, we ask: what question/problem does this workshop/project seek to take one step towards addressing? We then design the project around our program goals and values, harnessing the power of community to engage speakers, mentors and project coordinators.
ABOUT THIS EVENT
This event is part of our TEEN BRUNCH SERIES for girls (12+) who would like to be more involved in the Girls Innovate! community. After a brief Teen Committee meeting, the girls enjoy brunch and a fireside chat with a special guest who is an inspiring female entrepreneur/ innovator.
Goals for this series are to:
Build a supportive community for teen girls to take leadership and be inspired for social impact and innovation.

Provide girls the opportunity to be project leaders: organize and plan brunches, curate talks, meet inspiring professionals and practice communicating effectively.

Create a space for girls to meet each other and be introduced to female professionals who have taken brave and inspiring journeys.
This event is free of charge (bring a brunch item to share) and open to girls (age 12+). Parents are invited to join.
ABOUT OUR TEEN PROJECT LEADER: JULIA KHAN
Julia Khan is currently a junior at Los Altos High School in Los Altos, CA.
ABOUT OUR HOST/SPONSOR: BAY AREA COLLEGE OF NURSING

Bay Area College of Nursing: Founded in 2004, Bay Area College of Nursing is committed to excellence in healthcare training. The school offers several programs and a strong community to provide a learning environment which promotes the development of each student's intellect, nursing skills, and social values. (Rachelle C. Cagampan, Founder/CEO)
Date and time
Location
824 San Antonio Road
Palo Alto, CA 94303