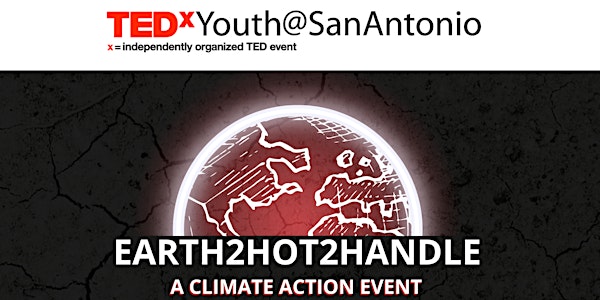 TEDxYouth@SanAntonio - Earth2Hot2Handle
Middle school, High school, and college students! Ready to make a difference on climate change? We're ready to take action, together!
When and where
Location
Buena Vista Theater, UTSA 501 W Cesar Chavez Blvd San Antonio, TX 78207
About this event
Earth2Hot2Handle: A Climate Action event
Attention Middle & High School students and their supporters! Experience TEDxYouth@SanAntonio in person, live at UTSA's Buena Vista Theatre downtown, or connect via livestream. The event is free to attend.
Earth2Hot2Handle is organized BY youth, FOR youth. Community members are also welcome, but be ready to run on Youth time and Youth energy!
Interact with peers, community organizations, and potential employers to explore options for Climate Action solutions. Come ready to learn and share your energy and ideas.
See and interact with 6 live speakers as they deliver brand-new TEDx talks on Climate Action (you'll see a mix of adult and Youth speakers).
Meet representatives from organizations actively working to combat the effects of climate change on our planet
Explore options for making a difference in our interactive Idea Lab
Enjoy a provided lunch while you discuss climate action and other issues with your peers and the community
All tickets are free!
We'll share transportation and parking options to ticketholders. You must register to attend; please release your ticket to the waiting list if your plans change. Registration will open at 9:30 am, so plan to arrive early to secure a seat in the main auditorium. 
F.A.Q.
Q: What is TED, and what is TEDx?
A: TED is a nonprofit devoted to Ideas Worth Spreading. They make opportunities for people to share ideas, then publish the ideas online and make them free for everyone to see and share. TEDxSanAntonio is a community group organizing events under license from TED.
Q: What is a TEDx Youth event?
A: Students middle-school age and up can organize TEDx events under the mentorship of a licensed TEDx group, such as TEDxSanAntonio. Youth get the opportunity to learn how to put on a community-based event.
Q: Where do sponsorship funds go?
A: The proceeds from this salon go to TEDxSanAntonio and Fiesta for the Mind, a non-profit 501(c)3organization that brings "ideas worth spreading" to the San Antonio community through thoughtful and innovative talks and other events. We use funds for our all-volunteer organization in many ways, including but not limited to interactive exhibits, entertainment, food, scholarships, viewing parties and other events.
Q: Are tickets transferable?
A: No. If you cannot make the event, please release your ticket so another person may attend.
Q: Can children attend?
A: TEDxYouth@SA is geared toward middle school students and older. Adults should accompany children under 10.
Q: Is it too late to sponsor?
A: No! TEDxSanAntonio is 100% volunteer driven so we are always open to new partnerships. Please contact Sponsors@TEDxSanAntonio.com for sponsorship opporunities or nonprofit partner organization presence in our Idea Lab.
Q: Have you selected speakers? / How are speakers selected for events?
A: We're always interested in your ideas for talks and speakers. Go to TEDxSA.org/SPEAK for information and application forms. 
Q: How can I stay in the loop about TEDxSanAntonio events?
A: Subscribe to our email updates at TEDxSA.org/subscribe.
Q: I have an additional question. How may I contact you?
A: Email us at Registration@TEDxSanAntonio.com
A big thank you to our sponsors: