Description
​ABOUT TED, TEDX, TEDED, & OTHER TED INITIATIVES
In 2009, TED created a program called TEDx. TEDx is a program of local, self-organized events that bring people together to share a TED-like experience. Our event is called TEDxYouth@Jingshan, where x = independently organized. At our event, TEDTalks video and live speakers are combined to spark deep discussion and connection in a small group.
There is so much that happens around us that is invisible. The influences of culture, politics, body language, neuroscience, feelings... all these seem invisible. But there is also the other type of invisible, being invisible in a room full of people, in a school full of children, in a book full of faces. This invisibility has profound effects on the way we interact with each ourselves, others, and the world around us.
This year we found speakers who are pursuing innovation in their particular field of study, and have a passion for making the world a better place. This event will focus on how we balance what we do for the betterment of humanity not just with scientific and design thinking but with empathy and connection to the global community. We found people who have actioned projects, have conducted peer-reviewed research, are active in their pursuits (dance, music theater) and who want to share their idea to INSPIRE others to make change.
How do you play with the idea of invisibility?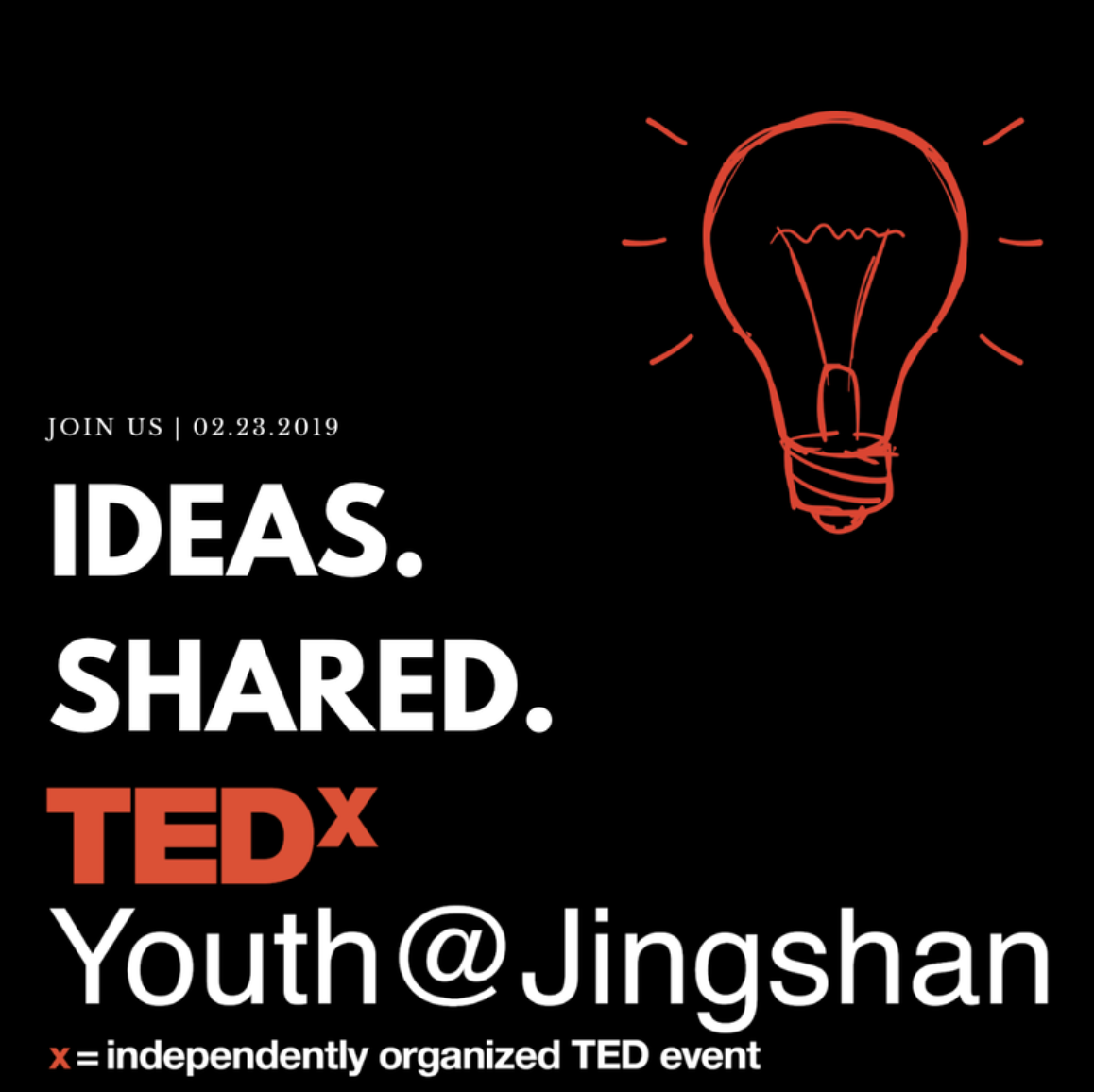 Please follow our website, Facebook, and Twitter for updates to this event and to get notifications of the event special breakout sessions, amazing food, special guests, cool swag bags and more!!
This event features:
Rebecca O'Brien
d'Arcy Lunn
Brittan Aebischer
Trey Hobbs
Jess Kummerlin
Natalie Chan
David Sheppard
Chris Gadbury
Stephan Karlsson
Youth Speakers Middle Years and High School
Catherine Xu
Jennie Soh
Jimmy Ching
Seojin Park
Yijoo Choi
Vivian Ziao
Hwan Seung Cha
Jessie Park
Betty Lu
Youth Speakers Elementary School
Felix Hennigar
Nathan Tedja
Kitty Wang
Emma Lin
Shian Joo
Rebecca Chang
TEDXYOUTH@JINGSHAN CODE OF CONDUCT

​
Respect the boundaries of other attendees.

Avoid aggressively pushing your own services, products or causes.

Respect confidentiality requests by speakers and other attendees.

Look out for one another.

These behaviors don't belong at a TED event:
Invasion of privacy, including taking photos (or requesting selfies) of people you don't know.

Being disruptive, drinking excessively, stalking, following, or threatening anyone.

Abuse of power (including abuses related to position, wealth, race, or gender).

Homophobia, racism, or behavior that discriminates against a group or class of people.

Sexual harassment of any kind, including unwelcome sexual attention, and inappropriate physical contact.

Contact Tosca to report an incident.