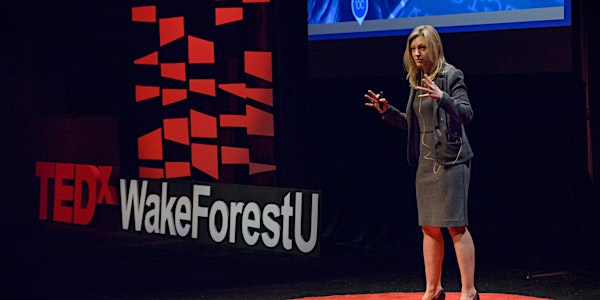 TEDxWakeForestU 2016 - Haven: Fearlessness Reimagined
When and where
Location
Wait Chapel 1834 Wake Forest Rd. Wake Forest University Winston-Salem, NC 27109
Description
TEDxWakeForestU returns for its fifth annual installment with an in-depth look at safety and security in all realms.
The eight impressive speakers at TEDxWakeForestU2016 will give presentations on security as it relates to each of their unique fields of expertise.
Mark Hurd - Mark Hurd is the Chief Executive Officer of Oracle Corporation. With over 30 years of technology industry leadership, Hurd directs corporate strategy for the IT giant, and is a member of the company's board of directors. Hurd works to enable clients to simplify their business using Oracle's suite of integrated cloud applications and platform services. Hurd's work in the IT space has gained him recognition from prominent business publications including Forbes, Fortune, Business 2.0, Barron's and The San Francisco Chronicle. Hurd's tireless commitment to client service and technological innovation has helped illuminate the future of business IT and client data.
Katrena Perou- Katrena Perou is the Chief Program Officer at Urban Arts Partnership, a nonprofit organization that works to advance the intellectual, social and artistic development of underprivileged public school students. Urban Arts' arts-integrated education programs help close the achievement gap and give young people the skills they need for the future. Perou brings years of nonprofit leadership and education development experience to her role at Urban Arts, and her work in the field has been recognized nationally many times over. Perou tirelessly uses her talent and expertise to secure sound education for all students, regardless of situation.
Bradley Myles - Bradley Myles is the Executive Director and Chief Executive Officer of the Polaris Project. Polaris Project is the global leader in the fight to eradicate modern-day slavery and human trafficking. Under Myles' leadership, Polaris works to disrupt trafficking networks, restore freedom to current victims, and prevent future victims. The organization has had impressive success. Thus far, Polaris has responded to 22,000 human trafficking cases, reported 6,300 cases to law enforcement, and pushed 127 anti-human trafficking laws through state and federal governments. Further, Polaris has secured a partnership with Wyndham Hotel Group, the world's largest hotel company, to prevent human trafficking within its 7,590-hotel business. Myles has played an instrumental role in Polaris' success, pioneering systematic change to make a more secure world.
Errin Fulp - Wake Forest's very own Errin Fulp researches security within computer networks. Fulp's nature-based designs leverage inspiration found in the natural world to deliver more efficient methods of cyber security and more innovative solutions to difficult computer science problems. The biology-inspired approaches mimic the designs of ant colonies and the human genome to build adaptive and scalable security solutions that reduce the level of human involvement in problem detection and resolution, leading to more secure networks and better-protected data.
Ignacio Packer - Ignacio Packer is the Secretary General of the Terres des Hommes International Federation (TDH). TDH is a world-renowned child rights network, working in 68 countries with 1,120 partner organizations. Ignacio Packer is an international expert on child rights and social issues. He gives leadership to the overall development of TDH and its organizational culture. Additionally, Packer gives strategic guidance to several other campaigns, including "Destination Unknown," a project that works for the rights of children in the context of migration. Packer has 30 years of experience in the area of humanitarian and development work. He has also worked for Medecins Sans Frontieres, the European Association for Development and Health, and for the Swiss Tropical Institute.
Carl Krebs - Carl Krebs is a partner at Davis Brody Bond, the associate architectural firm responsible for designing the memorial and museum to the September 11th attacks on the World Trade Center in 2001. The museum is a compelling place of remembrance. Set within an original wall of the World Trade Center, it creates an inspiring place of reflection and was recently recognized with an American Institute of Architecture award for interior design. Krebs served as architect-in-charge of the project. Thanks to his expert guidance, the memorial and museum are able to appropriately express the emotions and memories of survivors, families, community groups, and preservation societies, enabling respectful and powerful homage to be paid to the historic events of the day. Krebs' projects extend beyond the 9/11 Memorial and Museum, and comprise many of Davis Brody Bond's most influential civic, cultural and academic projects.
Maureen Berner - Maureen Berner is a professor of Public Administration and Government at the University of North Carolina Chapel Hill's School of Government. Berner teaches students and provides advisory services to state and local governments. Her work centers on food insecurity and uses longitudinal data from food banks and non-profits to improve food assistance programs, helping find solutions to the problem of food scarcity that are more long-term than the charity-based model used currently. Berner's research is local to North Carolina, but food insecurity is a widespread issue. Thus, Berner's solutions have implications for the security of food throughout the entire country.
Nicole Hockley - Nicole Hockley is the Founder and Managing Director of the Sandy Hook Promise, a nonprofit working to end gun-related deaths due to crime, suicide, and accidental discharge. The nonprofit is working to build a national movement of parents, schools, and volunteers committed to gun violence prevention in their local areas and on a national stage by influencing state and national policy regarding the issue. The Sandy Hook Promise advocates for mental health and wellness early-intervention programs, and sensible gun safety and storage practices to build more secure campuses and community nationwide.