TEDxSonomaCounty 2018 | Re-Imagine

Saturday, November 3, 2018 from 1:00 PM to 5:00 PM (PDT)
Event Details

About the theme "Re-Imagine"
Re-Imagine a future of our own design, one that is not limited by the past. At TEDxSonomaCounty 2018, we will explore new ideas, ways of thinking, communicating, and interacting. We will learn how new technology takes us from abstract ideas to living the reality we desire to create.
Do you believe it is possible to reinvent our future? Not simply an evolution of our past, but one that is focused on the stand we take for who we are and what's possible for ourselves and our community. Each day we have the opportunity to reboot, rebuild, and redo, creating an environment in which miracles can occur. Developments in technology, entertainment, and design offer us a glimpse into what's possible. They demonstrate how we can go beyond the familiar, by choice or by circumstance, into unchartered territory where the outcome is uncertain. Doing so with courage, creativity and community allows us to step beyond what is, toward what could be for ourselves and our world.
Join us at TEDxSonomaCounty for our 7th annual afternoon of learning from those among us who are reimagining the world we live in and how we live in it - the dreamers, the visionaries, and artists whose shifting perspectives will spark inspiring conversations.
Doors will open at 12:15pm.  The program will begin promptly at 1pm.  There will be two ninety-minute sessions with an intermission between, followed by a reception (approximately 5pm - 6pm).
 Learn more at TEDxSonomaCounty.com.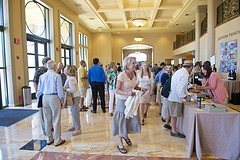 Registration at TEDxSonomaCounty

Questions? Please contact info@tedxsonomacounty.com.
Refund Policy: The success of our event relies heavily on the generous contributions made by community businesses, organizations, and individuals. TEDx is a completely volunteer endeavor and 100% of the money raised pays for the event itself. TEDx events are not fundraisers, but purely multidisciplinary events, focused on the power of ideas to change attitudes, lives and ultimately, the world. In this light, we are only able to offer refunds until October 4, 2018. If you purchase a ticket, are unable to attend, and would like give your ticket to a friend, a ticket transfer may be requested until November 2, 2018. Thank you in advance for your understanding.
When & Where

Jackson Theater at Sonoma Country Day School
4400 Day School Place
Santa Rosa, CA 95403


Saturday, November 3, 2018 from 1:00 PM to 5:00 PM (PDT)
Add to my calendar
Organizer

In the spirit of ideas worth spreading, TEDxSonomaCounty brings together our community with inspiring speakers, artists and performers to explore a theme. We are organized by a group of individuals who are inspired by TED and want to bring the experience to Sonoma County.
TEDxSonomaCounty is operating under license from TED, organizers of the immensely popular TED Conference, an annual event where some of the world's leading thinkers and doers are invited to share what they are most passionate about. In the spirit of "ideas worth spreading," TED has created TEDx, a program of local, organized events that bring people together to share a TED-like experience.