TEDxSonomaCounty 2016 | Perspectives

Saturday, November 5, 2016 from 1:00 PM to 5:00 PM (PDT)
Event Details

About the theme "Perspectives"
A glass with water to the middle. Do you see it as half-full, or half-empty? In the famous optical illusion, you see an old woman, and I see a young lady. When the Voyager 1 left the solar system, humans saw their home—the Earth—as we never had before. We were no longer at the center of the universe, but living on a "tiny, pale blue dot" in the vastness of space.
We hear it all the time: Perspective is everything. But how are our perspectives formed? How often are we aware of them, how often do we examine them, when making decisions? Who, or what, is influencing our perspectives—the forces both seen and unseen?
Once we are aware of our perspective, is there value in breaking from it? Can conflicts be solved with the empathy gained from seeing things from new perspectives, or is there more to it? Haven't the great breakthroughs in history been a result of the artist, scientist or entrepreneur seeing things from new angles? Then why haven't we learned to do it better, and more often?
TEDxSonomaCounty will bring together leading thinkers and doers to delve into these questions and more as they explore the theme, Perspectives.

Doors will open at 12:15pm.  The program will begin promptly at 1pm.  There will be two ninety-minute sessions with an intermission between, followed by a reception of local food and wine. 
 Learn more at TEDxSonomaCounty.com.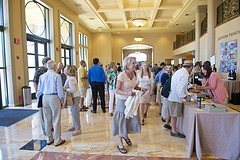 Registration at TEDxSonomaCounty

Questions? Please contact Jimi Conners at (707) 284-3263 or jimi@scds.org.
Refund Policy: The success of our event relies heavily on the generous contributions made by community businesses, organizations, and individuals. In this light, we are only able to offer refunds until October 15. If you purchase a ticket, are unable to attend, and would like give your ticket to a friend, a ticket transfer may be requested until November 3.
When & Where

Jackson Theater at Sonoma Country Day School
4400 Day School Place
Santa Rosa, CA 95403


Saturday, November 5, 2016 from 1:00 PM to 5:00 PM (PDT)
Add to my calendar
Organizer
TEDxSonomaCounty

In the spirit of ideas worth spreading, TEDxSonomaCounty brings together our community with inspiring speakers, artists and performers to explore a theme. We are organized by a group of individuals who are inspired by TED and want to bring the experience to Sonoma County.
TEDxSonomaCounty is operating under license from TED, organizers of the immensely popular TED Conference, an annual event where some of the world's leading thinkers and doers are invited to share what they are most passionate about. In the spirit of "ideas worth spreading," TED has created TEDx, a program of local, organized events that bring people together to share a TED-like experience.
TEDxSonomaCounty 2016 | Perspectives