Description
TEDxSomerville is sold out.
TEDxSomerville brings together innovators, artists, entrepreneurs, educators, designers, humans with extraordinary ideas that are reinventing the future of our city, and our day-to-day lives. For one day, we will share the brilliant ideas that these remarkable people are bringing to life in an event for the entire community.
TEDxSomerville 2015 REINVENT
The event will take place on September 27 at Tufts University's Aidekman Arts Center, Cohen Auditorium. After an afternoon featuring some of Somerville's most inspiring speakers, we'll celebrate at Assembly Row with a Slumbrew after-party!
---
Presenting Sponsors
We're incredibly grateful to Tufts, Assembly Row and Slumbrew, along with so many other partners for their help in making this year's TEDxSomerville possible. They've all dedicated their time, resources and support to bring this event to the community, and we cannot thank them enough!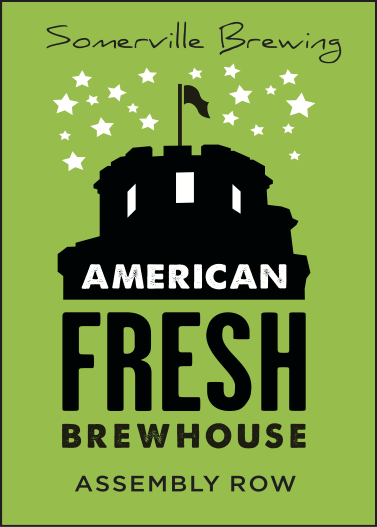 ---

Speakers
Somerville is changing the nature of what it is as a city, and with that comes exciting opportunities, challenges and ideas. This year, TEDxSomerville features speakers who are on the forefront of reinventing the world they live in and provoking new ways to thinking, living, working and being.
-----
Katherine Anderson is a co-founder of In Noon Dance and a democracy activist. As a 2014-15 lab fellow at Harvard University's E. J. Safra Center for Ethics, Katherine employed creative organizing tools like street performance, participatory art and documentary screenings to organize Cambridge residents around a municipal campaign finance bill titled The Cambridge Voter Access Act. She received the Green Street Emerging Artist Award in 2010 and a grant from the Foundation for Contemporary Arts for a series of dance theater vignettes that explored partisanship and civic engagement in American politics. Katherine graduated from Oberlin College in 2010 with a B.A. in performance and choreography.
---
Drew Bonfiglio is the co-founder of Emzingo, an organization that is focused on creating the next generation of responsible leaders through experiential learning, social impact projects, and cultural immersion – and also an Ashoka U Cordes Innovation award winner. Drew is passionate about unlocking potential in individuals, organizations, and communities. Drew holds an M.S. in Engineering from Cornell University and an MBA from IE Business School in Madrid.
---
Hannah Chung is co-founder and Chief Creative Officer of Sproutel, the creator of Jerry the Bear: An interactive learning companion for kids with chronic illnesses. Before Sproutel, Hannah co-founded Design for America, an award winning national student organization that helps students solve local social problems through design thinking. She was named as one of the honored makers by the White House. In addition, she was named one of Inc Magazine's "Top 15 Women to Watch in Tech" (2012) one of the "5 Female Founders to Watch" by Women 2.0 (2014), and inducted into Better World by Design's Hall of Fame. In 2013, she won the Perfect Pitch competition at Fortune's Most Powerful Women summit where Warren Buffett was one of the judges. She earned her B.S. in Mechanical Engineering at Northwestern University.
---
Erica Dakin Voolich is the founder and current president of the Somerville Mathematics Fund, a grassroots all-volunteer charity celebrating and encouraging mathematics achievement in Somerville MA. As a former award-winning middle school mathematics teacher, Erica is now using her problem solving skills in the mathematics class to solving family history problems. She has also authored two books on high harness weaving along with two mathematics supplementary texts on solid geometry and mathematics history for middle school students, and four genealogical books.
---
David Delmar is an artist, designer and Founder/Executive Director of Resilient Coders, a volunteer-based program focused on making web technology more available to urban youth who might not otherwise be exposed to it. His mission is to spread code literacy to communities underrepresented in technology by targeting youth who are at-risk or have been caught up in the court system. He believes in the resilience of Boston's youth and that technology provides an opportunity for true meritocracy. Before launching Resilient Coders, he led a team of designers and coders at PayPal.
---
Dillan DiGiovanni is an integrative health coach and consultant. He's also transgender and brings that unique perspective of the world to his work. Dillan helps people and companies choose change for sustainable health and happiness with better work/life balance and communication. He received his Bachelor's degree in Education from The College of New Jersey and his Master's degree in Education with a specialization in Leadership, Wellness and Cultural Change from Lesley University. Dillan is originally from New Jersey but is currently living the dream in Somerville, MA. His favorite movie of all time is the Karate Kid and he enjoys coffee, bacon and green smoothies.
---
Blake Evitt is the director of Parkour Generations Americas and an ADAPT Level 3 qualified instructor. Inspired by his interest in the global potential of parkour he was awarded a research grant by Davidson College in 2009 to spend a month in Paris shadowing the founders of parkour, known as the Yamakasi. After graduating in 2010, Blake was awarded a prestigious Thomas J. Watson Fellowship to travel around the world studying parkour as an agent for positive social change. Blake returned to the United States in September 2012 to help lead the launch of Parkour Generations Americas and to develop parkour in his hometown of Somerville/Boston. Today Blake teaches parkour in the Boston area full-time and is a frequent guest instructor at events and workshops around North America and Europe. For more information on Blake and his travels, go to his blog: making-the-jump.blogspot.com.
---
Laur Hesse Fisher is the project manager of the Climate CoLab. Run out of the Massachusetts Institute of Technology (MIT) Center for Collective Intelligence, the Climate CoLab is attempting to crowdsource solutions to the world's biggest problems, starting with climate change. She was an elected civil society representative (alternate) for the United Nations Environmental Programme (UNEP) – North America and leads a volunteer-run project called The Civic Seriesthat holds informative events to help raise the public's understanding of major global and domestic issues. She is a traveler, a Jumbo and is, above all things, excited for the future.
---
Chad Jones is a socially conscious entrepreneur and venture investor who currently serves as Chief Strategy Officer for Deep Information Sciences. His unique vision takes big ideas from inception through execution resulting in highly profitable outcomes including six exits to companies such as Microsoft, VMware and Intel. As an investor, Jones has chosen companies that create better outcomes for the planet and has traveled the world discussing a vision for a better world through the non-intuitive use of technology.
---
Nick Kranz is a social entrepreneur interested in cooperative and collaborative business that positively impacts society. In 2008 he founded Mindful in the Midst, a consulting firm that provides organizational culture development and leadership training, through mindfulness meditation. In 2013, Nick co-founded Something GUD, a Somerville-based local food-delivery service that brings the farmers' market to your doorstep. He is currently interested in how we access higher quality food and reinvent the grocery store, while supporting our local businesses and economy with the launch of Zest Local Foods.
---
Dr. Kristin J. Lieb is an Associate Professor of Marketing Communication at Emerson College. Before arriving at Emerson, Lieb held numerous marketing and business development positions in the music industry, including posts with Atomic Pop and Newbury Comics Interactive. She also worked as a researcher for Harvard Business School and as a freelance writer for Billboard and Rolling Stone. Lieb published her first book, Gender, Branding, and The Modern Music Industry: The Social Construction of Female Popular Music Stars, with Routledge in 2013.
---
Katie Martell is the Co-Founder and CMO of Cintell, a cloud-based customer intelligence platform. She is a B2B marketer with experience creating buzz and driving market demand for companies including Aberdeen Group and as a media strategist for the high-tech PR firm, Version 2.0 Communications. She spent five years as Director of Buzz and Communications for NetProspex, growing the company from startup to award-winning organization serving Fortune 500 companies. She has been spoken at a variety of events including FutureM, MarketingProfs B2B Forum, and Young Women in Digital. She has contributed to publications such as CMO.com, MarketingProfs, Chief Marketer Magazine, The Huffington Post, CMO Essentials, and more. She is also a board member of the American Marketing Association Boston Chapter. Find her on twitter at @KatieMartell.
---
Hitendra Patel is the Managing Director of the Center for Innovation, a global innovation consulting company based in Cambridge, MA. He has helped drive innovation transformation initiatives at companies like Hewlett Packard, LG, Cadbury, Verizon, and P&G. Hitendra is also a co-founder of the Hult Prize, the world's largest startup accelerator for budding young entrepreneurs that provides an annual prize of $1 Million and partners with President Clinton and sources globally for the best solutions/teams to end poverty in slums. He co-founded the Global Innovation Management Institute and has been the main driver for creating certification testing standards to make innovation a management discipline across the globe.
---
Emily L. Reichert, Ph.D., is the Chief Executive Officer, of Greentown Labs, the nation's largest cleantech incubator. She is responsible for managing the space (33,000 SF of co-working and prototyping lab space), strategic direction, expansion, and focus on increasing the organization's impact on clean and energy efficient technology commercialization through entrepreneurship. Prior to Greentown Labs, Emily was the Director of Business Operations at the Warner Babcock Institute for Green Chemistry, growing from angel-funded start-up to a sustainable contract R&D business. She has over fifteen years of experience serving in R&D, business development and operations leadership roles. Emily holds a PhD in physical chemistry and earned an MBA from MIT.