Description
TEDxSanFrancisco is a full day of live TED talks and performances in the heart of San Francisco with inspirational speakers in the field of tech, science, philosophy, design and entertainment. Since 2016 it is a yearly event with the recurrent theme DareToKnow.
October 10th will be a day when we push the frontiers of our knowledge and guide you through an evolving mesh of ideas and practices, a rich mix of citizens, scientists and culture and where you will make lifelong connections with fellow idea explorers.
It is best to check-in at least 1 HOUR BEFORE THE EVENT STARTS - BADGE DISTRIBUTION WILL START AT 7.30AM.
THE EVENT IS SOLD OUT AND WE DO NOT SEEL TICKETS AT THE DOOR.
NOTE THAT IT IS NOT ALLOWED TO ENTER THE THEATER WHILE A SPEAKER IS ON STAGE, THIS CAN ONLY HAPPEN IN BETWEEN TALKS. Make sure you're on time! And our ushers will be there to help.
The event starts at 9am sharp and ends at 6 pm. Lunch, snacks, and drinks are provided. The After-party includes meeting with the speakers, food, and drinks.
The After party is access only for attendees with an After Party ticket.
Detailed schedule is available on www.tedxsanfrancisco.com.
---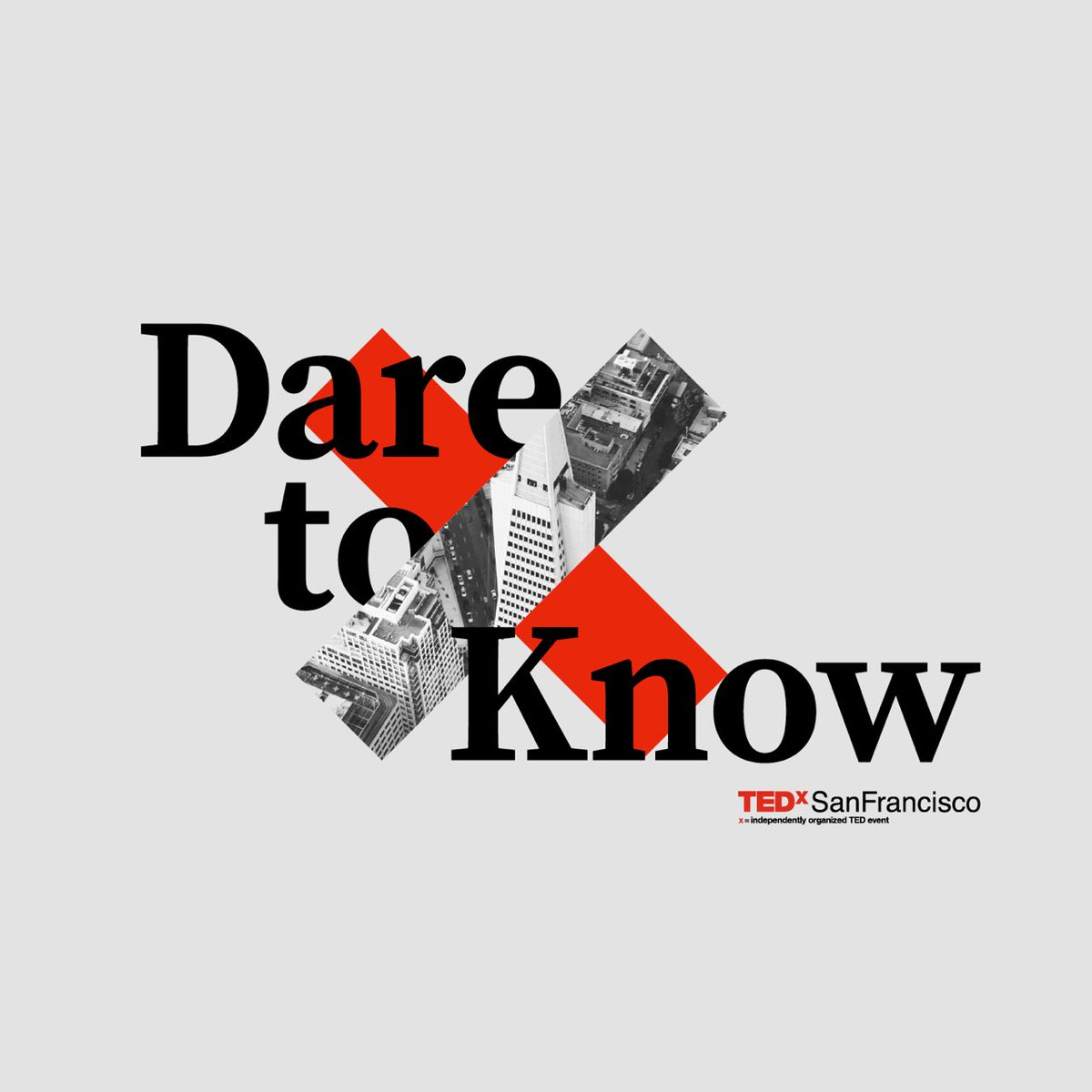 ANDREW HESSEL, Life Scientist in microbiology and genetics, working at the forefront of genomics, to read and comprehend bacterial, human, and other genomes and more recently to write them.
ATUL BUTTE, Computational Health Scientist, leads the UCSF Institute for Computational Health Sciences for new insights into diseases.
CATHERINE HOKE, Prison entrepreneur in the United States, transforming the hustle of people with criminal history into legitimate business leaders.

DAN EVERETT, Linguist, Author, Philosopher, best known for his study of the Amazon Basin's Pirahã people and their language.

ELAINE FONG, Senior Designer who has worked for major global brands, believes in Visual Design with a Heart.
FRAN GUIJARRO, Filmmaker
GABE ZICHERMANN, Entrepreneur in Behavioral Change, leveraged game mechanics in business, education for the last decade and is now on a mission to help people help fight their online addictions.
JACK GALLANT, Cognitive Neuroscientist at UC Berkeley, is conducting advanced research in brain decoding to discover how the mammalian brain represents information about the world and about its own mental states.
JANE METCALFE, Entrepreneur in Media and food, co-Founder of Wired and Tcho and Neo-Life is working on the parallels between the digital revolution in the 90s and the Neo-Biological revolution today.

JOON YUN, Physician and managing partner at Palo Alto Investment, founder of the Lonngevity Prize.

ARTHUR BREITMAN, works at the intersection of cryptography and capital markets, and led one of the most iconic and successful Initial Coin Offering for a decentralized blockchain that governs itself.
MATTHEW ROSZAK, Blockchain investor, entrepreneur, Matthew also serves as serves as chairman of the Chamber of Digital Commerce, the world's largest trade association representing the blockchain industry.

MAR CABRA, Head Researcher at the International Consortium of Investigative Journalists, works on key data work and develops tools for better collaborative investigative journalism.
MATTHEW LINAMAN, Concert Cellist and Teacher
MATTHEW SWEENY, Entrepreneur in drones to reinvent delivery process for humanitarian and Global Outreach.
MOSES, Witness, Storyteller, Musician
NEIL GRIMMER, was a rock punk art student before becoming a successful entrepreneur in personalized and healthy nutrition.
NICK ADKINS, Kilt-wearing pink furry bike riding healthcare former professional who wants more love and less fear.
OMOJU MILLER, Data Scientist with over a decade of experience in computational intelligence researching the myth of innate ability in tech.

QUENTIN HARDY, International Writer, focuses on the fundamental impact of change in tech, biology and money on business and society.

RACHEL THOMAS, Mathematician, Deep Learning researcher bringing and teaching Deep Learning to the mainstream.
REBECCA ALTMAN, Writer, environmental sociologist about the social history of chemistry, plastics, pollution and environmental legacy.
ROBERT STRONG, Comedy Magician.
RYAN NICOLE AUSTIN, Artist activist.

ORZAK HENRY, Music artist.
SEBASTIEN de HALLEUX, Entrepreneur in wind and solar powered drones for data collection at sea.
Organizer of TEDxSanFrancisco
TEDxSanFrancisco is made possible by the hard work and collective effort of our volunteer team. Together, we make ideas worth spreading.
TEDxSanFrancisco is a full day of live TED talks in the heart of San Francisco with inspirational speakers in the field of tech, science, philosophy, design, and entertainment. Since 2016, TEDxSanFrancisco has been an annual event with the recurrent theme Dare To Know to push the frontiers of our knowledge and make lifelong connections. 
In the spirit of ideas worth spreading, TEDx is a program of local, self- organized events that bring people together to share a TED-like experience. At a TEDx event, TEDTalks video and live speakers combine to spark in-depth discussion and connection in a small group. These local, self-organized events are branded TEDx, where x=independently organized TED event. The TED Conference provides general guidance for the TEDx program, but individual TEDx events are self-organized.