TEDxPresidio

Saturday, September 8, 2012 from 9:00 AM to 6:30 PM (PDT)
Event Details

Join us on Facebook or Twitter.
TEDxPresidio 2012: RE-INVENTING CAPITALISM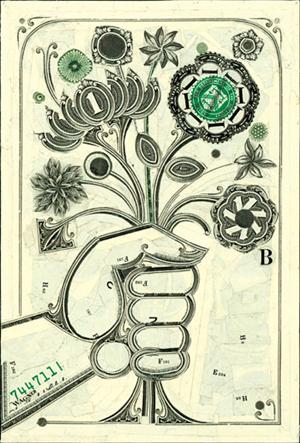 Nature or Nurture? Business is a global lever and the connected consumer is changing expectations for the businesses that they purchase from and organizations they are employed by. 
From start-up to institutional reinvention, how does a business in any form of its lifecycle distinguish itself amongst the chatter,inspire loyalty amid price wars, and yes, bring shareholder value. Does the How and Why of a company have impact on ROI?

Join the conversation with 700 influential founders, executives, investors, bloggers, technologists, artists, educators and foundations changing the face of business today.
TEDxPresidio 2011 in Review:

Editor's

Pick 
One of our highlights from last year was having one of our speaker's talks chosen as "Editor's Pick" by the official TED team. This was a great honor for both our team and Maria Guidice and this year's speakers will be just as remarkable. You can watch the winning talk here or all TEDxPresidio 2011 talks here.
We look forwarding to seeing everyone again this year!
 Reviews of TEDxPresidio 2011
"I have spoken at big TED…this is as good as big TED and you didn't have to pay $6000 to be here…"

"I had gone in skeptical, not sure that a spinoff could be as good as The Real Thing, but was pleasantly surprised by my TEDx–perience. I met a bunch of interesting and diverse people, received some valuable wisdom and reminders, and came away from the conference a better entrepreneur."

"Relationships were at the heart of yesterdays TED Talks. Relationships are the heart of brands."

"Occasionally you attend an event where every speaker inspires something in you that moves you to action. That's how I felt on Saturday while attending TEDxPresidio at the Palace of Fine Arts in San Francisco."
Event Details & FAQ
Summary
TEDxPresidio 2012
Saturday, September 8th, 2012
The Palace of Fine Arts Theatre
3301 Lyon Street
San Francisco, CA 94133
9am-10am – Guest Check In, Continental Breakfast Networking
10am-5pm – Program
5pm-6pm – Post Event Reception and Networking
Also streaming live 10am-5pm PST
Tickets
Will be released in phases. Please register to get latest updates.
Tickets are not refundable.  If you need to replace an attendee after purchase please email info@tedxpresidio.org
Event Hours
9am – 10am: Check-in & continental breakfast networking
10am – 5pm:Main event hours

Three speaker sessions approximately from1hr 45min to 1hr 30min each
One lunch break and one shorter snack break
Post reception networking
Checking In
Please bring a valid form of ID. Student registrants must bring a current student ID card.
Badges pre-printed with the names submitted during ticket purchase will be ready for pick-up starting at 9am.
If names have changed, badges can be printed on-site.
Badges will be required for re-entry into the theater in between sessions.
Lunch and refreshments
A light lunch will be served at the mid-day break.
Coffee, snacks will be provided on-site free of charge during breaks.
Internet Connectivity
There will be in-house wireless internet but due to the large number of attendees, quality and speed of connection cannot be guaranteed.
Driving Directions
More detailed directions are available at the venue website here.
Public transportation directions here.
Parking
Due to the ongoing renovation project at the approach to the Golden Gate Bridge, part of the Palace of Fine Arts parking lot normally available to guests will be closed and parking directly outside the venue may be limited. Please plan accordingly and arrive early or take public transportation.
When & Where

Palace of Fine Arts Theater
3301 Lyon Street
San Francisco, CA 94123


Saturday, September 8, 2012 from 9:00 AM to 6:30 PM (PDT)
Add to my calendar
Organizer
About TEDx, x = independently organized event In the spirit of ideas worth spreading, TEDx is a program of local, self-organized events that bring people together to share a TED-like experience. At a TEDx event, TEDTalks video and live speakers com

About TEDx, x = independently organized event

In the spirit of ideas worth spreading, TEDx is a program of local, self-organized events that bring people together to share a TED-like experience. At a TEDx event, TEDTalks video and live speakers combine to spark deep discussion and connection in a small group. These local, self-organized events are branded TEDx, where x = independently organized TED event. The TED Conference provides general guidance for the TEDx program, but individual TEDx events are self-organized. (Subject to certain rules and regulations.)

-----------

About TED

TED is a nonprofit organization devoted to Ideas Worth Spreading. Started as a four-day conference in California 25 years ago, TED has grown to support those world-changing ideas with multiple initiatives. The annual
TED Conference invites the world's leading thinkers and doers to speak for 18 minutes. Their talks are then made available, free, at TED.com.

TED speakers have included Bill Gates, Al Gore, Jane Goodall, Elizabeth Gilbert, Sir Richard Branson, Nandan Nilekani,Philippe Starck, Ngozi Okonjo-Iweala, Isabel Allende and UK Prime Minister Gordon Brown. The annual

TED Conference takes place in Long Beach, California, with simulcast in Palm Springs; TEDGlobal is held each year in Oxford, UK. TED's media initiatives include TED.com, where new TEDTalks are posted daily, and the Open Translation Project, which provides subtitles and interactive transcripts as well as the ability for any TEDTalk to be translated by volunteers worldwide.

TED has established the annual TED Prize, where exceptional individuals with a wish to change the world are given the opportunity to put their wishes into action; TEDx, which offers individuals or groups a way to host
local, self-organized events around the world, and the TEDFellows program, helping world-changing innovators from around the globe to become part of the TED community and, with its help, amplify the impact of their
remarkable projects and activities.

Follow TED on Twitter at twitter.com/TEDTalks,
or on Facebook at facebook.com/TED

TEDGlobal 2012 "Radical Openness", will be held June 25th-June 29th, 2012 in Edinburgh, Scotland.