TEDxMileHighWomen

Saturday, December 1, 2012 from 4:00 PM to 9:00 PM (MST)
Event Details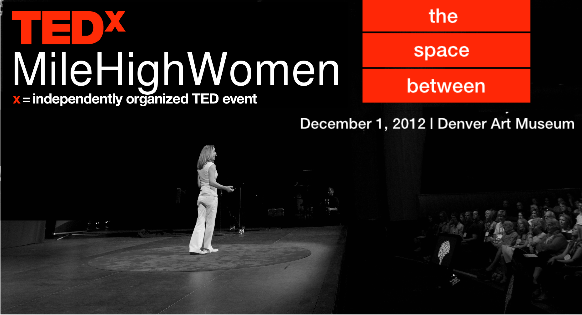 Inspiration begins here.
TEDxMileHigh 

is pleased to offer you an exclusive invitation to join a group of renowned Colorado innovators and changemakers who will share their big ideas and explore solutions to the world's greatest challenges.   
Be prepared to think differently. Get ready to start a movement.
The inaugural TEDxMileHighWomen (#TEDxMHWomen) theme is "The Space Between."  We invite both women and men to explore pressing issues of our time through Colorado perspectives but with global relevance. One half of the event will be simulcast live from TED's very own, TEDxWomen, in Washington D.C. which will take a curated look at women through the lens of change agent, intellectual innovoator and idea champion, with presenters from over 20 countries.  More than 100+ self-organized TEDx events will connect to the TEDWomen conference, enabling the live participation of more than 10,000 people from every continent and in every time zone.
Get your tickets early -

seats

are limited and the event

will

sell out. Please share this invitation will friends and colleagues who are committed to spreading big ideas and promoting inspired citizenship within the community. We look forward to seeing you December 1!
Special thanks to our 
Partners & Sponsors:

 

Premier Partners:

 

 

 

 

 

 

Supporting Partners: 

The Denver Foundation

Chuck Fryberger Films

Slice of Lime

TEDxMileHigh showcases Colorado's maverick thinkers and doers, big risk takers, big-time athletes, entrepreneurs and innovators, activists for the environment, humanitarians and many more extraordinary people who will each give the "talk of their life." This event will include presentations from a number of the state's leading thinkers and doers who will stimulate, educate, and enrich as they take 18 minutes or less to describe how they have accomplished something big and share the lessons they learned in the process.

 

Doors open at 3:00 p.m. Session I of the program commences at 4:00 p.m. sharp and features a live simulcast of the final session of TED's own, TEDxWomen, which will be held in Washington D.C. During intermission from 5:30-6:30 p.m. attendees will have an opportunity to discuss the event and enjoy light hors d'oeuvres and a cash bar. The final session from 6:30-8:00 p.m. will feature extraordinary Coloradans and will be followed by a cocktail reception from 8-9pm for all attendees. Space is limited, so grab your ticket before they're gone, gone, gone.




 

 



| | |
| --- | --- |
| Andrea Moore |  Joy Lujan |
| Kristen Race | Elizabeth Wolfson |
| Lynn Gangone |  AnnJannette Alejano-Steele |
 Tracey Stewart

 Tracy MacKenzie

 SHEL

 

 
Frequently Asked Questions:
Can I return/re-sell my unused tickets?
We are a nonprofit and tickets represent an important source of funding for our programming.  Tickets can be given to anyone (the PDF ticket can be emailed to anyone), but cannot be refunded.
Is there a list of public attendees to see who's coming?
We are unable to share a list of attendees. There will be time for you to network and mingle before and after the event. However, if you sign in with Facebook on Eventbrite you will be able to see who is coming of your friends.  
 Is there a Will Call? I never received the email with my ticket included?
We do not have a Will Call, please let us know if you would like us to resend your ticket. We do ask that you print your ticket beforehand. We have a help desk at the event and can manually check you in with a valid ID.
 Can I send someone in my place?
Yes, if you are unable to use the ticket you can email the PDF to the person you are sending in your place or give them your paper ticket.
 Where do I buy tickets?
Given that we expect to sell out well in advance of the event, we do not plan to sell tickets at the door.
 Can I come and go as I please?
We recommend staying for the entire event, just as you would for a play at the theater. 
 What if I show up late or have to leave early?
We recommend staying for the entire event, but if you need to leave earlier, our volunteers will help you depart during a natural break in the program.
Can I take a break then return to my seat?
Each session is roughly 90 minutes and we recommend staying seated for that entire time.  We cannot guarantee that your seat will be available when you return.  However, our volunteers will help you find a seat.
How many people attend?
We will have more than 400 in attendance.
Are tickets reserved seating or general assembly? We have a group wanting to attend; should we buy tickets as a group to sit together?
VIP ticket holders will have access to the front 8 rows, but there are no assigned seats and, in general, tickets are general assembly. You can purchase tickets separately (but we recommend purchasing the same type of ticket for your group) as they do not reserve a specific seat. We recommend arriving when the doors open or soon after to give you and your party enough time before the event starts to find seats together.
 About TEDxMileHigh
---
TEDxMileHigh showcases innovative Coloradans who each give the 'talk of their life' around the power of ideas. Presenters include maverick thinkers and doers, big-time athletes, entrepreneurs and innovators, humanitarians, creative performers and many more extraordinary people. This diverse group of thought leaders and innovators educate, inspire and stimulate change with the ultimate goal being inspired action across our communities. To us, action includes the promotion and creation of ventures that will help shape the future.
Our inaugural event, TEDxMileHigh: Inspired Citizenship, took place on April 7, 2011. Presetners included Governor John Hickenlooper, Casey Sheahan, CEO of Patagonia, Alex Bogusky (emcee), Founding Partner of Crispin Porter + Bogusky, Allen Lim, Former Director of Sports Science for Team Radio Shack, Hunter Lovins, CEO of Natural Capitalism Solutions, and General Victor E. Renuart, Former Commander of NORAD and Northern Command.For further information or comment, please go to www.tedxmilehigh.com, contact us at general@tedxmilehigh.com, friend us on Facebook at www.facebook.com/TEDxMileHigh and follow us on Twitter at TEDxMileHigh.
When & Where

Denver Art Museum
100 W 14th Ave Pkwy
Denver, CO 80204


Saturday, December 1, 2012 from 4:00 PM to 9:00 PM (MST)
Add to my calendar
Organizer
TEDxMileHigh shares forward-looking ideas, challenging our perception of the status quo, expanding our sense of what is possible, and inspiring a vibrant community into action to help shape the future of Colorado and beyond. Presenters include a diverse group of thought leaders and innovators, who are catalysts — educating, inspiring and stimulating change.