Join us for this free virtual event TEDxMileHigh: RETHINK (donations encouraged)!
About this event
Join us for the free virtual event of TEDxMileHigh: Rethink. This broadcast will take place immediately after the live in-person event on October 23 at 7:30pm MST. If you wish to attend in-person, please visit TEDxMileHigh.com to purchase a ticket.
Let us challenge the boundaries we've set for ourselves. Let us revel in our imagination to contemplate an entirely new future.The last 18 months have changed the world. Public health, government, finances, technology in various realms – have all changed. Our old way of thinking is obsolete. It's time to rethink the future. Join to hear from our community of activists, entrepreneurs, innovators, researchers, and artists who are passionate about rethinking the impact our lives will have. We are a place for you to tap into new big ideas, connect with like-minded individuals, and be a part of a movement to catalyze progress. Are you ready?
Join us on October 23rd, as we explore new ideas in science, art, health, poetry, and activism.
TEDxMileHigh is bringing the experience of our world-class professional events and ideas from amazing Colorado thinkers and doers straight to you.

Meet the Speakers & Performers:
Ozy Aloziem, Visionary Leader
Jennifer L. Fluri, Political Geographer
Arden Lewis, Chef and Social Entrepreneur
Chela and Inaiah Lujan, Musicians
Edwina Maben, Songwriter and Educator
Dwinita Mosby Tyler, Emcee
Kenya Mahogany, Spoken Word Artist
Monalicious, Songwriter and Music Producer
Julieanna L. Richardson, Historian
Virginia Spielmann, Sensory Processing Expert
Camille Stevens-Rumann, Fire Ecologist
Ellen Trachman, Reproductive Law Expert
Fi Sullivan, Musician
Kaitlyn Williams, Musician
To read about each speaker click here.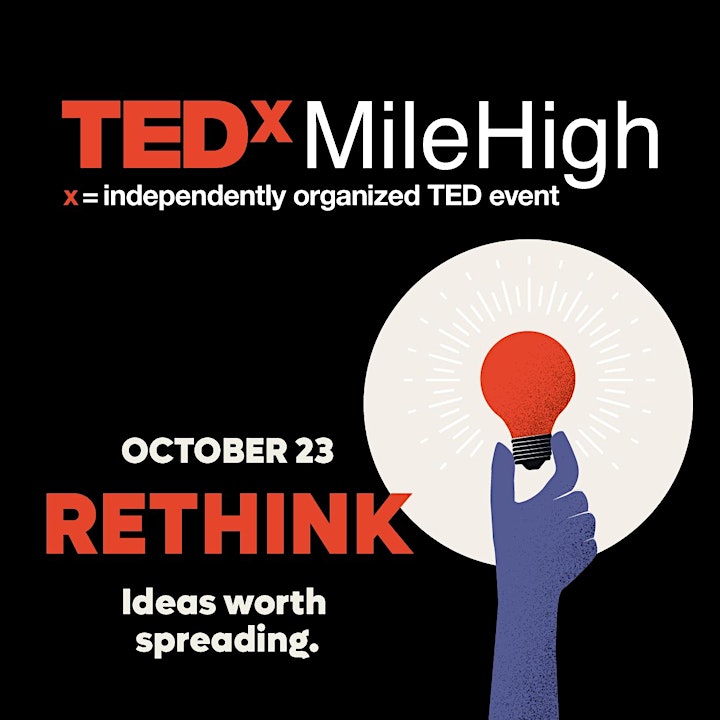 Support the Spread of Big Ideas
TEDxMileHigh is a small nonprofit that exists to accelerate big ideas and the community impact that follows. We are grateful for the opportunity to share educational content, and promote deep discussion and action during these important times.
The generosity of volunteers and donors makes our programming possible. If you are in a position to support us, we ask that you consider making a donation in place of what you would normally pay to attend one of our events. This will allow us to produce additional events in the future.
We are grateful for any contribution level, but here are some donation values for consideration:
$25: covers the cost of your ticket
$50: covers the cost for you and a friend
$100: covers the cost for a family
$250: covers the cost for 10 students
$500: covers the cost for one of our nonprofit partners
$1,000: covers a portion of our speaker coaching program
$2,500: covers a portion of our video production costs
We look forward to seeing you on October 23rd!
Learn more about TEDxMileHigh at TEDxMileHigh.com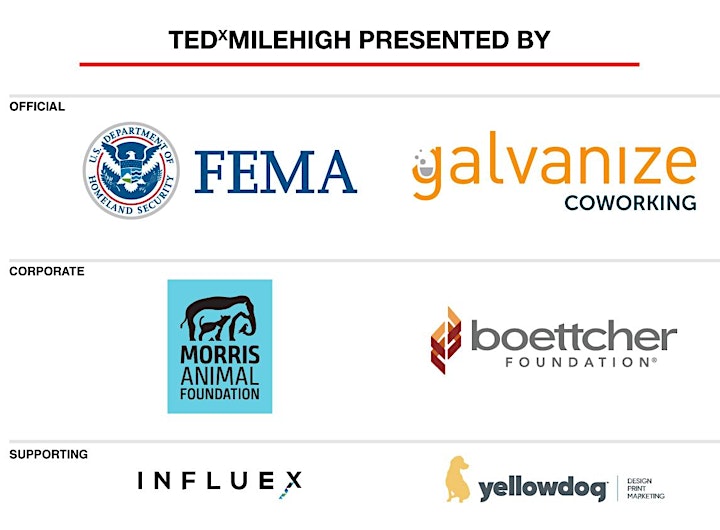 Organizer of TEDxMileHigh: RETHINK - Join us for a Virtual Premiere of our Live Event!
TEDxMileHigh shares forward-looking ideas, challenging our perception of the status quo, expanding our sense of what is possible, and inspiring a vibrant community into action to help shape the future of Colorado and beyond. Presenters include a diverse group of thought leaders and innovators, who are catalysts — educating, inspiring and stimulating change.