TEDxMileHigh 2014: Emergence

Saturday, June 14, 2014 from 11:00 AM to 7:00 PM (MDT)
Event Details
"Harnessing energy at the edge of unlike things, emergent ideas are more than a clever premise, a fresh mashup, or diversity itself; emergent ideas categorically change how we see the world."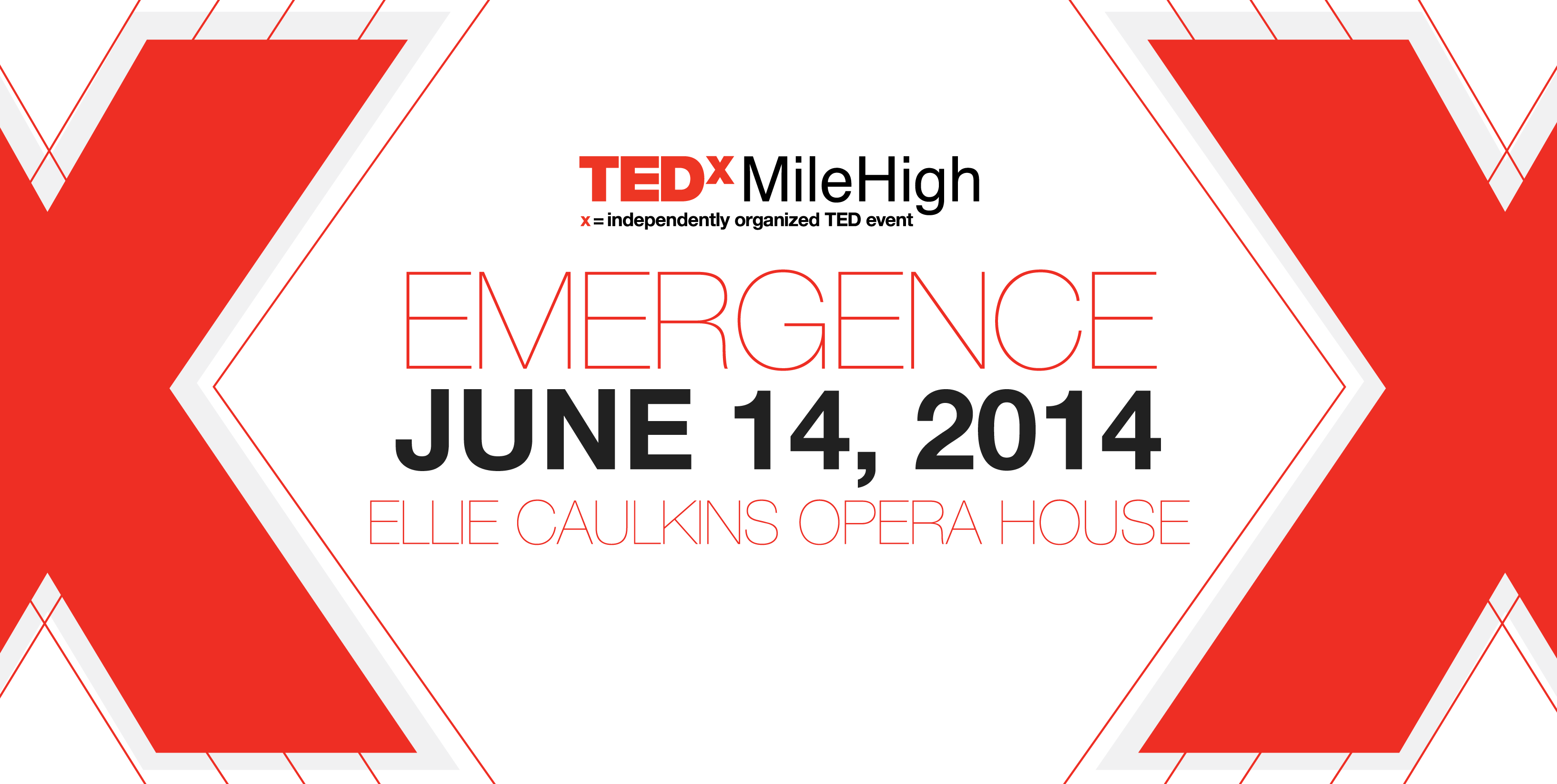 Ideas in action begins here.
Now in its tenth event, TEDxMileHigh is pleased to offer you an exclusive invitation to join 15 renowned Colorado innovators and changemakers who will share their big ideas and explore solutions to Colorado's (and the world's) greatest challenges. Engage with us. Let's turn ideas into actions.
Engage with us.
The TEDxMileHigh 2014 (#TEDxMH14) theme "Emergence," refers to patterns spontaneously arising from complex systems - new behaviors and properties that aren't simply reducible to "the sum of it's parts."
Emergence reveals new ideas for technology, talent, innovation and collaboration inspiring the Mile High region. Harnessing energy at the edge of unlike things, emergent ideas are more than a clever premise, a fresh mashup, or diversity itself; emergent ideas categorically change how we see the world. In structures, patterns, and properties that self-organize in complex systems we see true emergence; the big picture "now" unfolding from an unknown future.
What can we take from our observations of emergent patterns? Can we apply the lessons of emergence to create something truly greater than the sum of its parts?
Spread the word.
Prepare to think, listen, act, converse, and be inspired. Thank you for your support---you are the reason TEDxMileHigh has been able to produce nine quality events since 2011. Remember to get your tickets early - seats are limited and the event will sell out. Ticket prices will increase to $69.50 next week. As the true cost to produce the event is $100 per person, we want to thank our sponsors and donors for helping keep ticket prices low for attendees.
Please share this invitation will friends and colleagues who are committed to spreading big ideas and promoting inspired citizenship within the community.
We look forward to seeing you June 14th!
 

Special thanks to our Partners & Sponsors:

University of Colorado Denver | Anschutz Medical Campus

The Denver Foundation

YellowDog Printing

Social Venture Partners

Fastlane Productions

City Hall Event Center

Slice of Lime

KUNC 91.5

 

 

 




 

TEDxMileHigh showcases Colorado's maverick thinkers and doers, big risk takers, big-time athletes, entrepreneurs and innovators, activists for the environment, humanitarians and many more extraordinary people who will each give the "talk of their life."  This event will include presentations from 15 of the state's leading thinkers and doers who will stimulate, educate, and enrich as they take a concise 3-15 minutes to describe how they have accomplished something big and share the lessons they learned in the process.




This will be an opportunity to engage in a discussion on transformation and innovation, as well as what it means to be an inspired citizen in a thriving Colorado community. 

 

Doors open at 11:00 a.m. for the launch of the third-annual TEDxMileHigh Exhibits Lounge, which will showcase technology demonstrations, product launches, ideation zones, as well as food, coffee and desert.  Session I of the program commences at 1:00 p.m. sharp.  During intermission from 3-4 p.m. attendees will have an opportunity to discuss the event and hit the Exhbiits Lounge.  The final session from 4-6 p.m. will be followed by a cocktail reception from 6-8pm for all attendees in the Exhibits Lounge.  Space is limited, so grab your ticket before they're gone, gone, gone.

 
Speakers.
(Photos not showing below? See the announced speaker list here). More speakers to come - stay tuned by following us on Facebook and Twitter! 
Schedule.
| | |
| --- | --- |
| 11:00am |   Doors Open to Exhibits Lounge - read more about Exhibits programming |
| 1:00pm |   Session I |
| 3:00pm |   Intermission - Exhibits Lounge Open |
| 4:00pm |   Session II |
| 6:00pm |   Cocktail Reception |
Frequently Asked Questions.
Is there a way to void a ticket and reissue it to someone else? As tickets represent an important part of funding for TEDxMileHigh, our policy is that tickets can be given to anyone (the PDF ticket can be emailed to anyone), but not refunded. 
Can I return/re-sell my unused tickets? Our policy is that tickets can be given to anyone (the PDF ticket can be emailed to anyone), but not refunded.
Is there a list of public attendees to see who's coming? We are unable to share a list of attendees. There will be time for you to network and mingle before and after the event.
Is there a Will Call? I never received the email with my ticket included? We do not have a Will Call, please let us know if you would like us to resend your ticket. We do ask that you print your ticket beforehand or have it available on your smartphone to enter. We have a help desk located at the entrance to Kevin Taylor restaurant and can manually check you in with a valid ID.
Can I send someone in my place? Yes, if you are unable to use the ticket you can email the PDF to the person you are sending in your place or give them your paper ticket.
Where do I buy tickets? Tickets can be purchased through this link: http://tedxmilehigh2013.eventbrite.com/ We do not sell tickets at the door.
Can I come and go as I please? We recommend staying for the entire event, just as you would for a play at the theater. Intermission is from 3-4pm.
What if I show up late or have to leave early? We recommend staying for the entire event.
Can I take a break then return to my seat? We cannot guarantee that your seat will be available when you return.
How many people attend? We will have roughly 2,000 in attendance.
Are tickets reserved seating or general assembly?  Tickets are general assembly for conference attendees. VIP, Hero, and Superhero ticket holders have priority seating. You can purchase tickets separately as they do not reserve a specific seat. We recommend arriving when the doors open or soon after to give you and your party enough time before the event starts to find seats together.
When & Where

Ellie Caulkins Opera House
1101 13th Street
Denver, CO 80204


Saturday, June 14, 2014 from 11:00 AM to 7:00 PM (MDT)
Add to my calendar
Organizer
TEDxMileHigh shares forward-looking ideas, challenging our perception of the status quo, expanding our sense of what is possible, and inspiring a vibrant community into action to help shape the future of Colorado and beyond. Presenters include a diverse group of thought leaders and innovators, who are catalysts — educating, inspiring and stimulating change.