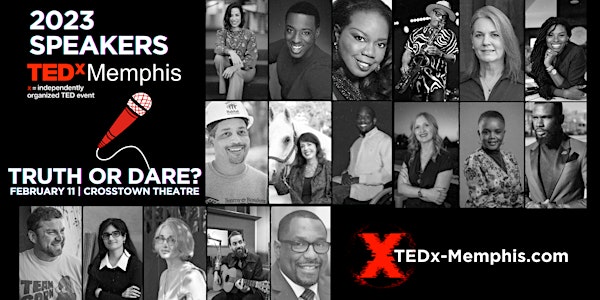 TEDxMemphis: Truth or Dare
Join us at TEDxMemphis for a series of dynamic, engaging, and thought-provoking TEDTalks.
When and where
Location
Crosstown Theater 1350 Concourse Avenue Memphis, TN 38104
About this event
Since launching in 2015, TEDxMemphis has produced more than 100 TED Talks from innovative speakers showcasing groundbreaking ideas that have the potential to shape our city and our world.
Courage looks different for everyone, but it's something we are all called to display at some point or another. TEDxMemphis Truth or Dare, the 2023 conference theme, will explore bravery through the lens of the classic party game we all experienced in childhood. We might not have realized it then, but the heart-pounding sensation when your turn was called was your first step into the unknown. Those tiny steps forward propelled your thinking and now impact your daily decision-making. Whether you're choosing to venture into the vulnerability of truth or exploring a new daring opportunity, how will you show your bravery? Join us to be inspired to take a leap forward. This year's conference will be hosted by Ephie Johnson, President/CEO of Neighborhood Christian Centers, Inc.
TEDx Memphis speakers include:
Session 1 (will run from 9:30am-12:00pm. Doors will open at 9:00am.)
Roshun Austin, community and social services visionary
Jennifer Balink, creative strategist and family connector
Kelly English, executive chef, restaurant owner and James Beard Award Semifinalist
Kim Halyak, city champion of garden tourism
Carmeon Hamilton, environmental curator, content creator & HGTV star
David Jamison II, aka "The Dope Educator"
Sam O'Bryant, literacy advocate
Matt Ross-Spang, record producer and Grammy Award-winning engineer & mixer
Lar'Juanette Williams, award-winning singer, dancer, actress, writer and arts administrator
Session 2 (will run from 1:30pm-4:00pm. Doors will open at 1:00pm.)
Janet Boscarino, sustainability supporter + co-founder of Clean Memphis
Fletcher Cleaves, motivational speaker and advocate for accessibility
Dwayne Spencer, affordable housing advocate
Justin Allen Tate, Broadway theatre actor and Mr. Pegasus 2022
Kathleen Terry-Sharp, equine experiential educator
Subha Vadlamannati, teenage nonprofit founder and passionate linguistics scholar
Yancy Villa, socially engaged artist
Kirk Whalum, soulful Grammy-nominated saxophonist and song writer
TEDxMemphis will feature musical guest, Black Cream. Black Cream is a conglomerate of three of the best artists Memphis has to offer. Consisting of guitarist and good soul TO Crivens, who flies high with his attention to detail during his solos; bassist Dr. Derek Brassel, who is the coolest cat in every room and unofficially the certified groove doctor; and Chris Barnes on drums and vocals, who rounds out the band with the charismatic presence of a Baptist preacher and the vocal abilities of your favorite soul crooner.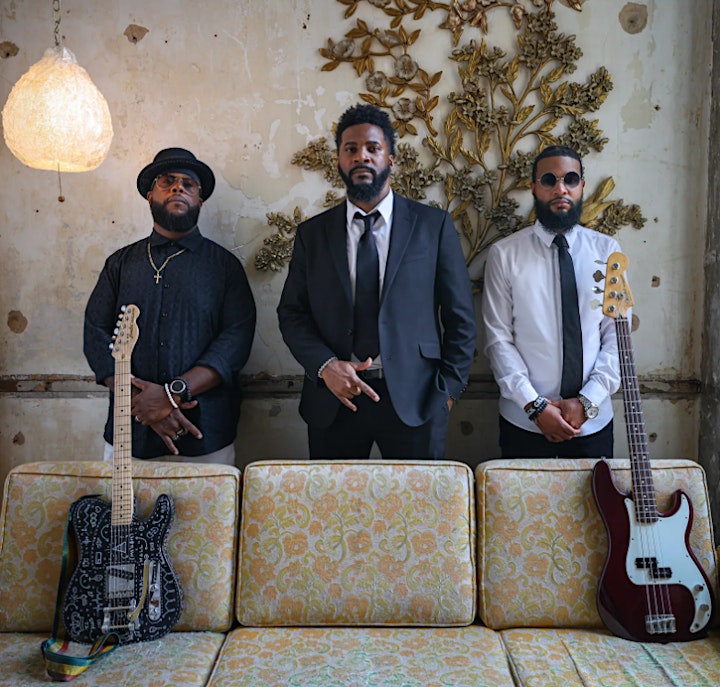 This event is generously supported by: New Memphis, Cushman & Wakefield Commercial Advisors, Baker Donelson, The Hyde Foundation, Memphis University School, the Hyde Foundation, and the Daily Memphian.

Waiver
- Refunds: TEDxMemphis is organized by those who believe this powerful platform has the perfect home in the Bluff City. Our ticket fees represent an integral part of our funding and we do not provide refunds for cancellations. We apologize for the inconvenience, but we hope you understand. Thank you for helping power TEDxMemphis!
- General: I fully understand and acknowledge that events such as this have inherent risks, dangers and hazards and that my participation in TEDxMemphis may result in injury, illness, or death. I hereby release TEDxMemphis, New Memphis Institute, Crosstown Arts, other partners of the event, and each of its present and former owners, principals, members, agents, vendors, and employees from any and all liability for damage, losses or personal injury to myself resulting from my participation in any part of the event. Photography and videography will happen throughout this event. New Memphis reserves the right, to use, in any capacity, any photograph or video taken at any event sponsored or produced by New Memphis without the express written permission of those included. By providing your email via the e-newsletter sign up or by registering for the event, New Memphis also reserves the right to share that email with a few select sponsors or partners of the event.