TEDxMarshallU's 2021 "RISING": Uplifting the community with ideas and stories of perseverance and resilience
About this event
Join us on Friday, April 2, 2021 for TEDxMarshallU's 2021 event. This year's TEDxMarshallU event will be hosted virtually. You do not want to miss this opportunity to listen, learn, be inspired by the stories and ideas of RISING by our stellar panel of speakers!
TEDxMarshallU's 2021 theme is "RISING".
Why "RISING"
In 1970, a plane carrying 75 passengers including Marshall University football players,coaching staff, fans, and flight crew members crashed– killing all on board. This tragedy affected Marshall University and the community in unique and inspirational ways. This year marks the 50th year anniversary of the 1970 plane crash. Throughout these years, there have been many efforts to rebuild and honor the memory of those who died through various initiatives. The amazing resilience of our community as we rose from the ashes of that event has had lasting impacts. None of our team had even been born when the crash happened, but as each of us came into this community whether through birth or moving here, their story became part of our story. The power of our community rising from the ashes of this tragedy can provide insights into how individuals can be more resilient through their own adversities and how they can rely on others through the journey.
Speakers
Tyce and Mary Nielsen (Duo Transcend) are 1st Runner Up on AGT Champions and world-touring Cirque style entertainers and motivational speakers.
Lt. Chad Napier is the Acting WV State Coordinator Appalachia HIDTA.
Suzanne Strait, PhD, is the Associate Director of the Division of Science and Research at the WV Higher Education Policy Commission.
Ashley Perkins, Pharm.D., is a mental health advocate with a background as a pharmacist and educator.
Dr. Kathy D'Antoni is the former Associate State Superintendent, former Vice Chancellor of the West Virginia Council for Community and Technical College Education. Dr. D'Antoni is currently a member of Marshall University's Board of Governors and is leading an education innovation initiative for the West Virginia Department of Education.
Lee Farabaugh is a senior technology design, operations and business development expert with two decades of experience in financial technology (fintech) and health care IT.
Brandon Dennison is a lifelong West Virginian and founder and CEO of Coalfield Development. Coalfield Development has helped start over 50 new social enterprises and trained over 1,200 people facing barriers to employment.
Red Dawson is a former assistant coach at Marshall University who helped coach the Young Thundering Herd following the 1970 plane crash.
Admission
Registering for TEDxMarshallU's 2021 event will provide you access to the livestream. You will receive an email with your link prior to April 2, 2021.
2021 RISING Sponsors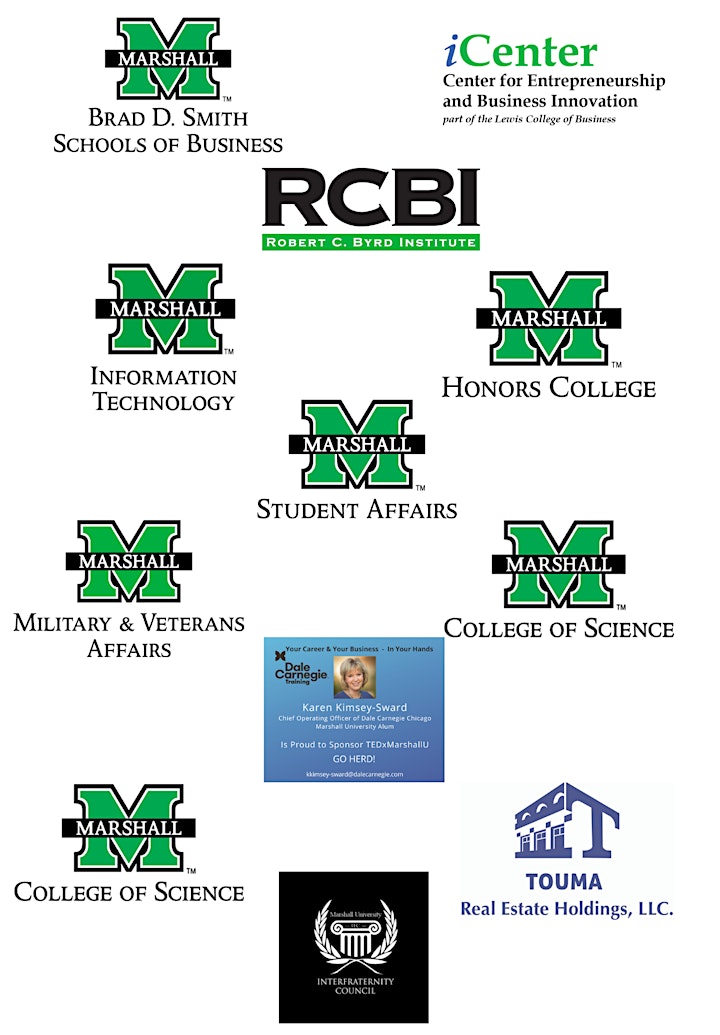 Organizer of TEDxMarshallU 2021 Event
In the spirit of TED's mission, "ideas worth spreading," the TEDx program helps communities, organizations and individuals produce TED-style events at the local level. TEDx events are planned and coordinated independently, on a community-by-community basis, under a free license from TED.