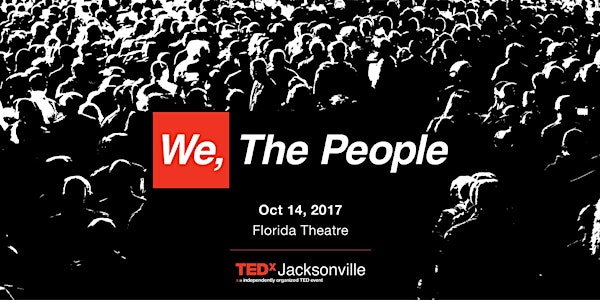 TEDxJacksonville Conference 2017: We, The People
When and where
Location
The Florida Theatre 128 East Forsyth Street Jacksonville, FL 32202
Description
We, The People, are the thinkers, makers, doers and dreamers. We are the pacifists and the renegades, the mob and the masses.
We are the inheritors of the past and the hope for the future. Ours is the sweat that builds great cities, the blood that secures freedom, and the strength of spirit that seeks life, liberty and justice for all.
We refuse to be defined—we define ourselves. Whether born here, brought here, or drawn here by America's bright promise, we come to the table of democracy as equals. We possess the same unalienable rights. We are a multitude of voices bearing witness to experiences that are different and unique, finding power in our diversity and common purpose in the struggle to build a more perfect union.
We, The People, control our destiny.
On Saturday, October 14, find your place in We.
Because you belong. And we have work to do.
---
Introducing Our 2017 Lineup:
Session 1: