Description
Women the world over are no longer accepting the status quo. They're rising up, breaking out and pushing boundaries. Whatever their focus and talent — business, technology, art, science, politics — these pioneers and their allies are joining forces in an explosion of discovery and ingenuity to drive real, meaningful change.
TEDWomen will celebrate how these dynamic and diverse people are showing up to face challenges head-on, all while empowering each other to shape the future we all want to see. We're showing up for TEDWomen 2018. Are you?
Join us at Wilson Hall on the University of Alabama Huntsville campus to watch Session 4: Gathering Together of the TEDWomen uncut broadcast. Food and beverages will be available with general admission tickets. Opening remarks begin at 2:30pm, broadcast begins at 3:00pm.
The event will be hosted again by Natalie Alexander, who will be introducing our local speaker Cole Wasdin, CEO and Culture Consultant of Verity Consulting.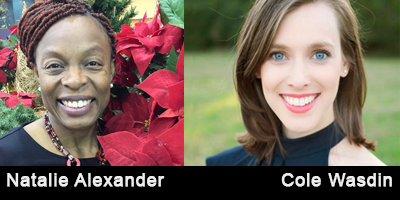 We are happy to announce we have partnered with Green Pea Press this year to offer interactive screen printing for all attendees. For an additional fee, choose and design a shirt on site with up to 4 different styles and patterns. Custom designs provided by local artists Chirsy Meschieri & Amberley Gutscher.