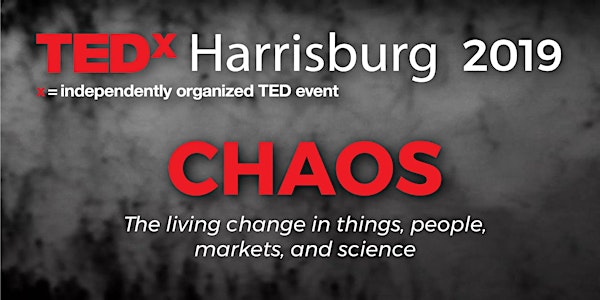 TEDxHarrisburg 2019
When and where
Location
Whitaker Center for Science and the Arts 222 Market St Harrisburg, PA 17101
Description
Registration for the Fourth Annual TEDxHarrisburg is now open!
Only 100 seats available!
We are upgrading TEDxHarrisburg this year! TEDx 2.0 will be held in the Sunoco Performance Theater at the Whitaker Center with a reception immediately afterwards catered by the Hilton.
Join us for
for an evening of dialogue around the theme CHAOS.
Showtime starts at 5:30pm on Saturday, October 19th!
Registration is $55 and includes:
General Admission Seat

Snacks and refreshments

Afterparty reception catered by Harrisburg Hilton


Follow along on Facebook and Instagram to learn more about the speakers and their talks.
Visit tedxharrisburg.com for more event details.
In the spirit of ideas worth spreading, TED has created a program called TEDx. TEDx is a program of local, self-organized events that bring people together to share a TED-like experience. Our event is called TEDxHarrisburg, where x = independently organized TED event. At our TEDxHarrisburg event, TEDTalks video and live speakers will combine to spark deep discussion and connection in a small group. The TED Conference provides general guidance for the TEDx program, but individual TEDx events, including ours, are self-organized.