TEDxGreenville 2012: Breakthrough

Friday, March 30, 2012 from 8:00 AM to 5:30 PM (EDT)
Event Details
TEDxGreenville 2012: Breakthrough
One day. One community. One stage. Get ready to connect with the area's top thinkers and doers while experiencing "Breakthrough" discoveries, technologies, ideas and talents.
Warning: Tickets to TEDxGreenville 2010 and 2011 sold out fast. A guy named Shakespeare once wrote, "Defer no time; delays have dangerous ends." We think he was on to something. Please get your tickets today.    
---
Frequently Asked Questions  
1. My Aunt's Ex-Husband's Name Is "Ted"... Is This His Event? 
No, although he's probably a swell guy. We'd encourage you to find out what TED, TEDx, and TEDxGreenville are all about here. 
2. Who Are the TEDxGreenville 2012 Speakers & Performers? 
Click here to learn more about the incredible line-up of Speakers & Performers who will be with you at the Kroc Center on March 30, 2012.   
3. What Time Should I Arrive at the Event? 
The Kroc Center is right next to the Swamp Rabbit Trail, so walking or biking to the event is highly recommended. Registration opens at 7:30 a.m. inside the main hall of the Kroc Center. Please plan to arrive no later than 7:45 to make sure you have time to park, get registered, grab a coffee, etc (*see parking & venue map at bottom of this section). To register, simply bring a valid photo ID or driver's license (please save paper- you don't need to print your Eventbrite ticket). The Kroc Center Theater doors will close and the event will kick off sharp at 8:30 a.m..     
4. Do You Provide Snacks, Drinks, and Lunch? 
Snacks and coffee will be provided. Lunch will be around noon and is also included with the purchase of your ticket. There are a range of options to fit any dietary needs, and you will need to order your lunch right here on Evenbrite when you complete your ticket purchase (including tickets you purchase for someone else).   
5. What's the Schedule for the Day? 
The day will consist of four sessions—two in the morning, two in the afternoon—separated by breaks and lunch. Each session will last about 1.5 hours. Click here to see the incredible lineup of Speakers and Performers for 2012. As an officially licensed TEDx event, we're also required to fold in some awesome TED videos throughout the day to help share their free idea library with the world. We'll conclude the day at 5:30 p.m., but like the Mayan Calendar, TEDxGreenville doesn't end, it simply transitions to the next phase...             
6. Oh, We're Doing Something That Night? 
Yes we are. We like after-parties. The only thing that can make a great day better is following it with a great night. We're planning to head over to hang out with our good friends at the Handlebar at 8pm, and since you're part of this tribe, we hope you'll join us. Did we mention that three bands (who you'll get a taste of at TEDxGreenville during the day) will also be there to celebrate with us? 
Sirius B, Asheville's absurdist gypsy folk funk punk band plays instruments you've never heard: charango and melodica, along with accordion and cello (ok, so you may have heard of a cello before, but you've never heard one played like these guys do). 
Greenville's Bent Strings plays bluegrass/folk rock that pulls influences from Nickel Creek and the Flecktones. 
Sound designer/engineer Christoph Kresse goes hi-tech Celtic, combining bagpipes, percussion and electronica.  

 
This is how we roll in Greenville, SC: the smiling face of the New South.  
*The after-party/concert is open to the public, but if you bring your TEDxGreenville 2012 name badge with you, the Handlebar will generously reduce your ticket price to only $5.  
7. Is There a Way for Me to Get Emails About Important TEDxGreenville News & Updates?  
Why, yes there is. Go to www.TEDxGreenville.org and subscribe using the email widget on the right side of the page.    
8. So, Back to Where I Should Park During the Day at the Kroc Center... ?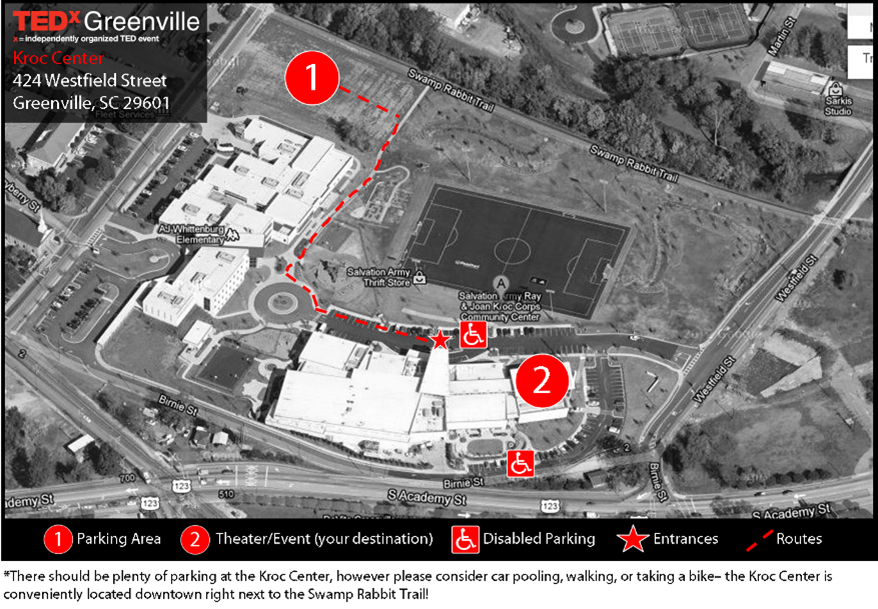 ---
Special Thanks to Those Who Make TEDxGreenville Possible
1. Our Sponsors - It takes substantial financial resources to make TEDxGreenville happen. Please take a moment to visit our website and check out our growing list of sponsors, whose generosity makes TEDxGreenville possible for our community. Learn a little about them, thank representatives from their organizations who you meet at the event, and please consider supporting (with your financial vote) their products and services that might be of benefit to you.   
2. Our Planners - As you probably realize, it takes a lot of hard work & planning to produce TEDxGreenville events (the monthly Salons and the big annual event). Our team of volunteer organizers get paid $0 (even after a 100% pay raise from last year); we're here because we love and believe in this community and think TEDxGreenville is uniquely positioned to help us all grow a little better every time we meet. A simple "thank you" means a lot, so don't be shy.  
3. Our Volunteers - We've counted over 8.3 billion things that have to be done before, during, and after this event. Thankfully, Darlene Parker and the few dozen volunteers (we'll introduce them all soon) who generously donated their time to help out, have assured us that 8.29 billion of those things are accounted for. 
4. You - Yes, you. By buying a ticket to TEDxGreenville, you're voting with your wallet, and helping to fuel this movement that is positively transforming our community from the inside out. Thank you for being part of the TEDxGreenville tribe. We hope we exceed your expectations as much as you exceed ours.
---
 *Sponsor Tickets - If you have a sponsor ticket/s, please wait to register until you have received special registration instructions from Josephine, TEDxGVL's official Queen of Sponsor Relations. Not a sponsor but want to be part of this unique movement known as TEDxGreenville? It's never too late. Click here, find out more, and get in touch with Josephine.      
When & Where

Kroc Center
424 Westfield Street
Greenville, SC 29601


Friday, March 30, 2012 from 8:00 AM to 5:30 PM (EDT)
Add to my calendar