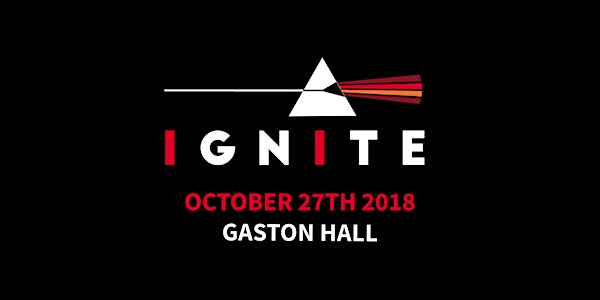 TEDxGeorgetown 2018: Ignite
When and where
Location
Gaston Hall - Georgetown University 3700 O St NW Washington, DC 20057
Refund Policy
Contact the organizer to request a refund.
Description
The theme of this year's TEDxGeorgetown conference is Ignite. In our global community, there are so many people who spark change every day to make an impact on the world we live in. Students, alumni and professionals alike have created an amazing community and environment of passion and change, and we at TEDxGeorgetown want to highlight these moments. On October 27, in the historic Gaston Hall, a group of selected Georgetown students, faculty, and community members will present their TEDx Talks to a live audience about how they have themselves been ignited change in our world. These stories will serve to remind us of the vast potential for transformation, both in our lives and in the world.
10:00 AM - Session 1
10: 15 AM - Opening Remarks from President DeGioia
10: 25 AM - Opening Remarks from Co-Chair Kevin Durham
10: 30 AM - Robert Bies (Professor of Management)
10: 50 AM - Matthew Park
11: 10 AM - Courtney Ryman
11: 30 AM - Timothy Garcia
11: 50 AM - Emilio Joubert
12:10 PM - Panel for Session 1 (Moderated by Director of Speakers Vanessa Phillips)
12:30 PM - Closing Remarks for Session 1 from Director of Finance Alice Wang
12:35 PM - TasTED (Healy Circle) and Networking Session (Riggs Library - 3rd floor of Healy)
Light refreshments will be provided at the Networking Session
1:45 PM - Session 2
1:45 PM - Opening Remarks from Director of Logistics Nitya Biyani
1:50 PM - Tiffany Yu (CEO & Founder of Diversability)
2:10 PM - Jazmin Pruitt
2:30 PM - Daniela Terminel (CEO of Global Health Corps)
2:50 PM - Joosje Lupa
3:10 PM - Jerome Smalls
3:30 PM - Panel for Session 1 (Moderated by Deputy of Speakers Melanie Stewart)
3:50 PM - Closing Remarks from Director of Speakers Vanessa Phillips (??? or Franz Sandil)
3: 55 PM - Intermission
4:05 PM - Session 3
4:05 PM - Opening Remarks by Chief of Staff Madeline Schwartz
4:20 PM - Muslim Chaplain Imam Hendi
4:40 PM - Kendell Long
5:00 PM - Jaquelin Martinez
5:20 PM - Desiree Tims
5:40 PM - Panel 3 (Moderated by Deputy of Speakers Lily Xu)
6:00 PM - Closing Remarks by Co-Chair Rachel Tao
TEDxGeorgetown 2018, Ignite, will give 14 speakers an opportunity to answer how they are changing the world on the historic Gaston Hall stage. It will be broken into three different sessions, each highlighting a unique moment of activism in action. There will be four speakers in each session and each TED Talk will last approximately 13-17 minutes. After each session, there will be Breakout Sessions in which the event attendees will have a chance to interact more closely with the speakers they just heard on stage.
In the spirit of ideas worth spreading, TEDx is a program of local, self-organized events that bring people together to share a TED-like experience. At a TEDx event, TEDTalks video and live speakers combine to spark deep discussion and connection in a small group. TEDx is a new program that enables local communities such as universities, businesses, libraries, neighborhoods or just groups of friends to organize, design and host their own independent, TED-like events.
For more information, check out our website here: http://www.tedxgeorgetown.org/
And our Facebook here: https://www.facebook.com/tedxgeorgetown/