TEDxFultonStreet 2015: "Charge"

Sunday, September 20, 2015 from 9:00 AM to 6:00 PM (EDT)
Event Details
Join us for our second consecutive year -
Wondering what's in store?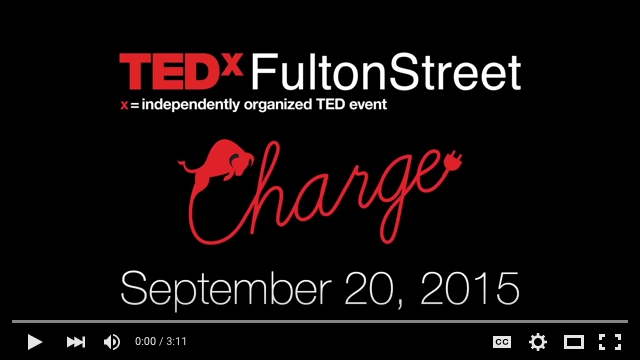 Here are just a few of the incredible people you'll get to meet:
Christian Boer - graphic designer who created a typeface to help people with dyslexia to read better
Richard Stratton - award-winning film-maker, convicted drug smuggler, former publisher of "High Times"
Brian S. Cohen - leading Angel Investor - first investor in Pinterest, Chairman of NY Angels
Sarah Chayes - political theorist, discusses how government corruption fosters religious extremists
Majora Carter - shows how to source entry-level tech positions by "onshoring" local talent
Emme - supermodel EMME created "Fashion Without Limits" to help people of all shapes to enjoy great clothes
Bradford Baker - the world's most successful sunken treasure hunter of lost pirate gold and silver
CJ Yeh - graphic designer and FIT Professor shows how to use 'flexible branding' to reach millennials
Kimball Gallagher - concert pianist who managed his own career to include a tour of over 300 concerts
Bruce Rosenbaum - steampunk designer and re-imagineer, showing his creations and their motivations
Diandra Forrest - albino african-american fashion model, discussing definitions of beauty
Nathaniel Raymond - uses satellite data to hold foreign governments accountable for war crimes
Rishon Blumberg - founder of 10x management, manages top tech talent like rockstars
Jen Rozenbaum - boudoir photographer, teaches how to make women look sexy without photoshop
Amanda Parkes - pioneer in wearable computing and technological fashion makes electronic clothes cool
Debi Silber - lifestyle, wellness, fitness, and leadership coach shares how to find and recover your mojo
Laura Klahre - apiarist - explains why native mason bees need to replace European honey bees
Peter Laughter - as entertaining as his last name, this storyteller sets for the concept of "radical empathy"
and more, including performances from:
IMPACT Repertory Theatre
Robert Galinsky, Magda Love, and Deep Singh
For additional details about our speakers, you can visit http://TEDxFultonStreet.com — but no matter what you do, be sure to get a spot before the event sells out!  This year's we're going to have 20 mindblowing never-before-seen talks, from speakers who have changed the world!
The title of this year's conference is "Charge", and will feature presenters who are leaders and innovators in Technology, Entertainment, and Design (the "T.E.D." of TED). And also a bit about entrepreneurship.
Reserve your seat now; we expect to sell out!
Attendee List
Sort by:

Date

|

First Name

|

Last Name
When & Where

BMCC Tribeca Performing Arts Center
199 Chambers Street
New York City, NY 10007


Sunday, September 20, 2015 from 9:00 AM to 6:00 PM (EDT)
Add to my calendar
Organizer
TEDxFultonStreet is a community of thinkers, dreamers, artists, designers, romantics, engineers, scientists, writers, builders, typographers, musicians, programmers, chemists, philosophers, entrepreneurs, and individuals who believe the world belongs to those who create it.
TEDxFultonStreet is organized as an independent not-for-profit community, via contractual license with TED Conferences. Inquiries about TED in general, or the TEDx program, should be directed to Melody Serafino at TEDxPR@groupsjr.com. Inquiries specifically about TEDxFultonStreet should be directed to Aaron Sylvan, at aaron@TEDxFultonStreet.com.
About TEDx
x = independently organized event
In the spirit of ideas worth spreading, TEDx is a program of local, self-organized events that bring people together to share a TED-like experience. At a TEDx event, TEDTalks video and live speakers combine to spark deep discussion and connection in a small group. These local, self-organized events are branded TEDx, where x = independently organized TED event. The TED Conference provides general guidance for the TEDx program, but individual TEDx events are self-organized. (Subject to certain rules and regulations.)
About TED
TED is a nonprofit organization devoted to Ideas Worth Spreading. Started as a conference in California 30 years ago, TED has grown to support those world-changing ideas with many initiatives.
At a TED conference, the world's leading thinkers and doers are asked to give the talk of their lives in 18 minutes or less. TED speakers have included Roger Ebert, Sheryl Sandberg, Bill Gates, Elizabeth Gilbert, Benoit Mandelbrot, Philippe Starck, Ngozi Okonjo-Iweala, Brian Greene, Isabel Allende and former UK Prime Minister Gordon Brown. Three major TED events are held each year: The TED Conference takes place every spring in Vancouver, Canada, simultaneous with TEDActive, in Whistler, BC; and the TEDGlobal Conference takes place each summer in Edinburgh, Scotland.
On TED.com, talks from TED conferences are shared with the world for free as TED Talks videos. A new TED Talk is posted every weekday. Through the Open Translation Project, TED Talks are subtitled by volunteers worldwide into more than 90 languages. Through our distribution networks, TED Talks are shared on TV, radio, Netflix and many websites.
The TEDx initiative grants free licenses to people around the world to organize TED-style events in their communities with TED Talks and live speakers. More than 10,000 TEDx events have been held, and selected talks from these events are also turned into TED Talks videos.
The annual TED Prize grants $1 million to an exceptional individual with a wish to change the world. The TED Fellows program helps world-changing innovators from around the globe to become part of the TED community and, with its help, amplify the impact of their remarkable projects and activities. TED-Ed creates short video lessons by pairing master teachers with animators, for use in classroom instruction or independent learning.
For information about TED's upcoming conferences, visit http://www.ted.com/registration
Follow TED on Twitter at http://twitter.com/TEDTalks, or on Facebook at http://www.facebook.com/TED