TEDxEdmonton Salon Series: Rethinking Human Engagement

Wednesday, 18 April 2012 from 7:30 PM to 10:30 PM (MDT)
Event Details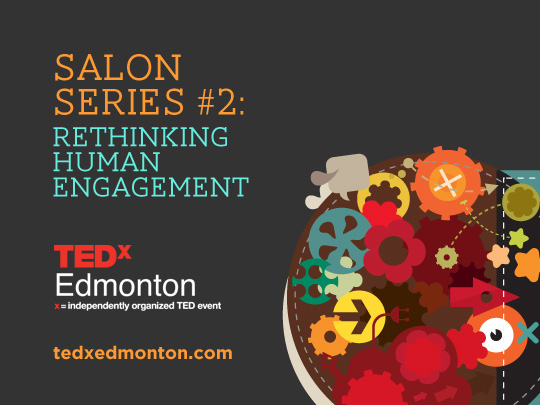 TEDxEdmonton Salon Series #2: Rethinking Human Engagement
Technology continues to change the face of human communication and interaction as we know it. Social networks have become the primary method of communication for younger generations and digitally-aware consumers. We can post status updates to solicit responses, share opinions, update others on our activities, and let others know where we are and what we're doing. But can technology ever replace human interaction? Do these technologies make us feel safer, happier, connected and more engaged? In this Salon, we'll explore how these changes are transforming the nature of our interactions with each other.
Date: Wednesday, April 18, 2012
Time: 7:30pm
Location:  Zeidler Hall at the Citadel Theatre, 9828 - 101A Avenue
Speaking on the theme of "Rethinking Human Engagement", these three speakers will represent a range of local perspectives. They are:

Randy Brososky - By day, Randy helps his clients navigate the seas of persuasion with his marketing company the Group of Rogues. By night, he has performed on stage and screen throughout western Canada, including film roles in Nightmare Island II, The Pharmacist and All My Sins, and on stage in Northern Light Theatre's Jailbait. Years of communicating with audiences across many mediums has whetted his taste for behavioural economics and discovering the secrets of why we make the choices we do, and how we can influence others.
Dawn Lamothe & Stephen Visser - Dawn is a yoga instructor, historian, cyclist, adventurer, artist and activist. She is deeply intrigued by people, their choices, their views and their stories. Wherever this takes her varies, but it invariably is somewhere close to the edge. An explorer at heart, Stephen is fueled by creativity, curiosity and activity. He has always been fascinated by the possibilities of technology which has led him to his role as a freelance mobile and web developer. This obsession is tempered with a love for the outdoors which continues to lead him down trails, up mountains, and across the seas. The interface between our humanity, our environment, and technology is one he enjoys to balance on almost as much as his slackline.
Simon O'Byrne - Simon is a professional urban designer and planner. At Stantec, Simon is the Vice President and Practice Leader for Urban Planning, responsible for growing the discipline throughout the company's 140+ offices worldwide. Notable projects he has worked on include intensive urban revitalization in the Bronx, New York, the Downtown Arena and Entertainment District in Edmonton, the redevelopment of the Alberta Legislature Grounds and the Capital Region Land Use Plan.
What is the TEDxEdmonton Salon Series?
A cross between our main events and TED Talks @ Lunch events, the TEDxEdmonton Salon Series is a set of intimate and interactive live speaker events. They're designed to engage TEDx audiences throughout the year, and spark creative engagement within the community. In the spirit of TED Talks, TEDxEdmonton Salons are a gathering of curious minds, and place to explore new ideas and ways of thinking. At each event we'll feature four unique local speakers – representing business/entrepreneurship, arts/culture, political/social and science/technology – each offering both visionary and practical perspectives and insights on the selected theme, followed by open, interactive discussion.
What is TED?
TED is a non-profit organization devoted to Ideas Worth Spreading. Started as a four-day conference in California 25 years ago, TED has grown to support those world-changing ideas with multiple initiatives. The annual TED Conference invites the world's leading thinkers and doers to speak for 18 minutes. Their talks are then made available, free, at TED.com. TED speakers have included Bill Gates, Al Gore, Jane Goodall, Elizabeth Gilbert, Sir Richard Branson, Nandan Nilekani,Philippe Starck, Ngozi Okonjo-Iweala, Isabel Allende and UK Prime Minister Gordon Brown. The annual TED Conference takes place in Long Beach, California, with simulcast in Palm Springs; TEDGlobal is held each year in Oxford, UK. TED's media initiatives include TED.com, where new TEDTalks are posted daily, and the Open Translation Project, which provides subtitles and interactive transcripts as well as the ability for any TEDTalk to be translated by volunteers worldwide. TED has established the annual TED Prize, where exceptional individuals with a wish to change the world are given the opportunity to put their wishes into action; TEDx, which offers individuals or groups a way to host local, self-organized events around the world, and the TEDFellows program, helping world-changing innovators from around the globe to become part of the TED community and, with its help, amplify the impact of their remarkable projects and activities.
When & Where

Citadel Theater
9828 101 a Ave
Edmonton, AB
Canada

Wednesday, 18 April 2012 from 7:30 PM to 10:30 PM (MDT)
Add to my calendar
Organizer
TEDxEdmonton
is an independent non-profit TEDx event is operated under license from
TED
.