Location
Aspen Room, University Memorial Center
1669 Euclid Avenue
Boulder, CO 80302
In this workshop, you will learn how to navigate difficult conversations with loved ones. This free workshop is limited to 50 participants.
About this event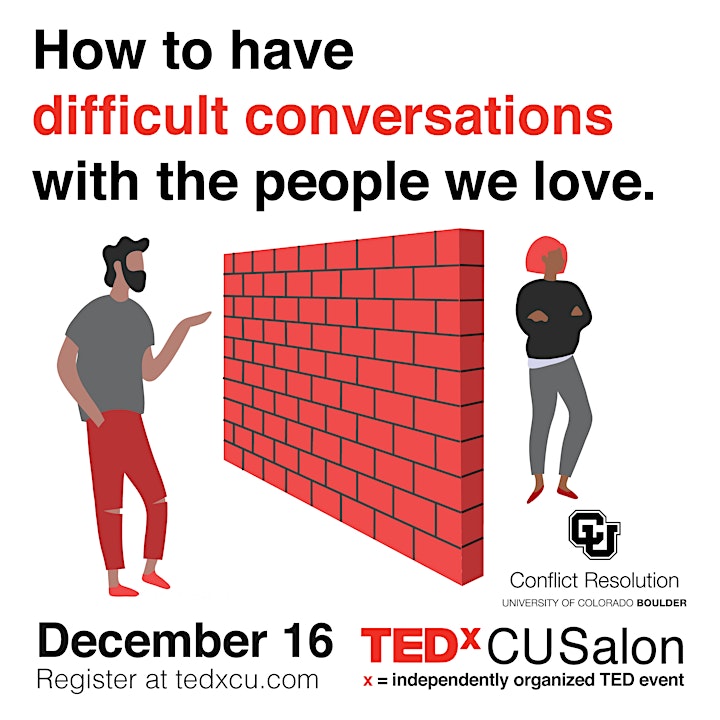 Back by popular demand! Our November workshop sold out in 24 hours so we are offering another workshop on this important issue. Again, the workshop is free and limited to 50 participants.
Navigating difficult conversations can often feel treacherous, especially with loved ones. Emotions are high, voices are raised, silence becomes awkward. Understanding conflict, and learning to manage it effectively, can significantly impact the course these conversations take. In this workshop, you will begin to conceptualize conflict as an opportunity for growth by learning the different "languages" we use to engage with conflict, the factors that contribute to escalation, and strategies for de-escalation. In doing so, we can better advocate for our own needs while recognizing and understanding the needs of others. By shining a light on conflict we can step a little more confidently into the domain of difficult conversations.
This TEDxCUSalon will be guided by trained facilitators and led by Colin Johnson and Tyler Keyworth.
Colin Johnson is the Conflict Resolution Coordinator in the Office of Student Conduct and Conflict Resolution at the University of Colorado Boulder. Colin holds an MA in Conflict Resolution from the University of Denver and a BA in Public Relations from Marist College. Colin has led trainings for teachers and administrators on the implementation of Restorative Justice in schools, and facilitates conflict resolution and anger management courses for youth and adults in the Denver-metro area.
Tyler Keyworth is Assistant Director for Conflict Resolution and Restorative Justice in Student Conduct and Conflict Resolution at the University of Colorado Boulder. In this role, he oversees the university's conflict resolution and restorative justice efforts. Tyler holds an MS from University of Baltimore in Conflict Negotiations and Conflict Management and attended St. Mary's College of Maryland for a BA in Political Science. After beginning his career as an AmeriCorps Member in community mediation, Tyler has developed extensive experience training in restorative justice and conflict resolution. Tyler is currently the president of the Colorado Coalition of Restorative Justice Practices (CCRJP).