In this workshop, you will learn how to navigate difficult conversations with loved ones. This free workshop is limited to 50 participants.
About this event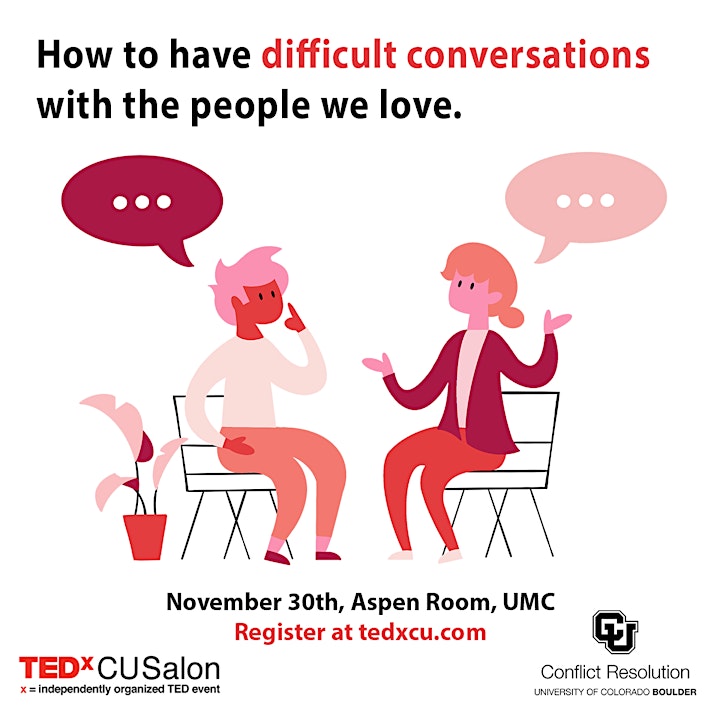 We are thrilled to be offering our first TEDxCUSalon since the start of the pandemic. Masks will be required.
Navigating difficult conversations can often feel treacherous, especially with loved ones. Emotions are high, voices are raised, silence becomes awkward. Understanding conflict, and learning to manage it effectively, can significantly impact the course these conversations take. In this workshop, you will begin to conceptualize conflict as an opportunity for growth by learning the different "languages" we use to engage with conflict, the factors that contribute to escalation, and strategies for de-escalation. In doing so, we can better advocate for our own needs while recognizing and understanding the needs of others. By shining a light on conflict we can step a little more confidently into the domain of difficult conversations.
This TEDxCUSalon will be guided by Colin Johnson.
Colin Johnson is the Conflict Resolution Coordinator in the Office of Student Conduct and Conflict Resolution at the University of Colorado Boulder. Colin holds an MA in Conflict Resolution from the University of Denver and a BA in Public Relations from Marist College. In his role at CU, Colin supports students in the development of skills and strategies for effective conflict management. Additionally, he offers trainings to the campus community that aim to build understanding around the opportunities that conflict can provide.
Organizer of TEDxCUSalon: How to have difficult conversations with the people we love