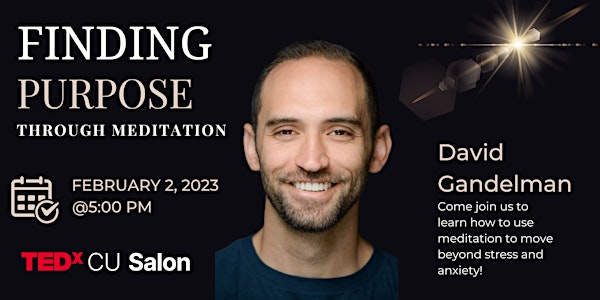 TEDxCUSalon: Finding Purpose through Meditation
This salon will be guided by David Gandelman. He will guide us to learn how to use meditation as a powerful tool against stress and anxiety.
When and where
Location
Eaton Humanities, Room 135 1610 Pleasant Street Boulder, CO 80302
About this event
Join us for an evening with David Gandelman, where you will learn how to use meditation as a powerful tool to move beyond stress and anxiety. David will share his insights and experiences with meditation, from his time in the Himalayas and Hawaii, and provide guidance on how to develop a daily meditation practice. The evening will conclude with a guided meditation led by David, allowing you to experience the transformative power of meditation firsthand. This event is suitable for both beginners and experienced meditators. Don't miss this chance to learn from a seasoned teacher and discover the benefits of meditation for yourself.
David Gandelman is a meditation teacher, author, and podcaster. He is the founder of the Meditation School app and host of the popular podcasts, Grounded Sleep and Energy Matters. David's meditations have been streamed millions of times, and he teaches regularly at Cornell University and has worked with organizations such as NBC Universal, SAP, Parsley Health and more. David holds a B.A. in Western philosophy from Rutgers University, and has studied numerous traditions from Eastern spirituality in the Himalayas to mysticism in Hawaii. He has a unique teaching style that combines energetic experience, ancient wisdom traditions, and humor, to create a safe and engaging learning environment for those interested in meditation and personal growth.