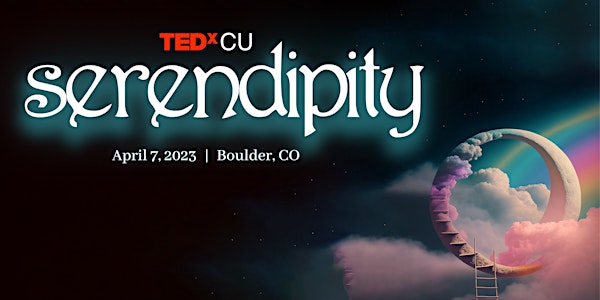 TEDxCU 2023: Serendipity
Join us on April 7, 2023 for TEDxCU's 11th main event. Our theme is Serendipity.
When and where
Location
Macky Auditorium Concert Hall 1595 Pleasant Street #0285 Boulder, CO 80309
About this event
2 hours 30 minutes

Mobile eTicket
Join us for TEDxCU's 11th main event! Our theme is Serendipity. Speakers will be announced in the coming weeks. Join us in Macky Auditorium and Concert Hall on the campus of CU Boulder!
Early Bird Tickets are on sale through February 28th. Ticket prices will increase on March 1st! Balcony seating will be made available once the floor is at 75% capacity.
About our theme:
Moments of serendipity are unforeseen and we may never have imagined them as possible until they occur. Walking down a path and stumbling across a small cozy coffee shop. Opening your bedroom curtains to fresh snowfall. Talking to a stranger in a grocery store line about a new thing you hadn't ever thought about. Each of these experiences where we stumble across unfamiliar pleasant things are moments of serendipity.
These special times can only happen when the gates of our minds are left open and curious to potentially fall into something unexpectedly wonderful. We are unable to force serendipity, and are only in control of how much we allow our minds to unfold. It is not something that is coincidental or scientific, but is simply meant to be.
As each speaker of TEDxCU 2023 talks, we ask you to take the leap into a moment of quietness and listening. Remove your preconceived notions and let yourself plunge into new areas of thought, profound ideas, and blissful experiences that you could never have seen coming.
We are also proud that we can keep our ticket prices low due to our generous partners both on and off campus, particularly Cultural Events Board.
Masking-We are following the guidelines of the University of Colorado Boulder. Masking is optional and we will not be checking vaccination status.
STUDENT TICKET INFORMATION: To register for a CU student ticket you need to use your CU email address and enter your student ID number. If you do not enter both of these at the time of registration, your ticket will be cancelled. No exceptions.
Doors open at 5:30pm. It is open seating per section and we ask that you don't save seats. Show up with your entire group before grabbing a seat. Our event will start promptly at 6:30pm and end around 9:00pm.
Additional event information can be found at http://tedxcu.com
Since ticket prices are already so low, we cannot process ticket cancellations for any reason. Tickets can easily be transferred with directions here.
Please direct questions to tedxcu@colorado.edu
TEDxCU is a project of the College of Media, Communication and Information and the Department of Communication at the University of Colorado Boulder.