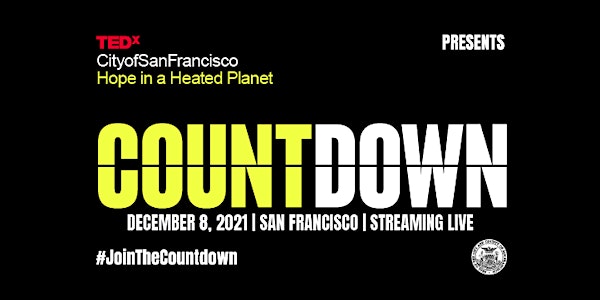 TEDxCityofSanFrancisco
Let's celebrate the launch of San Francisco's 2021 Climate Action Plan
About this event
_________________________________________________________________________________
TEDxCityofSanFrancisco presents Hope in a Heated Planet, a curation of TEDx talks and performances to inspire community action in the fight against climate change.
The City and County of San Francisco invites you to celebrate the launch of the City's 2021 Climate Action Plan on Wednesday, December 8, 2021, from 5:30–7:00 p.m. PST.
TEDxCityofSanFrancisco is part of a global initiative, TEDx Countdown, which aims to accelerate solutions to the climate crisis. This virtual event is free and open to all
The event will be hosted by the Director of the San Francisco Department of the Environment, Debbie Raphael, and will feature talks from Mayor London N. Breed, as well as local activists, youth, artists, and business leaders who will share their stories of hope and progress toward a healthier, more equitable San Francisco for all. Check out the line-up of speakers and performers below!
The theme of TEDxCityofSanFrancisco is Hope in a Heated Planet. As we witness the increased impacts of climate change it can be difficult to feel optimistic, but what we have is hope—hope in people, hope in solutions, and hope in our ability to take collective action. It's action that gives rise to hope. Hope is a conviction that one can act to make things better. As Greta Thunberg says, "When we start to act, hope is everywhere."
For more information about the San Francisco Climate Action Plan, visit SFClimateAction.org
The event will also be streamed live on SFGov TV YouTube.
_________________________________________________________________________________
TEDxCityofSanFrancisco presenta Hope in a Heated Planet (Esperanza en un planeta calentado), una esmerada selección de charlas y presentaciones de TEDx para inspirar la acción comunitaria en la lucha contra el cambio climático. 
La Ciudad y Condado de San Francisco le invita a celebrar el lanzamiento del Plan de Acción Climática 2021 de la Ciudad el miércoles 8 de diciembre de 2021, de 5:30 p.m. a 7:00 p.m., tiempo del Pacífico.
Este evento virtual es gratuito y abierto para todos.
La anfitriona del evento será la directora del Departamento de Medio Ambiente de San Francisco, Debbie Raphael, y se contará con la participación de la alcaldesa London N. Breed, así como de activistas, jóvenes, artistas y líderes empresariales locales, quienes compartirán sus historias de esperanza y progreso hacia un San Francisco más saludable y equitativo para todos.
El evento también se transmitirá en vivo en SFGov TV YouTube.
_________________________________________________________________________________
TEDxCityofSanFrancisco 將推出「拯救暖化地球仍然有望」(Hope in a Heated Planet) 活動,帶來精選的 TEDx 演講和表演,以啟發社區用行動對抗氣候變化。 
三藩市和縣政府誠邀您於 2021 年 12 月 8 日星期三下午 5:30–7:00 (太平洋標準時間) 出席慶祝「三藩市 2021 對抗氣候變化行動計劃」的展開。
這個網上活動費用全免,開放供大眾參加。
活動由三藩市環境局局長 Debbie Raphael 主辦,內容將包括市長 London N. Breed 的演講,以及本地環保主義者、青年、藝術家和商界領袖的故事,分享他們期望為大眾打造更健康和更公平的三藩市以及目前的進展。
活動也將在三藩市環境局 SFGov TV YouTube 作現場直播。
_________________________________________________________________________________