Location
Macky Auditorium Concert Hall
285 University Ave
Boulder, , CO 80309
Description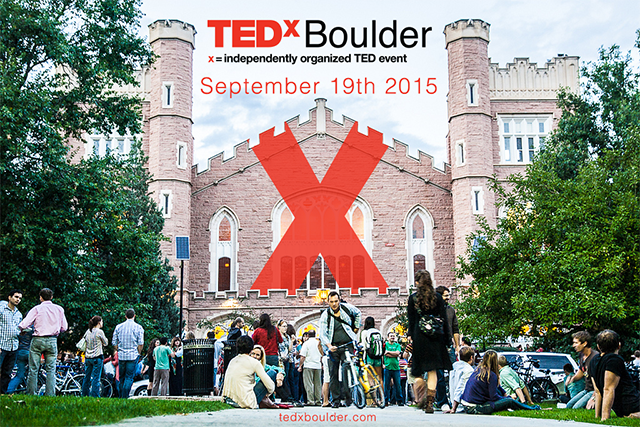 Welcome to TEDxBoulder 2015! This is our sixth event and we pride ourselves with the quality of the event from ticket purchase (no extra fees!) to when you exit (we will give you a rose!). Our event is two 90 minute sessions of all live TED style talks from local speakers and musicians. It is inspiring, heartfelt and a damn fun community event.
What does a ticket get you? Well, as an all-volunteer event we are able to put the ticket price back into the experience. We provide a light picnic dinner, tshirts for the first 750 through the door, programs, the full two sessions of the event and a lot of small surprises (sponsored afterparty is just one thing).
Our doors open at 4pm. It is open seating and we ask that you don't save seats. Show up with your group and head down for a seat and please talk to those around you and meet some new friends. Our show starts promptly at 5pm and with one intermission ends at 9pm.
Our past five events have had an average 98% positive feedback rate. We like putting on events and celebrating Boulder even more.
Our speakers can view viewed here!
Additional event information can be found at http://tedxboulder.com
Since this is a volunteer event and all the proceeds go directly to the event we cannot process ticket cancelations for any reason.