Description
May 3, 6:30 PM - 8:00 PM
May 4, 1:30 PM - 6:00 PM
UAB's Alys Stephens Center
Work – Life
Pessimist – Optimist
Outspoken - Reserved
The pendulum of life often swings between extremes. But it ultimately seeks to settle somewhere in the middle state between them:
BALANCE
Difficult to achieve, even harder to maintain. Life is a series of the choices we make on our journey to achieve a state of fulfillment. Tension, pressure, force are necessary for – and challenging to – the delicate balancing act of life. In the midst of our emotions, expectations, reality, and our own will, we strive for that fine line between the thirst for change and finding true contentment.
Join us on May 3-4, 2019, to explore ideas to help you find your sense of BALANCE.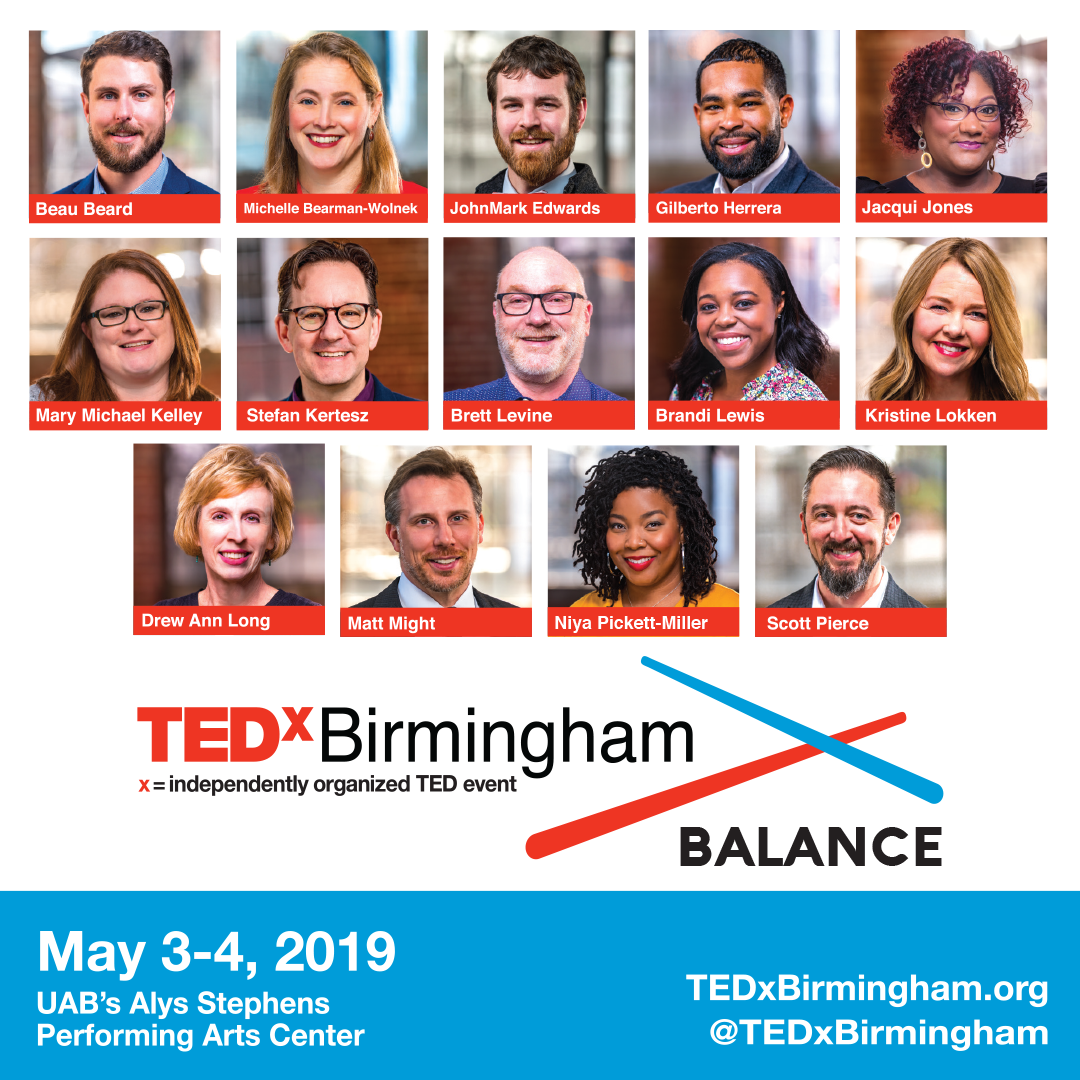 SCHEDULE
For the first time, TEDxBirmingham is now a two-day event, with speaker sessions on both Friday evening and Saturday afternoon. Participants can purchase tickets to attend either one or both days.
Friday, May 3, 6:30-8:00pm
Friday evening's portion includes a cocktail reception and one session of TEDx speakers, followed by optional dinner group outings.
Saturday, May 4, 1:30-6:00pm
Saturday's portion includes two sessions of TEDx speakers and an interactive session, followed by an after-party.
TICKETING INFORMATION
All tickets are available on a first come, first served basis. All tickets include conference admission for the selected day(s), all food and beverages, and the TEDxBirmingham t-shirt and gift bag.
Two-day tickets may only be used by same participant on both days, and not transferred to another person.
ABOUT
TEDxBirmingham is an independent, volunteer effort operated under license from TED. Through various initiatives – including a daylong main event, smaller salon events, and more – TEDxBirmingham strives to foster the diffusion of ideas in order to spark conversations and innovations that lead to a better Birmingham.
At a TEDxBirmingham event, speakers from a variety of backgrounds – none of whom are paid – share a bold, new idea through a short talk of 18 minutes or less. The events also feature artistic performances and hands-on, interactive experiences. The participants at a TEDxBirmingham event represent a cross-disciplinary mix of people, ranging from civic and business leaders to educators, technologists, artists, and more.
TEDxBirmingham – like all TEDx events – is not organized for political reasons, monetary reward, or personal gain. Everyone associated with TEDxBirmingham does so because they believe in the power of ideas to change the world.
TEDxBirmingham is supported by partners, who provide both in-kind contribution of their services or products, or financial contributions. TEDxBirmingham is organized under the financial sponsorship of the Innovation Depot, a 501(c)(3) organization.