Event Information
Location
YCC, Zouk Mikael, Lebanon
Description
Our next TEDxBeirutSalon is in Zouk Mikael...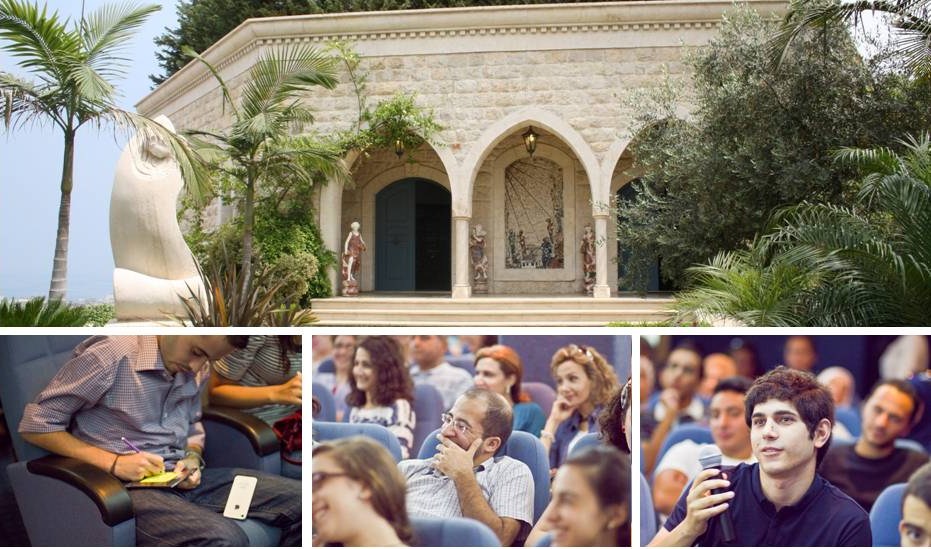 ... And we would love for you to join us

We promised to spread inspiration all over Lebanon this year, and we are keeping our promise.
Join us at our next TEDxBeirutSalon taking place in a magical venue at the old Zouk Mikael souk: "Originally founded as a public library in Zouk Mikael during the 1940's, this municipal facility was re-established in 2009 as the Youth and Culture Center."


Here is all you need to know about the next TEDxBeirutSalon in Zouk Mikael:
WHERE: YCC (Youth and Culture Center) in Zouk Mikael (a detailed map will follow)
WHEN: Wednesday 12th of September, 2012 at 8h00 p.m. (till 10h00 p.m.)
WHAT: We'll screen 2 to 3 TED & TEDxBeirut videos, and invite you to reflect after each video


That's not all! You are invited to join us for a small reception after the salon on the rooftop of the Youth and Culture Center overlooking the Lebanese coast. Mingling with the team, networking and fun are on the menu. Believe us, you don't want to miss this.
To ensure your name is on the guest list, please register here for the TEDxBeirut salon in Zouk.
Please take registrations seriously (your attendance on the Facebook event does not count). You can bring your printed ticket with you, so that you can easily gain entrance. You could also go paperless and install the Eventbrite app on your iOS or Android device.

Through TEDxBeirut salons, we aspire to bring the local TED community together once in a while until the main TEDxBeirut event happening in November of this year.
Here is a taste of the five previous TEDxBeirut salons in pics.
For more info on TEDxBeirut salons, please click here.
Our guest TEDxBeirut speaker at this salon...


Since we had an awesome list of speakers in our main TEDxBeirut event last September, we are inviting one of our speakers to each salon, screening their TEDxBeirut talk, and interacting with them after their talk.
And for this TEDxBeirutSalon in Zouk, our guest speaker is the lovely Yorgui Teyrouz.
We will screen Yorgui's TEDxBeirut talk that touched so many people's hearts at TEDxBeirut. After which, you can ask Yorgui whatever you want, talk to him and get updates on his activity since September.
Join us at our next TEDxBeirutSalon in Zouk with guest speaker Yorgui Teyrouz.

P.S.: Bus rides from and to Beirut are available upon request. Tell us if you need a ride when registering.
ExciTED for this one!

See you there.

The TEDxBeirut team
Date and time
Location
YCC, Zouk Mikael, Lebanon
Organizer of TEDxBeirutSalon at the Youth and Culture Center, Zouk Mikael
We're a gathering of wonderful minds, designed to inspire, nurture and propagate great ideas in compliance with TED's mission of changing the world.
About TEDxBeirut
TEDxBeirut is a gathering of wonderful minds, designed to inspire, nurture and propagate great ideas in compliance with TED's mission of "changing attitude, lives, and ultimately the world". We are accountants, students, doctors, lawyers, media people, housewives and your neighbor next door. We have one thing in common – a desire to push the boundaries, make a difference and maybe even leave a legacy.
We believe that ideas are the seeds of the future and the key to reinventing our society. But most importantly, we believe that powerful ideas ought to be shared, and we would like to share them with YOU.
True to the format of conferences at TED, the presenters line-up in TEDxBeirut will lure the audience with captivating talks, stirring musical performances, and influential dialogues. So whether you want to learn something new, be inspired or simply check out from your daily routine, this conference will take you into a journey of wild intellectual adventure. This November 2012 become part of the "ideas worth spreading community".
About TEDx, 
x = independently organized event
In the spirit of ideas worth spreading, TEDx is a program of local, self-organized events that bring people together to share a TED-like experience. At a TEDx event, TEDTalks video and live speakers combine to spark deep discussion and connection in a small group. These local, self-organized events are branded TEDx, where x = independently organized TED event. The TED Conference provides general guidance for the TEDx program, but individual TEDx events are self-organized. (Subject to certain rules and regulations.)
About TED
TED is a nonprofit organization devoted to Ideas Worth Spreading. Started as a four-day conference in California 26 years ago, TED has grown to support those world-changing ideas with multiple initiatives. At TED, the world's leading thinkers and doers are asked to give the talk of their lives in 18 minutes. Talks are then made available, free, at TED.com. TED speakers have included Bill Gates, Jane Goodall, Elizabeth Gilbert, Sir Richard Branson, Benoit Mandelbrot, Philippe Starck, Ngozi Okonjo-Iweala, Isabel Allende and former UK Prime Minister Gordon Brown. Two major TED events are held each year: The TED Conference takes place every spring in Long Beach, California (along with a parallel conference, TEDActive, in Palm Springs), and TEDGlobal is held each summer in Edinburgh, Scotland.
TED's media initiatives include TED.com, where new TEDTalks are posted daily; the new TED Conversations, enabling broad conversations among TED fans; and the Open Translation Project, which provides subtitles and interactive transcripts as well as the ability for any TEDTalk to be translated by volunteers worldwide.
TED has established the annual TED Prize, where exceptional individuals with a wish to change the world are given the opportunity to put their wishes into action; TEDx, which offers individuals or groups a way to host local, self-organized events around the world; and the TED Fellows program, helping world-changing innovators from around the globe to become part of the TED community and, with its help, amplify the impact of their remarkable projects and activities.
For information about TED's upcoming conferences, visit 
http://www.ted.com/registration
Follow TED on Twitter at 
http://twitter.com/TEDTalks
, or on Facebook at 
http://www.facebook.com/TED
Follow us here: