Description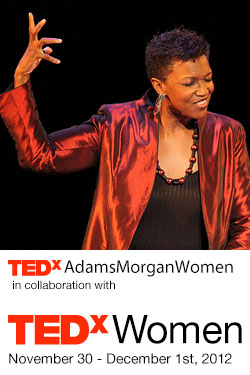 Where Life Happens - The Space Between
The TEDxAdamsMorganWomen's team is excited to invite you to our event happening December 1st from 1:00 - 6:00 PM at the Sitar Center in Adams Morgan, Washington DC.
The theme for 2012 is "The Space Between," which will deepen the conversation that was started at previous TED conferences and focus on how to move past dichotomous thinking and see the gray area in between.
Join us to hear these dynamic speakers:
Karen Dolan, Fellow at Institute for Policy Studies
Shonali Burke, Accredited, award-winning integrated communication strategist.
David Deal, CEO at Community IT Innovators (CITIDC)
Nicolette Pizzitola, CEO at Compass Point Associates LLC
George Koch, Founder and Chair Emeritus Artomatic, Inc.
Prerna Lal, Co-Founder of DreamActivist.org
Sarahi Uribe, National Campaign Coordinator at the National Day Laborer Organizing Network
Tina Frundt, Executive Director and Founder of Courtney's House
And, being live streamed from the TEDxWomen event:
Charlotte Beers, American businesswoman and former Under Secretary of State
Bob Woodruff, ABC news anchor, along with his wife Lee Woodruff
Lourds Lane, Musical prodigy and front woman of the band LOURDS.
Janine di Giovanni, Award-winning author and journalist
In addition, we'll be featuring a dance performance by Angela Ingram from the Joy of Motion Dance Group as well as artists Elizabeth Ashe, Madeleine Cutronia and Cecilia Cackley!
EVENT UPDATES
To learn more about the speakers, the artists and the upcoming event, check out our Facebook page.